Building Peace in West Darfur
Underneath a vast tree that provides a soothing shade, villagers come together for community meetings. Here, Ahmed Mohammed, a father of nine, describes the 2003 conflict in Darfur and highlights how Catholic Relief Services is fostering peaceful coexistence within the community in Hassaba village, West Darfur, Sudan.
"In the war, many villages were burnt, and we had to move to the camp," he says. "The main problems before CRS' intervention were crop destruction and the conflict between farmers and pastoralists, because there was no good coordination. All these problems affected the community."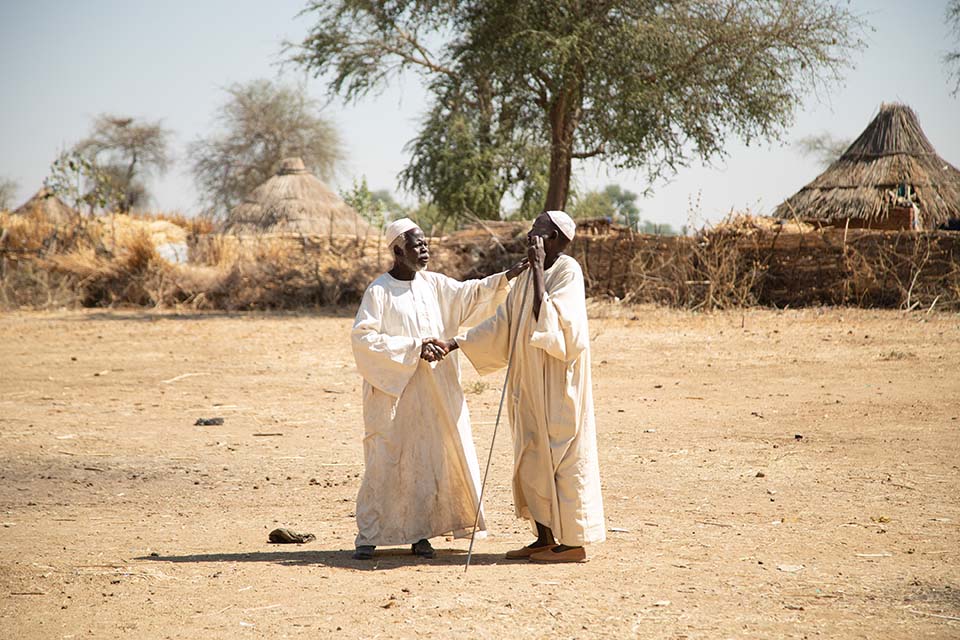 Two men greeting each other in Hashaba, West Darfur. Different ethnic groups in the community work together to solve problems, collaborate for mutual benefit, and envision a peaceful future.
Photo by Carlos Barrio/CRS
The enduring conflict in Sudan's Darfur region arises from deep-seated ethnic tensions between farming and pastoralist groups. In 2003, the conflict forced 2.5 million individuals to be uprooted and compelled hundreds of thousands of people to seek safety in Chad and neighboring nations.
In April 2023, armed clashes between two opposing factions began in Khartoum and subsequently spread across the country, leading to the displacement of an additional 4 million people. The ongoing conflict intensified preexisting ethnic rivalries in Darfur. A severe humanitarian crisis unfolded, restricting access to necessities such as food, water, health care and shelter. Adding to the complexity, climate change intensifies the competition for resources, which leads to overgrazing, deforestation and further desertification of an already arid landscape.
Enhancing resilience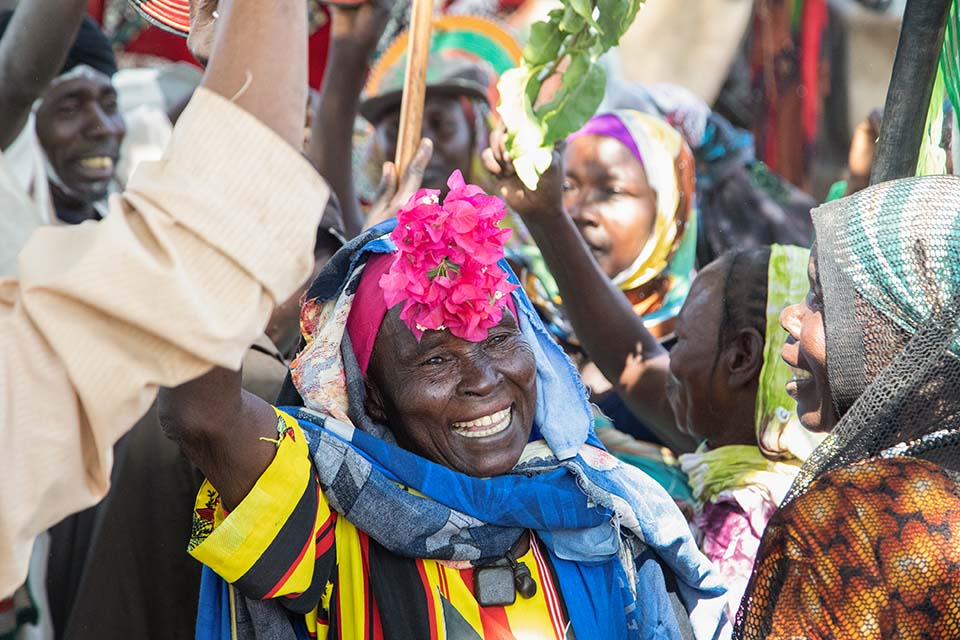 Women sing and perform a traditional welcoming ceremony in Haraza, West Darfur, Sudan.. Ethnic groups in the community work together to solve problems, collaborate for mutual benefit, and envision a harmonious future. Photo by Carlos Barrio/CRS
Funded by the European Union, CRS, together with the Catholic Agency for Overseas Development  and local partners, West Darfur Youth Organization for Development and Kebkabyia Smallholders Charitable Society, implements Ma'an Aqwa, or Stronger Together project, in North and West Darfur states. The project strengthens governance institutions for the management of conflict and climate change risks, enhancing community resilience, and promoting communication and collaboration across diverse institutions and communities. These efforts aim to empower local communities, build resilience to conflicts and climate change, and facilitate coordination among experts and others involved in climate science, natural resource management, peacebuilding, and development.
Ahmed is the chairman of one of the community action groups formed by CRS. The groups are responsible for solving problems justly and peacefully. They are composed of pastoralists, farmers, women, youth and community leaders. Ahmed emphasizes the positive impact of CRS' involvement in fostering cooperation, resolving issues between the two main ethnic groups and improving the sustainable management of the region's natural resources, which are crucial for the community's livelihoods and prosperity.
"Crop destruction has always been a problem from animals eating farming crops. Now this has been reduced by the social cohesion training and the two groups working together. Whenever it happens now, the two parties come together, discuss and agree on compensation, as opposed to fighting. "
To date, the project has conducted three workshops for government and community leaders, 34 men and 12 women, empowering them with the skills to deliver subsequent training to other members. Moreover, 11 community action groups were formed and trained in all project areas in West Darfur.
Critical resource management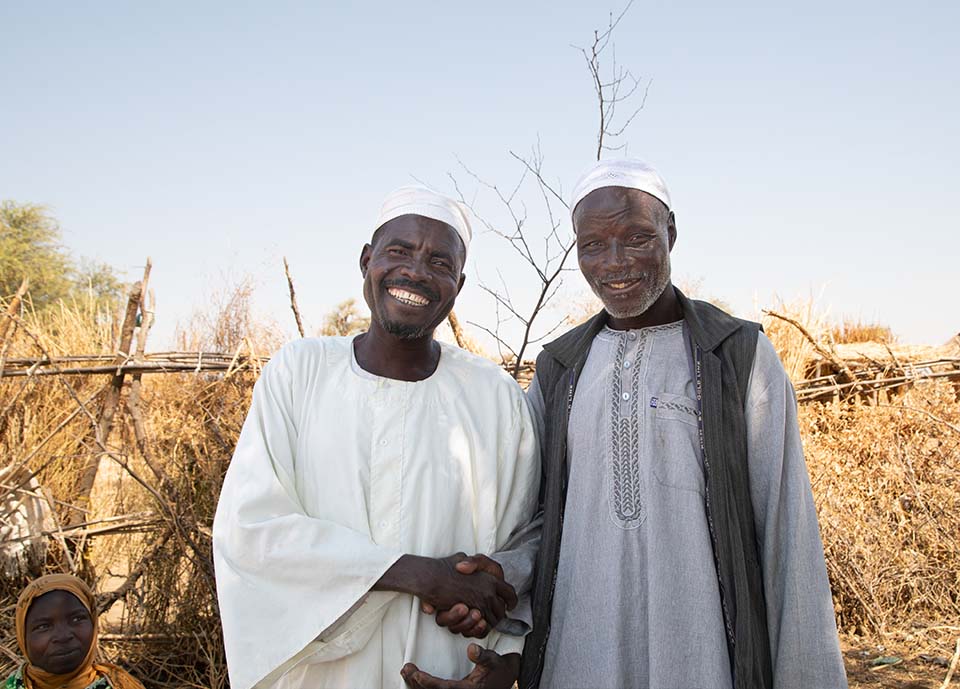 Ahmed Mohamed Ali, left, and Hassan Abdalla Yahia, shake hands as a symbol of the positive relationshiptheir ethnic groups have in Hashaba, West Darfur, Sudan.
Photo by Carlos Barrio/CRS
Ahmed has acquired numerous skills through the project, which he now uses to assist his community.
"The project has provided me with the capacity to understand how to organize and conduct meetings with other groups, to understand the importance of natural resources and how to manage them together as a group," Ahmed says.
As he lists the benefits the project has brought to the community, one rises as critical.
"The most important part of the project is helping us to understand how to manage our natural resources," he says. "Before, we didn't know how to control soil erosion, for instance. Through the project, we learned to plant trees around the farm, which helps protect the fertile soil from erosion."
Key members of communities and national institutions increased their peacebuilding and social cohesion skills. Community members are now better equipped to address climate-related issues and conflict within their areas of responsibility. In addition, the project plans to support groups to develop conflict-sensitive natural resource management plans and implement connector projects that bring members of different groups together to collaborate on improving community resilience to climate change and conflict. The connector project will be preceded by social cohesion messaging and discussions on conflict prevention and mitigation, facilitated by the groups and CRS social cohesion teams.
'God created us to be at peace'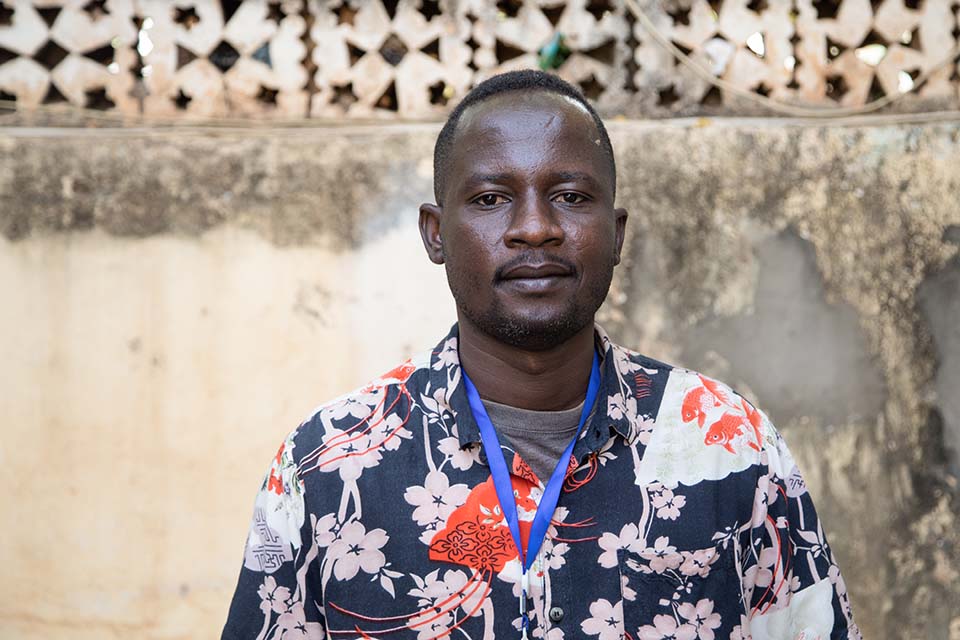 Bellal Abdul Aziz is a project manager for the Ma'an Aqwa, or Stronger Together project, in West Darfur. The project promotes social cohesion and peacebuilding among different community groups as a way tocope with climatechang, including water scarcity.
Photo by Carlos Barrio/CRS
Belall Abdul Aziz, who works with CRS as a project manager for Ma'an Aqwa, says that community members realized the importance of involvement of women and other groups on resolving problems and planning together for their communities.
"The aim of CRS is to create a safe space for the community to come together and discuss any issues," Belall says. "The traditional methods for conflict resolution did not involve women or youth. We try to bring the youth and women together to be part of the peace building committee."
At a time when social cohesion in Sudan is more important than ever, CRS and partners will continue to support local conflict management by drawing on existing community action groups and the conflict resolution skills of their members. 
Communities continue to carry the burden of trauma from the experiences they have endured.
"The peacebuilding approach starts with the individual, to make sure they are optimistic about the peacebuilding activities, and to alleviate the hatred. The person will then go back to their small communities and start the dialogue among family and tribe members. Then, these members will go and create a bridge with another group. This builds peace among communities," says Belall. "God created us to be at peace."