Building Peace in Chad
Photo by Jennifer Lazuta/CRS
Under the shade of a giant desert date tree in Moundassoloum village, on the outskirts of the city of Bol in Chad's Lake Region, Hadija Moussa Adam and her husband, Abakar Hassan Mohammad, stand among a group of around two dozen women and men.
The couple, who recently celebrated their 10th wedding anniversary, work as social cohesion facilitators and youth ambassadors in Catholic Relief Services' Stabilization and Reconciliation in the Lake Chad Region project, known as STaR II. As part of the social cohesion aspect of the project, they lead monthly discussions to foster peace and reconciliation within the community.
The region, which has faced growing insecurity and multiple humanitarian crises for more than a decade, continues to suffer from high levels of population displacement. That can cause further tensions between host community members and those who are internally displaced.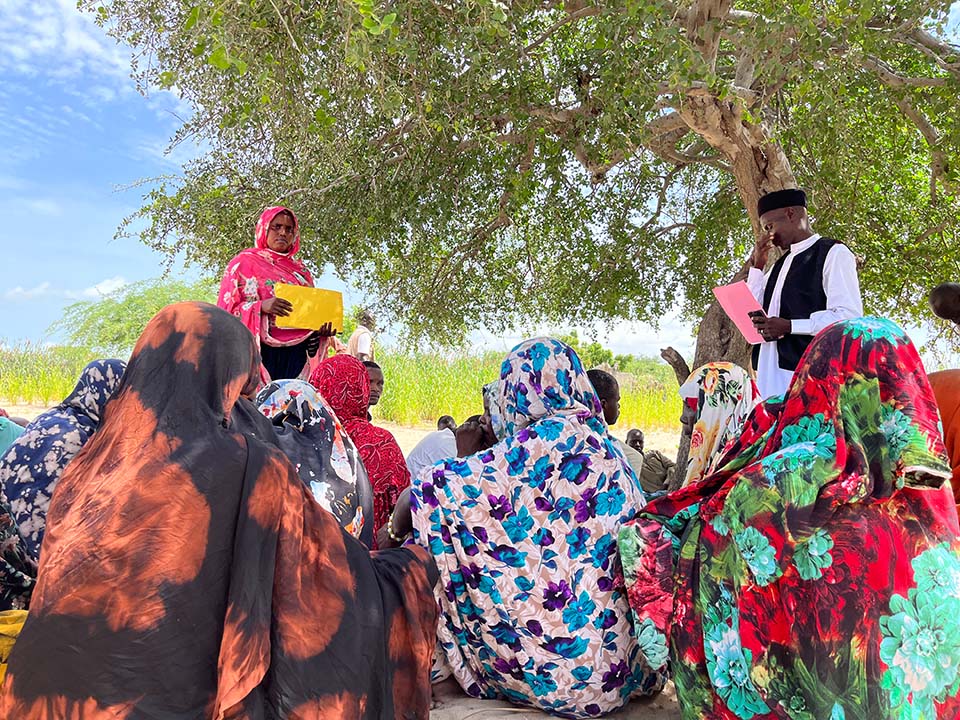 Hadija Moussa Adam, standing on the left, and Abakar Hassan Mohammad, standing on the right, lead a community discussion on peaceful problem resolution in Bol, Chad, as part of CRS' STaR II project.
Photo by Jennifer Lazuta/CRS
During these sessions, Hadija and Abakar discuss themes such as conflict resolution, early marriage and domestic violence. The discussions include learning to make decisions as a couple and respecting another person's opinions and ideas. Together, they launch debates, explain each topic and invite questions and answers. 
Today's discussion is about peaceful problem resolution among neighbors.
"It's essential to talk and share ideas," Hadija says. "To listen to other people's points of view and reasonings and find a common solution. Some people are quick-tempered. They need to learn patience. They need to understand why they are quick-tempered."
Hadija says that she has learned to be more flexible.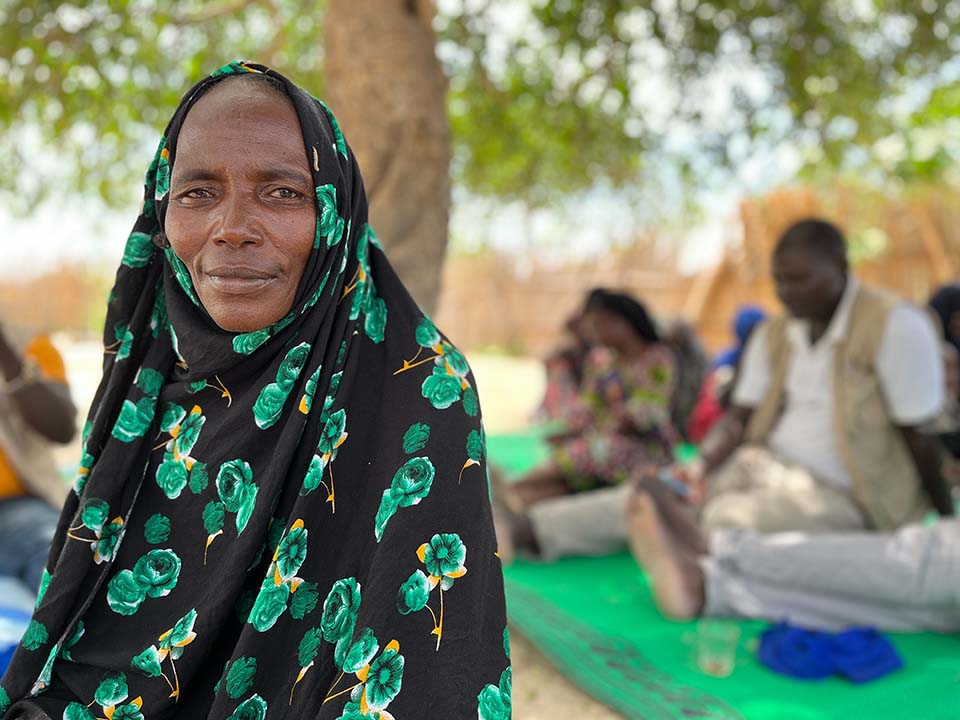 Hadija Moussa, a participant in CRS' STaR II project, meets with community members in Bol, Chad.
Photo by Jennifer Lazuta/CRS
"Our marriage has grown stronger," she says.
For Abakar, he says his biggest point of pride is seeing how people have changed their behaviors.
"These discussions have really helped to resolve intercommunal conflicts within the community. Now we can solve problems among ourselves. We don't need the police or other officials to resolve problems with force. We find out the cause of the issue and look for a solution. And now we have established peace within our community."
One participant, Hadija Moussa, says she looks forward to the meetings each month.
"It is interesting to attend these discussions and learn how to live peacefully together with our neighbors and within our families," she said. "They give us moral guidance and it is helping us become better people."
--
Stabilization and Reconciliation in the Lake Chad Region is a project funded by the German Federal Ministry for Economic Cooperation and Development via the German Development Bank. Phase I started in 2019 in Chad, Niger and Nigeria, while Phase II launched in September 2021 and expanded to include Cameroon. The project has activities under four components, including infrastructure development and rehabilitation, economic revitalization, social cohesion and local governance. In Chad, CRS partners with a local partner, Caritas N'Djamena, to implement the project.