Building Back Better in Northern Nepal
Photo by Nripendra Khatri/CRS
Tshering Chimbul knows opportunity when he sees it. He is a hotel owner, guide and a mason who lives in Lho Village in northern Gorkha.
"I have been building houses in Lho village since I was a teenager. And I have a teahouse because my home lies on the Manaslu Trail. Popular among international hikers, the trail has recently become a teahouse trek, opening up the misty wood-shingled villages of the Nupri Valley.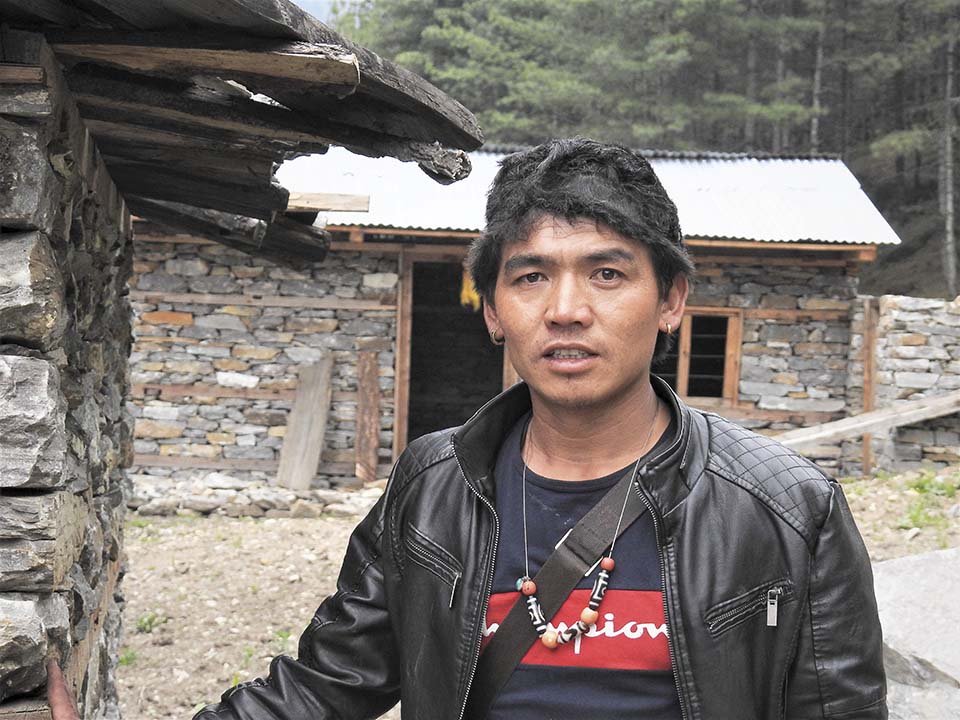 Tshering Chimbul is a skilled mason who participated in the 7-day training conducted by CRS in northern Gorkha. Since completing the training, Tshering has built more than 20 earthquake-resilient houses.
Photo by Nripendra Khatri/CRS
But following two devastating earthquakes in Nepal in 2015, the country faced the daunting prospect of rebuilding over 800,000 homes. The government of Nepal, CRS and our partner, Caritas Nepal, knew that there weren't enough masons to build those houses, and existing masons would need to learn new techniques to make homes stronger and more resilient in the event of future earthquakes. The scale of the disaster meant that thousands of people needed to learn new skills.
CRS shelter experts coordinated with the government of Nepal and created masonry training at two levels. At the first level, skilled masons who had experience building houses of stone, brick or cement could take a seven-day training to learn earthquake-resilient construction techniques. The second level was a 50-day training for people with no masonry experience.
Tshering saw this as an opportunity to gain new skills. He participated in the seven-day skilled mason course. Since completing the training, Tshering has built more than 20 earthquake-resilient houses in Lho Village. The catch is, he's paid by homeowners who receive government grants allocated in three separate distributions.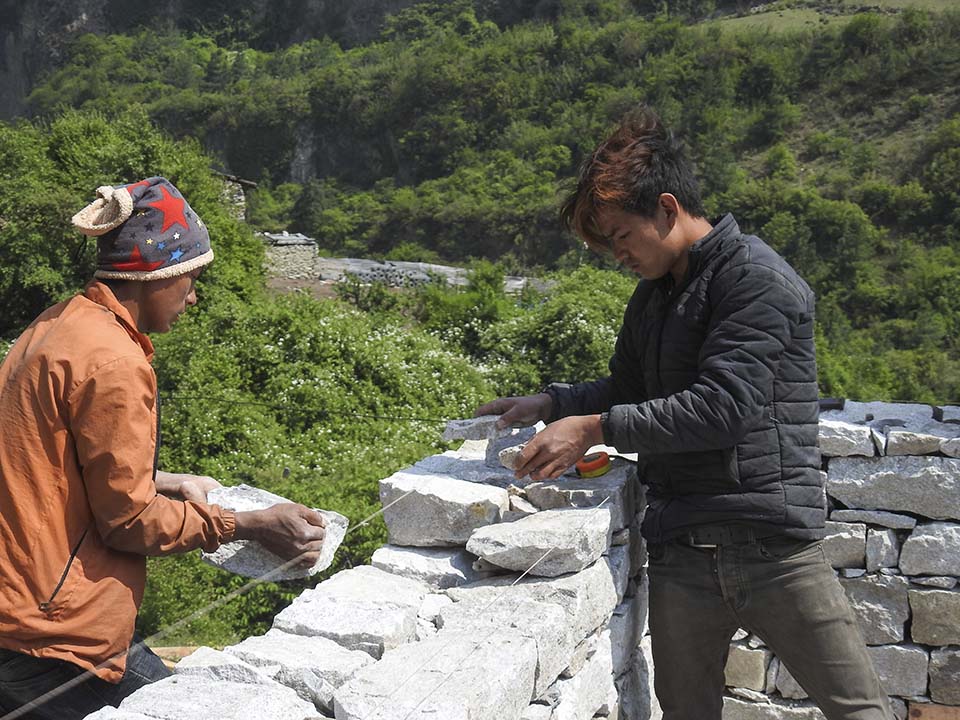 Bhuchema Lama, on the left, and Chewang Ghamjung, on the right, have worked as masons since they were 10 years old. But after the 2015 earthquakes they felt they lacked key skills to make a building earthquake resilient.
Photo by Nripendra Khatri/CRS
"Most of the people don't have the capital to build their house and they can only pay after receiving government distributions," Tshering says. "It makes it hard for a contractor like me to allocate resources to build multiple houses simultaneously. I take on a job simply on a trust basis hoping I will get paid soon after the house is constructed."
As he works, Tshering and masons like him aren't on their own in making sure houses properly incorporate improved techniques. CRS and our partners provide ongoing technical assistance. And that support has given more than 2,600 masons like Tshering access to skills that ensure families sleep in safer homes. Still, finding available masons for each job poses another challenge.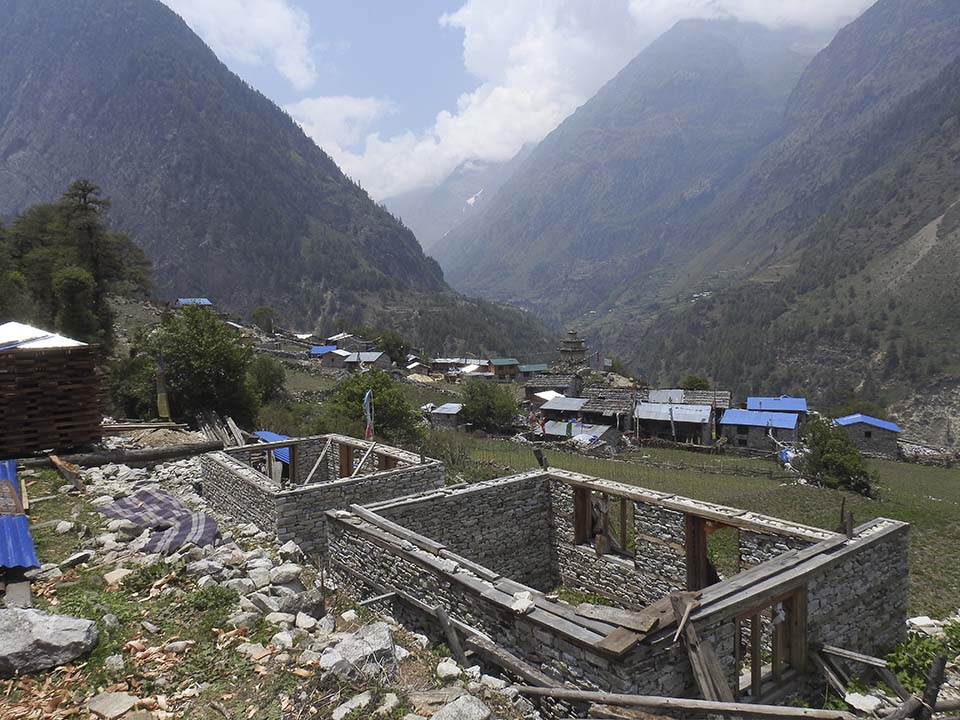 The life in northern Nepal is hard and its remote location makes meeting even basic needs a luxury. Many new houses have been constructed despite complications of terrain and scarcity of trained masons.
Photo by Nripendra Khatri/CRS
Like Tshering, people are engaged in multiple livelihood activities such as hospitality or various day labor. The most lucrative of all is picking the Yarshagumba, a caterpillar fungus highly prized for medicinal uses, during the season that runs from May to July.
"The entire town, from kids to elderly folks get in the highlands during this season to collect Yarshagumba, which can fetch $5 to $10 per piece depending on the quality," Tshering says.
Just as he said, in late May 2019, Lho village was nearly empty when the Yarshagumba season began. 
Builders also find it difficult to rely on the availability of any mason who owns a mule. Northern Gorkha's rugged terrain and lack of markets drives up the cost for raw materials. Mules, horses and walking are the only means of transportation.
"A mule rider is more in demand than contractors in the North," Tshering says.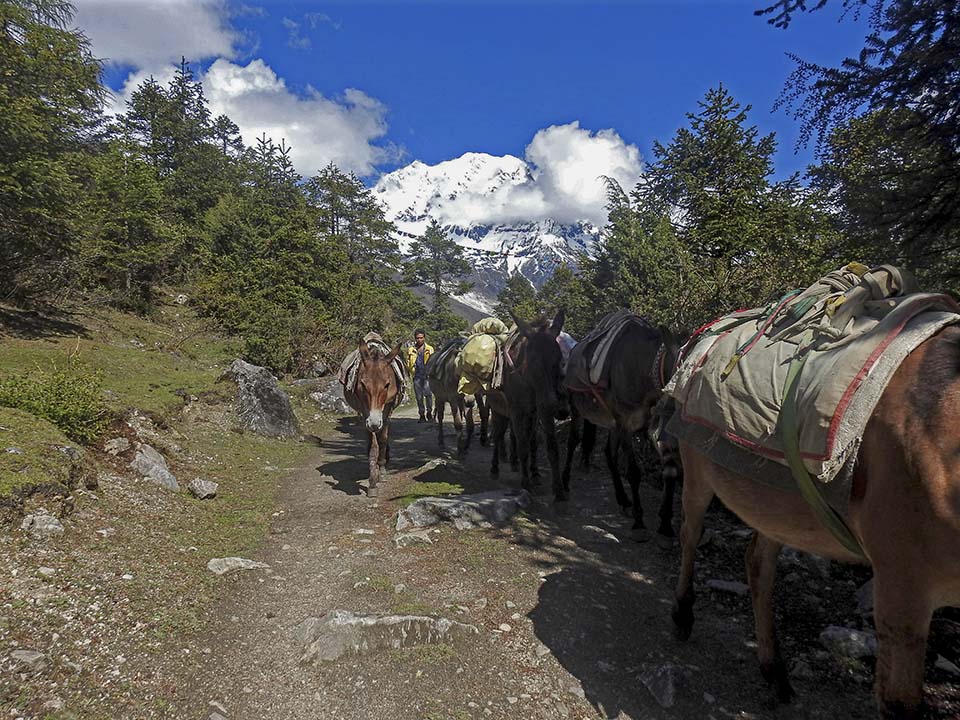 Residents who own a mule in northern Ghorka are in high demand in this rugged terrain where the only transportation options are by foot, pack animal or helicopter.
Photo by Nripendra Khatri/CRS
"And this makes it hard as a contractor to take multiple house building jobs," says Tshering. "I have yet to receive my money from some of the people I built a house for. I follow up with them, but it is taking much longer than I anticipated."
With all the daily challenges of life in northern Gorkha, compounded by the devastating effects of a powerful earthquake that took so many lives and homes, Tshering says people still have hope.
"Despite all the hardship, every individual is keen to learn and ensure the earthquake-resilient construction techniques are well used in their new homes," he says.