Bringing Water to an Isolated Village in Nepal
Photo by Nripendra Khatri
Leti is a rural village in the Okhaldunga District of Nepal—a community accessible only by a footpath. Thirty-six homes are scattered over 74 acres of mountain terrain. For years, everyone relied on a single water faucet installed by the government of Nepal. But as time passed and the population in nearby villages increased, the water faucet began losing pressure. After a major earthquake struck Nepal in April 2015, Leti's water faucet almost went dry—it was then that water became one of their biggest challenges.
"People had to line up their buckets for water, and at times your turn would not come till the next day," says Lakpa Sherpa, a resident of Leti. Lakpa had traveled outside the village and worked as a trained guide for the Everest Region. Every time he came home, he noticed the water problem getting worse.
Many appeals to local and district authorities went unanswered. Lack of water made hygiene practices difficult and washing clothes on a regular basis felt like a faraway dream. If they wanted to wash their clothes even once a month, villagers had to walk down steep terrain to the closest river.
Lakpa and Chhoti Sherpa with their 1-year-old son, Nawang Nuri, stand outside their home in the village of Leti, which received an upgraded water system after a devastating 2015 earthquake.
Photo by Nripendra Khatri/CRS
As part of Catholic Relief Services' recovery work in Okhaldunga, the people of Leti prioritized a secure, sustainable water facility in their village. No other organizations were interested in tackling the enormous challenge of this distant settlement with its geographical challenges. But CRS, along with its local partner and with support from the local government, made the decision to help.  CRS invested $14,000 and the local government invested another $8,000 to bring a reliable water supply to Leti. The community contributed labor by digging a pipeline and collecting local materials.
The nearest viable water source was four miles away at an altitude of more than 10,000 feet.
"Laying the pipeline was very difficult, as it passed through other small villages and created disputes," says Lakpa. "I met many individuals from other villages and explained the situation of Leti to all of them. It wasn't easy, but it wasn't impossible. To ensure we don't have disagreements in the future, I conducted a joint meeting with village leaders, and had the minutes stamped and signed."
The people of Leti were eager to support the initiative and make it possible. Five people—Padam Tamang, Angbabu Sherpa, Kami Sherpa, Sumba Sherpa and Daswani Sherpa—volunteered to provide labor for a period of 60 days.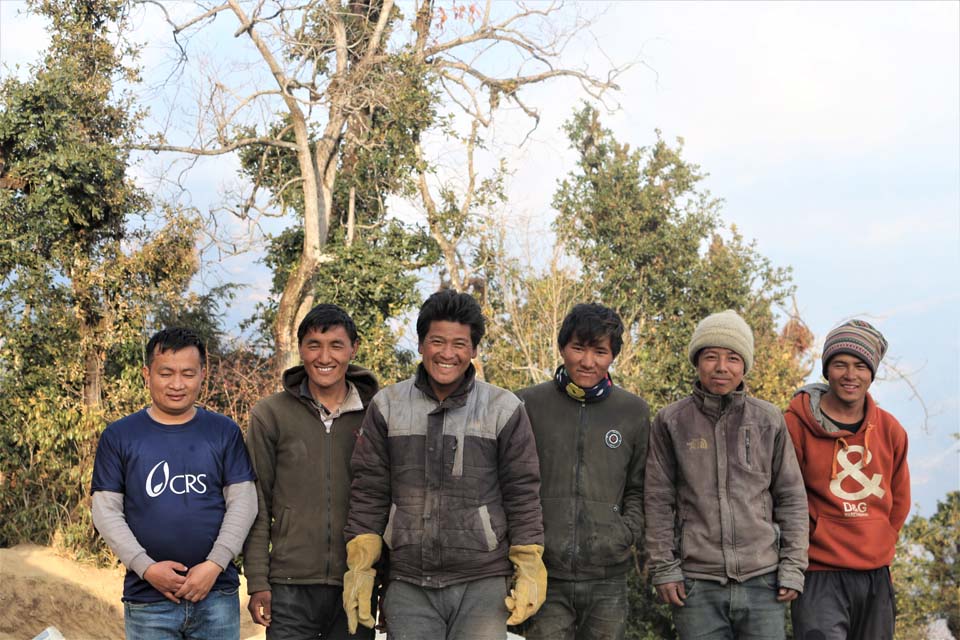 Residents of Leti volunteered to help build the village water system.
Photo by Nripendra Khatri/CRS
"My young son, Pasang Sherpa, followed me to the water construction site every day. It seemed he was more excited than anyone else," says Daswani Sherpa, who contributed labor.
The day the water pipes were turned on for distribution, the people were excited. Lakpa couldn't believe that what seemed impossible was no longer a dream. As he put his hand in the faucet for the first time to feel the water, he thanked God for this miracle.
Now each home in Leti has an individual faucet with clean running water— and the burden of long trips to collect water are lifted from the shoulders of women and young girls. Lakpa Sherpa adds, "We are blessed to have this water in our village—it's water straight from heaven."