Boosting Resilience and Independence in Kenya
Photo by Will Baxter/CRS
"We encourage them to work hard and not to depend on the project, so they will be self-reliant."
For years Esther* scraped by with her small business selling deep-fried fish on the banks of Lake Victoria, never turning much of a profit. But Esther, who is HIV-positive, desperately needed a reliable source of income to support herself and 6 children.
"I learned about the danger of HIV at a workshop, so I went to get tested and found out I was positive," Esther says. Upon receiving this news, Esther told her husband and received even more shocking news. "He said he already knew he was positive." Esther had her 5 children and niece tested. She learned that her youngest child and niece were both HIV-positive.
This was a decade ago.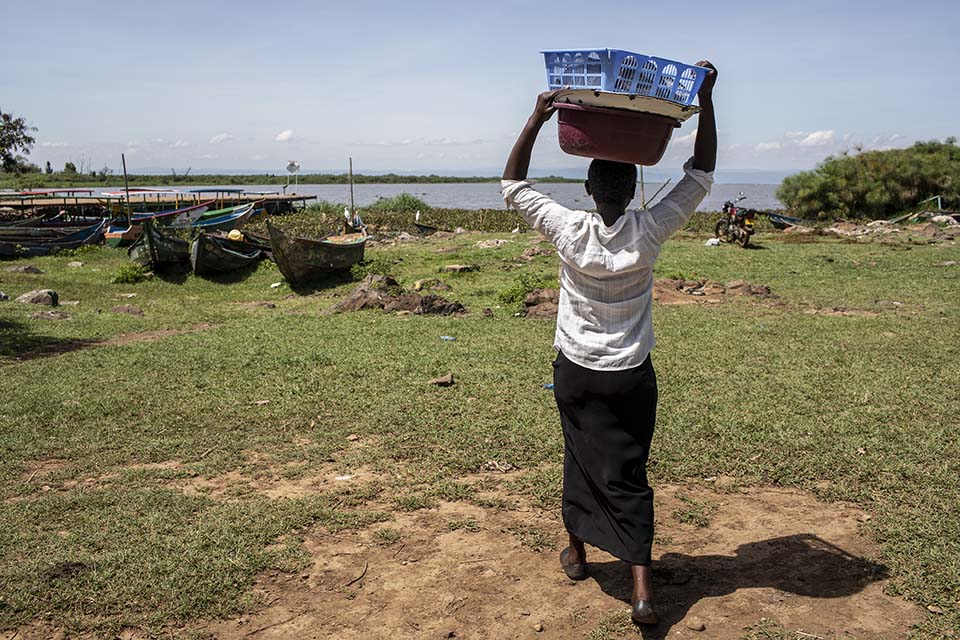 Esther* carries fish she will cook and sell in Kisumu, Kenya. Esther and her husband are both HIV positive, as is her 12-year-old son.
Photo by Will Baxter/CRS
In Western Kenya, where the country's HIV prevalence rates are the highest, parents and caregivers looking after HIV-positive children often struggle to make ends meet. Because Esther is the caregiver for a child living with HIV, she was identified for support through MWENDO, a Catholic Relief Services-led project funded by the U.S. Agency for International Development and the President's Emergency Plan for AIDS Relief.
MWENDO helps caregivers provide support to children affected by HIV and AIDS and emphasizes the importance of keeping these children in school. The project does this by improving access to health services, helping families set up and run small businesses, linking them to community savings groups, and strengthening the ability of local institutions to respond to child welfare and protection needs.
After taking part in training sessions led by one of MWENDO's 37 local partners, Esther was able to improve her small business.
Good for business
"When MWENDO came to support me, my business was down. I was given 3,000 shillings to boost my business," Esther says. With this money—the equivalent to $29—Esther bought 10 medium sized Tilapia fish and sold them at 350 shillings each, making an initial profit of about $5.80. Esther has continued to use this business model and has expanded gradually to increase her overall income.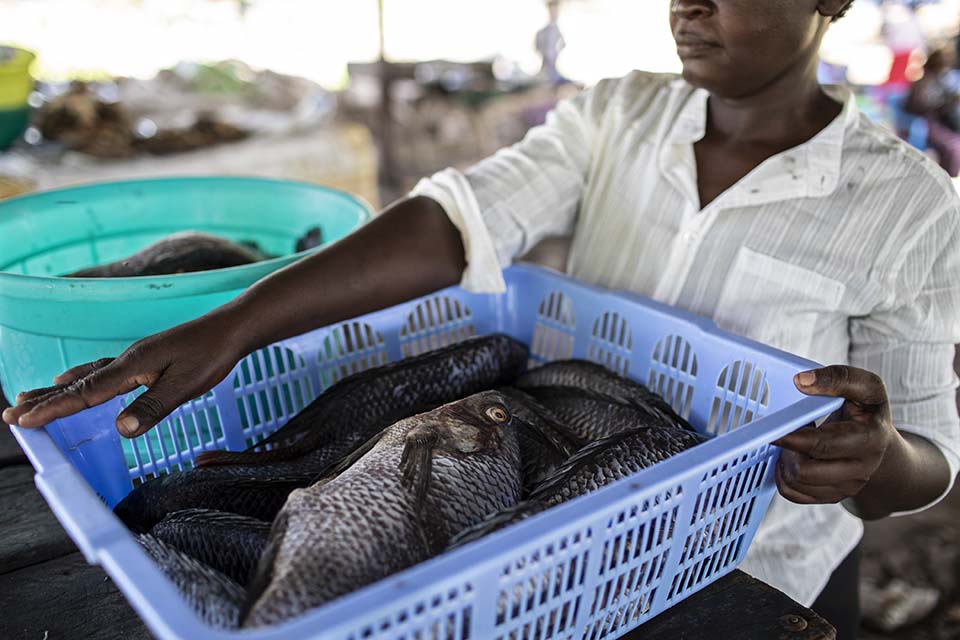 Esther* carries fish she will cook and sell in Kisumu, Kenya. Joining a savings group and learning administrative skills has helped her build her business.
Photo by Will Baxter/CRS
"I restock daily and don't just sell one type of fish. I buy different kinds depending on demand," she says. "On low days, I earn about 1,000 shillings, but on a good day I can earn around 2,000." Before, Esther could only make 800 shillings on a good day. "Now I only spend 500 shillings a day now on household needs like meals," she says.
For Esther, record keeping has made all the difference.
"MWENDO taught us about financial management. We learned about record keeping so we are able to track how much money we put into the business, and how much we make in sales so we can calculate profits," Esther says. "The record keeping is really vital so that I know how much I have made in profit. It also helps prevent me from impulse buying because I want to know how much I make."
As a result, Esther's household is more secure. "I am able to provide breakfast and dinner. During the day everyone is in school, so they eat there."
MWENDO participants like Esther are encouraged to form and join Savings and Internal Lending Communities—or SILC. These groups help people from economically disadvantaged households pool their money and take out loans.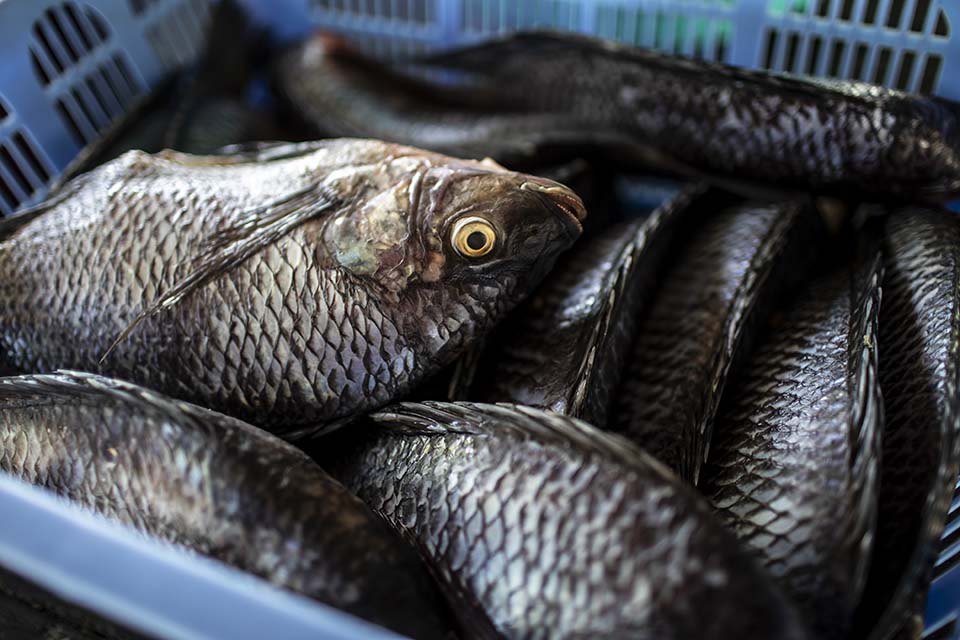 By helping families in Kenya increase income, MWENDO promotes community resilience. By 2022, MWENDO is expected to deliver services to approximately 90,000 households—with at least 326,000 vulnerable children—in counties with the highest HIV prevalence rates.
Photo by Will Baxter/CRS
"I save money in SILC and then I can take loans. We put in money and then we can take out loans. I am eligible to borrow 2,000 shillings, which I then pay back in a month's time," Esther says.
"With the money I borrow from SILC I am able to boost my business, so I earn more and can save to pay my kids' school fees." Esther has two daughters in vocational colleges, with combined school fees of more than $1,350 a year.
Disclosure of HIV status
Esther and her husband waited until their son was age 9 to tell him about his status.
"We told him through a counselor who came to talk to us as a couple about how to do the disclosure. The counselor told the boy. The boy then came to us and we explained to him more fully," Esther says. "He also got to know more about it because he goes to a support group."
Esther and her son are both on antiretroviral therapy. "My son and I support each other. We help each other remember to take our medication at night," Esther says.
Because her son takes his medication as prescribed, he has grown stronger and healthier. "Before we knew his status, he used to fall ill all the time. He was very weak. He almost died on more than one occasion. Now he is very active. He loves to play soccer."
Savings groups build resilience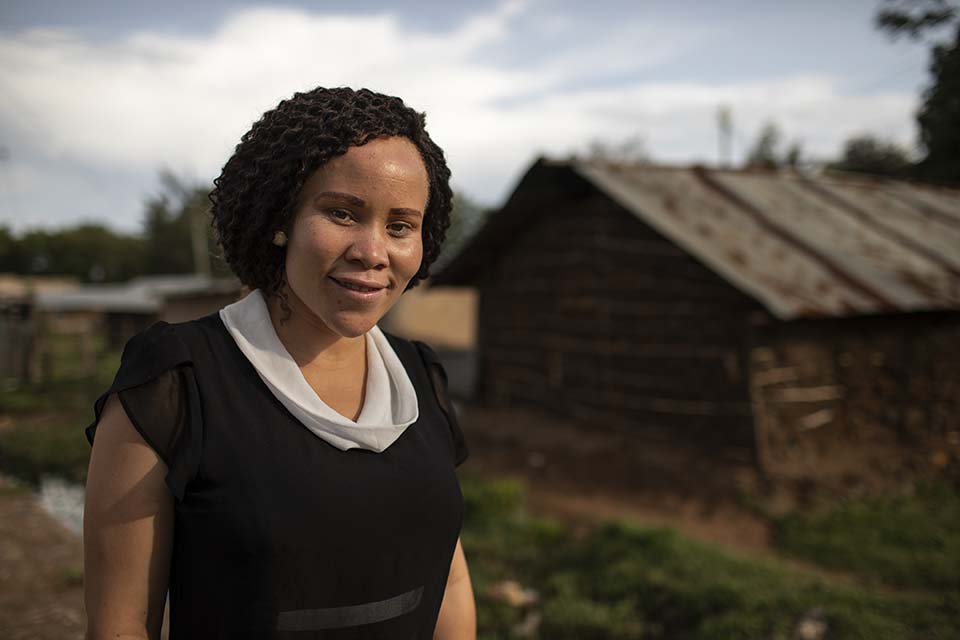 Vivian Omollo is a household economic strengthening officer with the Kenya Widows and Orphans Support Programme, in Kisumu, Kenya. Her organization is one of 34 local partners that Catholic Relief Services works with on MWENDO.
Photo by Will Baxter/CRS
The challenges Esther faces are common among caregivers who are supporting children living with HIV, says Vivian Omollo, a household economic strengthening officer for the Kenya Widows and Orphans Support Programme—an organization that works in partnership with MWENDO.
"Most households are not economically stable," Vivian says. "At first when we encounter them, we find that they are highly vulnerable. So, what we do under MWENDO is we try to link most of them to SILC groups. When we link them to SILC groups, at least they can be together and save together. From the SILC groups they can borrow through loans, and most of them can boost their businesses through the loans. Even the ones who had no businesses initially have managed to start small scale businesses."
The goal is for project participants to thrive on their own.
"We encourage them to work hard and not to depend on the project, so they will be self-reliant. Then once the project is gone, they can stand on their own feet," Vivian says. "We are trying to give them something that is sustainable."
*name changed to protect identity