Assisting Beirut's Battered Healthcare System
Photo by Stefanie Glinski for CRS
In a dimly lit room with broken windows and a large medicine cabinet in the corner, Dr. George Maalouly has been treating hundreds of patients ever since the August 4 explosion in Beirut's port.
Two weeks after the detonation of thousands of tons of ammonium nitrate, with almost 200 people killed and more than 6,000 wounded, health facilities are still reeling, and many will take months, if not the rest of this year, to rebuild. The collapsed economy and currency inflation had already put a strain on many of Beirut's clinics, with hospitals struggling to pay for medical supplies and patients unable to pay for healthcare. 
The World Health Organization determined that three major hospitals in the Lebanese capital had to close due to the blast's destruction, while over 25 smaller clinics were not functional. 
CRS partners have stepped in quickly. They were part of CRS's three-year PEER project that prepares local faith-based partners to quickly and effectively respond to emergencies. The project was designed to improve partners' financial, procurement, human resources and other institutional systems during emergencies. The project also helped them employ industry standards during emergency responses.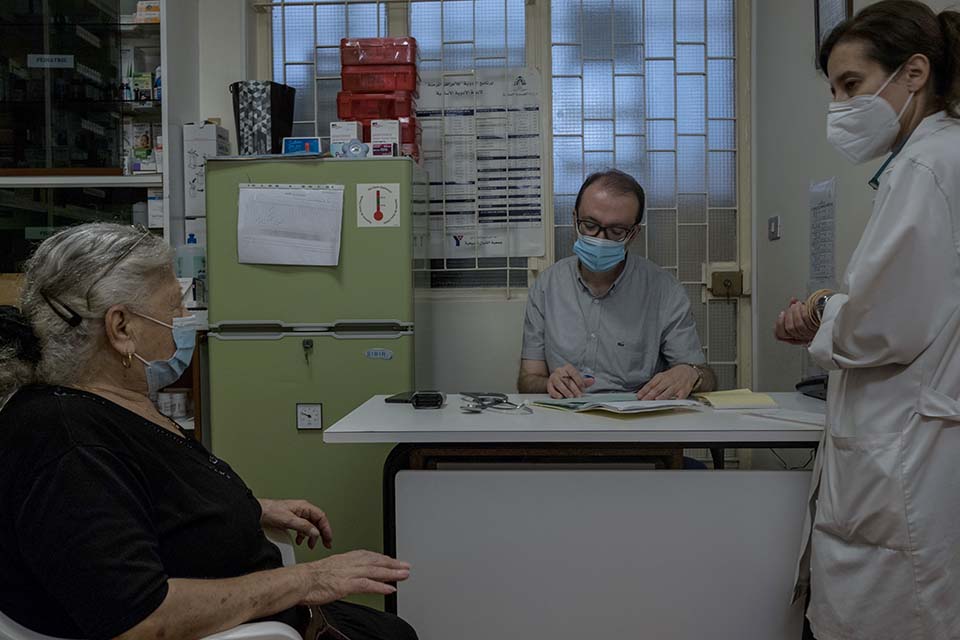 Dr. George Maalouly and nurse Patricia Smayta treat a patient at the clinic set up by CRS partner the Orthodox Youth Movement. The August 4 explosion near Beirut's main port further strained an already taxed health care system. Photo by Stefanie Glinski for CRS


"In the days immediately after the explosion, we've been seeing people nonstop, bandaging up wounds, distributing medicine, helping where we can," Maalouly explains from his small clinic in Beirut's Ashrafiye neighborhood, a largely Christian quarter that has seen widespread destruction. He's been working with the Orthodox Youth Movement, one of CRS' partners, providing both outpatient and mobile healthcare.
A short drive away from his clinic, at the Armenian Relief Cross of Lebanon clinic, Dr. Garabed Yeokjian describes the carnage witnessed after the blast.
"Hundreds of people were lining up outside the hospital—many of them injured and needing immediate care. We worked all night and until the morning," he recalls. "Our hospital was damaged too. All of our doors and windows were broken, but we continued amid the rubble, helping people as much as we could."
Murhaf Mubarak, a hair stylist, is one of the patients.
He had just started his evening shift when he heard a loud noise, his shop's glass windows  shattered and furniture flew toward him. He couldn't take shelter—neither could his clients—but all survived.
"I was lucky," he says now, resting on a bed at the Armenian Relief Cross of Lebanon clinic, his right ankle in a cast, a few of his ribs broken. Mubarak has been returning to the hospital frequently, where he is receiving free care and check-ups.
"I wouldn't be able to afford most hospitals in town on my small salary," he says, adding that most of the ones near his house have been destroyed anyway. Dealing with the events of August 4 has been hard for him on many levels—rising costs to repair his shop, taking care of his health and dealing with trauma.
"A lot of my stability has been ripped away," he says. "At least I'm sure that I can always show up here at the hospital, and I know I will be treated and cared for. That's one thing less to worry about."