To define oneself as a bridge that unites, that links, like two hands when one hand needs and the other gives, that's Andrés. He arrived at the United States from Colombia at the age of 14, his eyes opened to the opportunities that in this new land everyone has access to. Lacking a parameter to compare, previously he didn't notice the wide gaps. Upon arriving, he ceased to be a Colombian to become Latin American. Andres's capability to enjoy the cultures, flavors, music and friends from all over Latin America opened his heart to face something he did not know: the Hispanic community in the United States.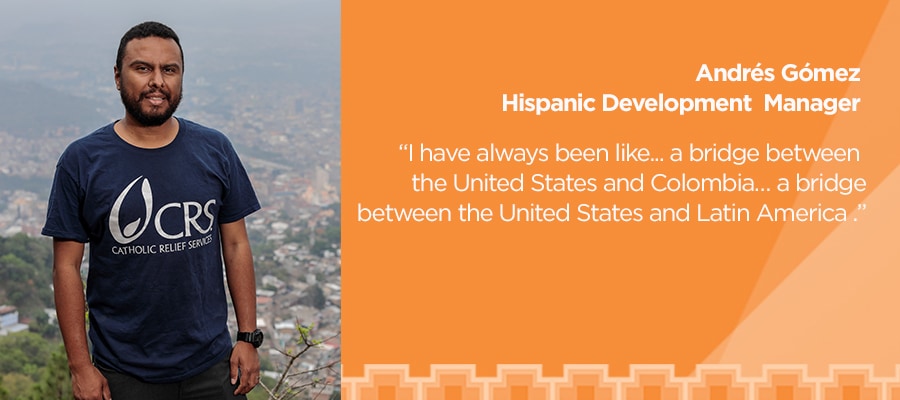 Uplifted with the best of everywhere and sensitive to the scarcities of Hispanic countries, while attending college, he focused on careers related to humanitarian issues. It was there that he learned about CRS, because he was studying at a Catholic university and there, people talked about well-known humanitarian organizations. Before working at CRS, Andres worked in Peru and in his native Colombia, because for him, faith is not just a word, it's an action. That is where he fits perfectly with CRS's mission; and the motto "Faith, action, results," connects very intimately with Andres. Another highlight of his relationship with CRS is how CRS at its core, understands the realities of the field. CRS's work is strongly linked to each country office around the world. There is a mutual understanding.
"As Hispanics, we know the reality of Latin America, we come from countries where there are immense needs, we have seen the face of extreme poverty. But I also believe that we are a community that is very kind and compassionate. We have a connection which is very focused on helping our fellowmen because our faith asks us to, it calls us to do something. And I think both CRS and the Hispanic community have that in common."
As the Hispanic community in the United States, growing and with great impact on the culture and the economy, Andres recognizes himself as an active and vibrant part of this culture that, undoubtedly, is dynamic and changing. Increasingly, with a greater voice and vote, as Hispanics we can now make decisions and help our brothers in their countries. Andres emphasizes that, as Hispanics in the United States, we have a lot of power and we also have access to the necessary tools, because we have an open door to two realities and that gives us more information and a greater commitment. Andres celebrates being an Afro-descendant Colombian, with so many opportunities in the United States, he wants to give back a little to the people. It's not just his career, it's also who he wants to be as a person. Andres is that bridge.
"We are a community that is growing, we have a voice, a vote and big economic power. We can use our resources, put our grain of sand to be able to change the conditions of Latin America. Push the government of this country to change things or contribute our financial small grain to help causes such as CRS's for those in most need."
Currently Andres creates, implements, and promotes initiatives that engage the broad spectrum of the Hispanic Community in the United States to support of CRS' mission.
This month we celebrate our Hispanic heritage. Celebrate with CRS!