Alternatives to Migration in Senegal
Photo by Maya Hautefeuille for CRS
Modou Diop stands on a physical distancing mark chalked onto the ground and waits in line. In front of him, piles of bleach, hand sanitizer and soap are neatly laid out on a table. On this late April morning, Catholic Relief Services and Caritas Senegal distributed hygiene kits to 50 beneficiaries in the Thiaroye-Sur-Mer suburb of Dakar under CRS' Action for the Protection and Integration of Migrants in (West) Africa—also called the APIMA project.
High levels of unemployment, climate change and social pressure bring many youth in West Africa to feel they have no choice but to leave their homes to seek better economic opportunity. The APIMA project serves 350,000 people across The Gambia, Ghana, Mali, Niger, and Senegal in cooperation with local Caritas partners. 
A boy sits by hygiene kits consisting of bleach, soap and hand sanitizer delivered during a distribution organized by Catholic Relief Services in the Yarakh suburb of Dakar, Senegal.
Photo by Maya Hautefeuille for CRS
APIMA's primary aim is to assist migrants, their family members and other youth from their communities of origin and host communities to benefit from professional opportunities. With the coronavirus outbreak rapidly gaining headway in Senegal, APIMA organized a hygiene kit distribution for its project participants as a way to meet their immediate needs.
Modou is a 47-year old returnee, originally from Thiaroye. Like many unemployed men from this fish-processing suburb on the southeast coast of Dakar, he had dreamed of earning a living in Europe at whatever cost.
''There was no work in Senegal," he says. In 2006, Modou reached Spain but was sent back home after only a month and a half.
Looking at the hygiene kits being handed out in his local town hall, Modou was reminded of the same feeling of desperation that had first pushed him to pursue a life in Europe 14 years ago. Jobs were notoriously scarce in this low-income suburb of Dakar, and like the majority of his peers Modou was surviving on a daily wage of about $4, working as a plumber. Notwithstanding the neighborhood's habitual poverty, the coronavirus pandemic is further aggravating inequalities and threatening the ability of men like Modou to provide for their families.
Stark forecast
Women who have received hygiene kits sit outside the distribution site in an area of Dakar hit by the economic downturn in Senegal caused by the COVID-19 outbreak.
Photo by Maya Hautefeuille for CRS
Senegal's first coronavirus case was recorded on March 2, and by the end of May the official caseload had soared to just over 3,000. When Modou received his hygiene kit, the West African nation of 16.5 million had already been under a coronavirus lockdown for 45 days that had seriously jeopardized  vulnerable families' capacity to meet their basic needs.
Market days were reduced, business hours shortened, non-essential services shuttered, international exports blocked and movements restricted by a dusk-to-dawn curfew. On the eve of the country's landmark 60th independence anniversary in early April, President Macky Sall starkly forecasted that Senegal's economic growth was about to fall to less than 3% in 2020 from a forecasted 6.8%.
Moustapha Diouf is the president of CRS' partner, Association des Jeunes Rapatriés, or AJRAP. A migrant association in Thiaroye-Sur-Mer, AJEAP emphasized that local job creation was needed more than ever because of the faltering economy. In between greeting returnees during the distribution, Mr. Diouf highlighted that AJRAP's mission was to reduce irregular migration among people ages 18-35 by raising awareness about its risks while offering vocational skills trainings.
Valuable skills
With previous support from CRS, AJRAP runs vocational courses in food processing, information technology, auto repair, metalwork and tailoring.
''Projects like this are concrete. That is what makes people stay in this country," says Mr. Diouf.
Salamba Ndiaye, 23, was a young participant at the distribution site who had partaken in AJRAP and APIMA trainings in 2019, including one on food processing and another on employability skills. Thanks to her newfound qualifications, she had started an internship in Dakar in February, but had to stop a month later because of the lockdown.
''It was very difficult to stop and stay at home," she says, ''because I'm the youngest in the family and my home situation is crowded.''  She says that she is eager to start applying for jobs and use the profitable tools she had gained from the five-day APIMA training on how to write a resume and conduct a successful interview.
'Stay at home'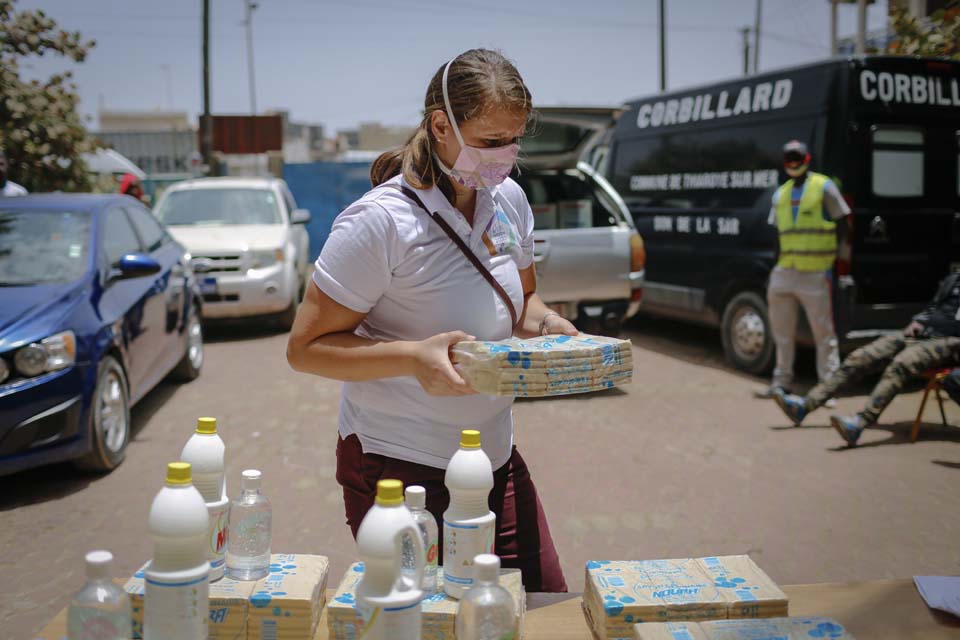 Catholic Relief Services' APIMA project officer prepares hygiene kits to be distributed to migrant and vulnerable families in the Thiaroye suburb of Dakar, Senegal.
Photo by Maya Hautefeuille for CRS
With trainings now suspended because of the pandemic, AJRAP is using its thirteen years of grassroots work to educate the community about ways to limit the spread of COVID-19. 'Stay at home', AJRAP's longstanding message to potential migrant youth in Senegal, has taken on a literal double meaning.
For its part, in order to better serve its participants in the current pandemic, APIMA is working hard to adapt to a changing context. The Senegal team has made adjustments like adapting core trainings to a WhatsApp format to continue supporting youths' access to professional skills. The distribution of hygiene supplies are a timely way of increasing the well-being and protection of migrant populations. 
As soon as he picked up his hygiene kit, Modou sidled off to the tree-lined edges of the town hall to greet friends from the close-knit community of returnees and advocates against irregular migration.
''These products will be welcomed by my wife and children," he says, referring to the soap and bleach. ''As for me, the days of yearning for Europe are long gone. I just want to earn a living and provide for my family. Perhaps I'll go into construction work or animal-raising. I have hope for the situation to improve after the pandemic.''