Agreements foster Trust Among Displaced Persons and Hosts
Photo by Samuel Phelps/CRS
Like most people arriving in a new place, it takes time and resources to settle in. Bulama Bakar arrived with his family in Maiduguri, in the North East zone of Nigeria, after fleeing his village in search of safety from ongoing conflicts between security forces and insurgent groups.
"When we arrived at first, we paid rent in a house but it became expensive," says Bulama. "I then had the opportunity to meet a landowner who could accommodate me and my family."
Bulama, a community leader in his home village, was very fortunate to meet a charitable member of the community who could help his family. With millions of displaced people in the region, there is urgent need for land to shelter and farm on. But climate change and droughts are causing land-use disputes between land owners and displaced people seeking safe places to settle. A legal framework is required to protect land owners—as well as those residing on their land. CRS and our partners are facilitating this process, both securing temporary land use for displaced people and reassuring land owners.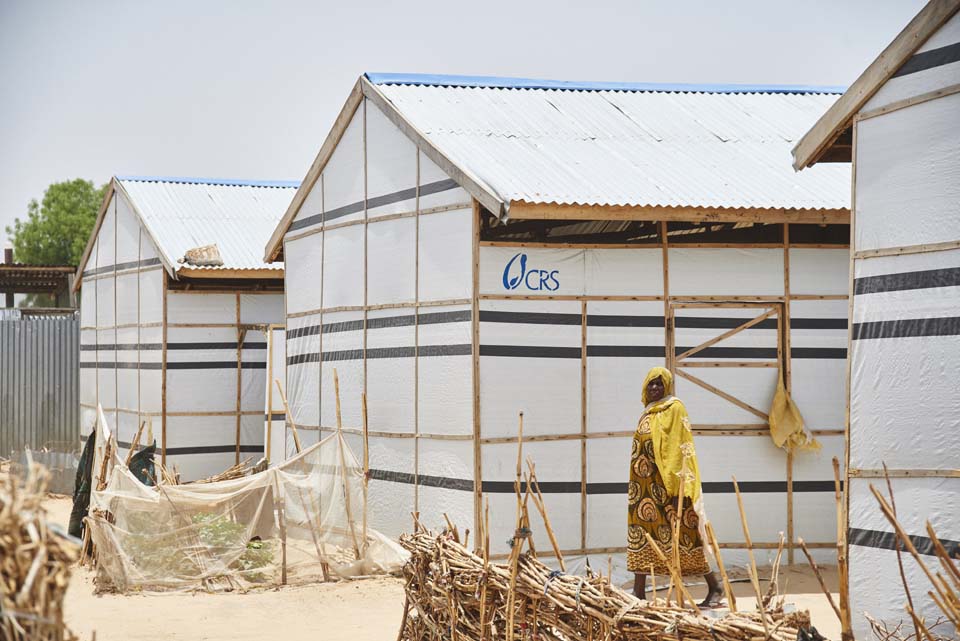 Shelters in El Miskin Extension Camp, Maduigrui, Nigeria.The shelter is specifically designed and tested conditions in North East Nigeria. 
Photo by Samuel Phelps/CRS
"Because of the nature of displacement, most people run to urban areas and they settled on people's land without any formal agreements or arrangements with the owners," says Caleb Nathania Tidi, a CRS housing, land and property specialist.
In El Miskin Extension Camp on the outskirts of Maiduguri, landowner Usman Bukar sits on woven matts talking with a group of displaced women under a tree, sheltered from the scorching midday sun.
"Roughly 3 years ago people started arriving on my land. Most of them were staying in another place before and were ejected," says Usman. " I decided to host them because they don't have anywhere to go. They are human beings like me."
CRS helped write up an agreement for Usman and the leaders of the displaced community. Caleb was part of that process.
"When we secure a piece of land from a land owner, they usually allow a camp for a minimum of 2 years. There is a clause that it can be reviewed after this period, especially if the displaced people cannot leave due to ongoing insecurity," says Caleb. "At the end of the day, it is our goal to convince them that this is them giving to the community, helping their people."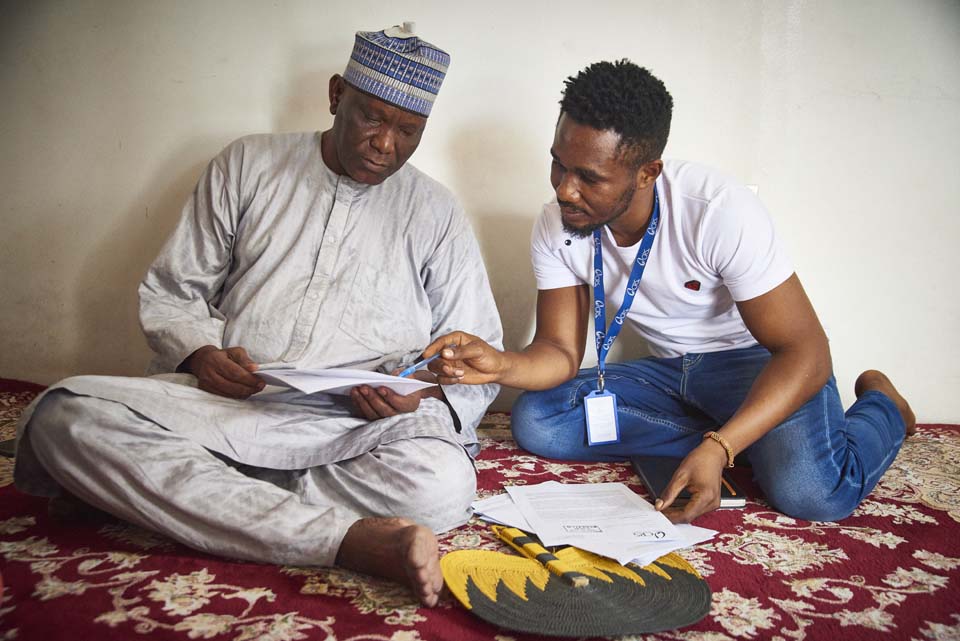 Caleb Nathania Tidi, a CRS housing, land and property specialist, right, talks with Alhaji Ali Kime, a landowner and businessman in Maduiguri, Nigeria.
Photo by Samuel Phelps/CRS
"CRS explained to me the conditions of a contract," says Usman, the landowner. "I was glad that there was a witness during the signing of the agreement," he says. " I am reassured now that no one can take my land."
These agreements also state clearly the types of use that will be established on an owner's land, including building structures like shelters and latrines. This protects against fraudulent land ownership claims and organizations like CRS being taken to court by landowners. To resolve disputes that do arise, CRS has begun workshops that explain house, land and property laws to landowners and displaced persons.
"We are undertaking trainings in housing, land and property rights. This is especially important for teaching traditional leaders in the rural areas, as they are the ones best placed to resolve disputes," says Caleb.
One generous landowner, Alhaji Ali Kime, signed an agreement with CRS to allow thousands of refugees to stay on his land in what is known as Muna Camp.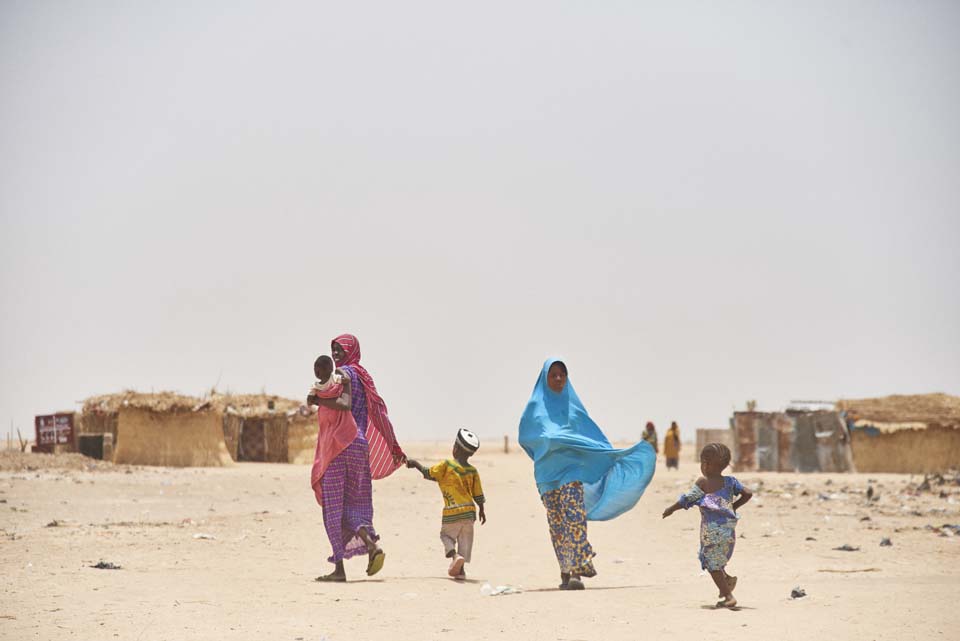 A women and children walk through in El Miskin Extension Camp, Nigeria. They have a safe place to live thanks to an agreements between CRS and local landowners. 
Photo by Samuel Phelps/CRS
"As a human being, it is an obligation to help these people affected. That desire to help has motivated me to sign an agreement with CRS," he says. "It's not just about the agreement I have signed, it's about trust. Trusting that CRS and the beneficiary will at the end of day keep their word," says Alhaji. "If there is trust there, it is reassuring. I had my own fears and doubts that when you give something, maybe your land is misused, so yes I had to keep this in mind."
For Bulama Bakar, displaced with his family, it gave some peace of mind despite all of the other challenges.
"It was clearly explained by CRS what my rights were to stay on someone else's land, and I also signed a contract that makes the rules and rights clear."