3 Urgent Migrant Crises and How You Can Help
Photo by Nicolo Filippo Rosso for CRS
"Thousands of migrants die each year trying to attain what we Americans sometimes take for granted."
They are chased from their homes, suffer enormous privations during dangerous treks to unknown futures only to face hostility in the place they sought hope.
Migrants, refugees and asylum seekers in record numbers are escaping violence, abject poverty, climate degradation, and lost livelihoods. They want only to find a safe place to regroup and rebuild and hopefully someday return to their countries or find a new place to call home.
We need to help them. Here are just a few examples of groups CRS is serving right now as they navigate new and too often inhumane territory.
Central America: Families from several countries flee violence, tottering social structures, and yet another poor harvest. Their children go hungry and they have no safety net. When they reach borders, families are separated, detention facilities are miserable. Instead of a haven, they find suffering and even death.
Your support of CRS helps us address root causes of migration. You provide counseling, shelter and basic supplies to children and families who are being returned to their home countries. We also protect kids against trafficking, help keep them in school and help youth stay out of gangs. To read more about the migrant crisis in Central America, click here.
Help Central American Families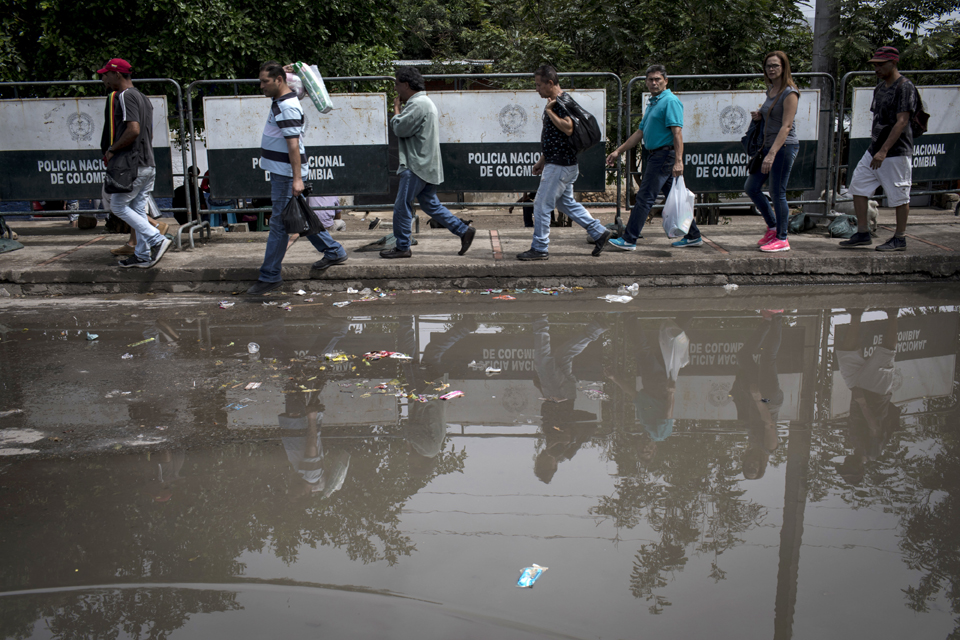 Migrants long journey can last months. The travel often by foot in search of a new life and job opportunities, fleeing their countries. CRS is working with our partners to meet migrants' needs as they navigate uncertain and often hostile enviornments. Photo by Nicolo Filippo Rosso for CRS
Venezuela: Once among the most prosperous nations in the America's, Venezuela's sudden plunge into economic crisis has left millions of Venezuelans destitute. Without food, medicine, employment and a government in crisis, 1.5 million have fled their country and millions more remain in dire need of emergency food and health support, especially for children, mothers and the elderly.
Your support here enables CRS and partners to provide food assistance, nutrition screenings and essential medical care. In Colombia, Trinidad and Brazil, CRS works with local partners to help Venezuelans and provide a range of support, including food, safe shelter, medical care, legal assistance, livelihoods support, protection, children's education and counseling.
Central and West Africa: Migrants often suffer hardships and death outside the world's attention. A recent airstrike in Libya that killed dozens of migrants is one horrifying instance of the all too common fates they endure when they risk everything often as a result of  economic hardships or social pressures at home.
Your support of CRS allows us to protect migrants in transit as well as those returning and reintegrating back home across five countries in West Africa.
CRS will always support our most vulnerable brothers and sisters overseas with food, shelter, clean water and medical care long after the emergency fades from the spotlight.