3 Things You Should Know About COP27
Photo by Ferdous Ismail for CRS
According to the world's leading environmental scientists, who are part of the Intergovernmental Panel on Climate Change (IPCC), keeping the rise in global average temperatures below 1.5 C—compared with pre-industrial times—will avoid the worst impacts of climate change. However, scientists warn that we are already on track to pass this threshold by the end of the decade. If this were to happen, the IPCC estimates that environmental catastrophe will be inevitable. That is the urgency with which the United Nations climate summit, or COP27, convenes in Egypt this year. Here are three key facts you can bring to this challenge.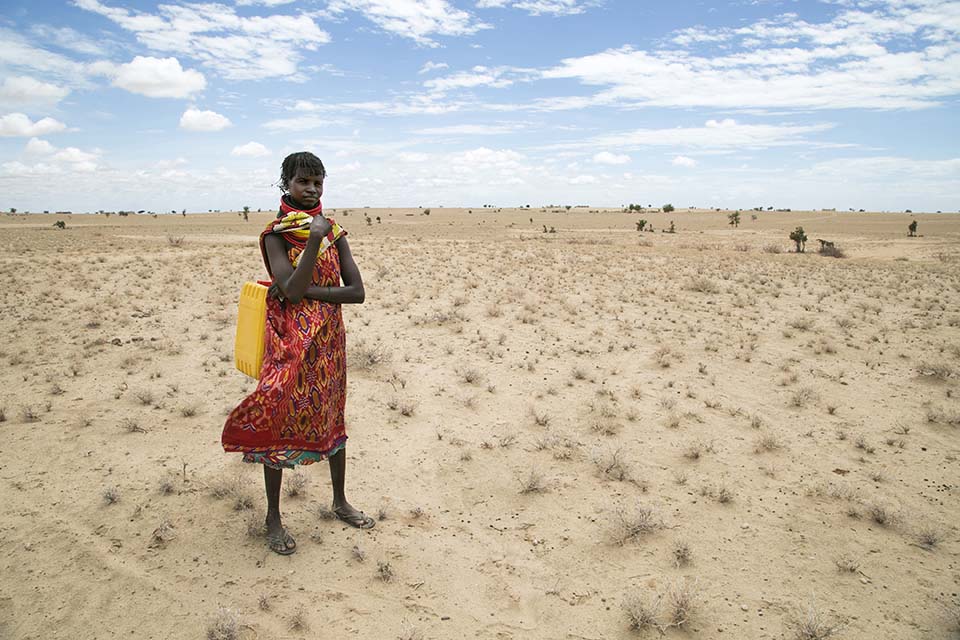 A woman walks across dusty plains to fetch water somewhere beyond the distant horizon.
Photo by Nancy McNally/CRS
COP, or the Conference of Parties, is the nations of the world coming together to protect the planet from adverse climate change. More than 200 governments are represented along with environmental organizations, community groups, think tanks, businesses, faith groups, and NGOs, like Catholic Relief Services. They seek solutions to rising global emissions and the best ways to help communities adapt to environmental changes, such as rising sea levels and more frequent and powerful storms.
Catholics represent a strong voice in this international assembly. Following the Holy Father's leadership, CRS is working with Caritas, the Laudato Si' Movement, Catholic universities and others on this issue. CRS and many of these groups will have a presence at the conference. As a result, the Catholic voice at the COP27 will sound loud and clear for those people who find themselves in critical, life-threatening situations.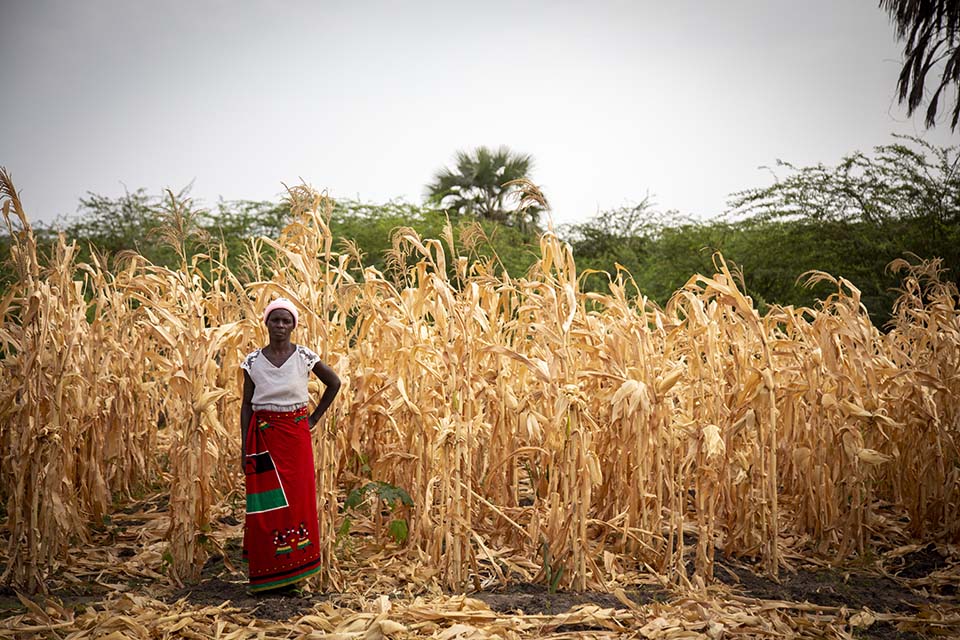 A farmer stands amid her dry maize field that depends on rains to yield a harvest.
Photo by Dooshima Tsee/CRS.
The important work of COP27 isn't limited only to those who can attend. Each of us can play an important role in addressing the COP27 climate change issues that impact low-income people across the globe.
Subscribe to our climate change campaign online: By subscribing to CRS' emails and texts, you can join a movement of people committed to making a difference in the lives of our sisters and brothers around the world. Subscribe to receive stories, information, prayers, fundraising opportunities and advocacy alerts.
Become involved in climate advocacy: You can visit our online Action Center to find tools to connect with your member of Congress, tips on how to write a letter to the editor, information to learn about key U.S. congressional committees, background documents on key legislation, and more. Right now, you can urge Congress to ensure the highest funding levels possible for foreign assistance.
Raise funds for organizations like CRS: Raising funds is a tangible way to support your global family members. You can donate to CRS' programming or visit crs.org/act/fundraise to explore diverse ways you can invite your community to