Responding to the Earthquake in Ecuador
AP Photo/Carlos Sacoto
A 7.8-magnitude earthquake struck Ecuador's coastal region on Saturday, April 16. Catholic Relief Services is preparing to assist our local partners in an emergency response.

Please support the Church's response to the crisis as we pray, learn, act and give to those in need. 
 
---
PRAY
As Catholics, we recognize that prayer binds us in solidarity to our neighbors in distress, and connects us more deeply with the grace that flows from God. In times like these, we encourage responses that begin with prayer.
---
LEARN
It is important that we respond to this crisis by staying informed about the Church's response, the international community's response and about Ecuador itself. 
---
ACT
Our Catholic communities are great resources. They can help us speak with one voice on behalf of our global neighbors in need, and can galvanize our neighbors and our governments to respond to this crisis with humanity and effectiveness.
Spread the word and invite others to pray by sharing these memes. Right click to open image in a new tab, save and upload to social media.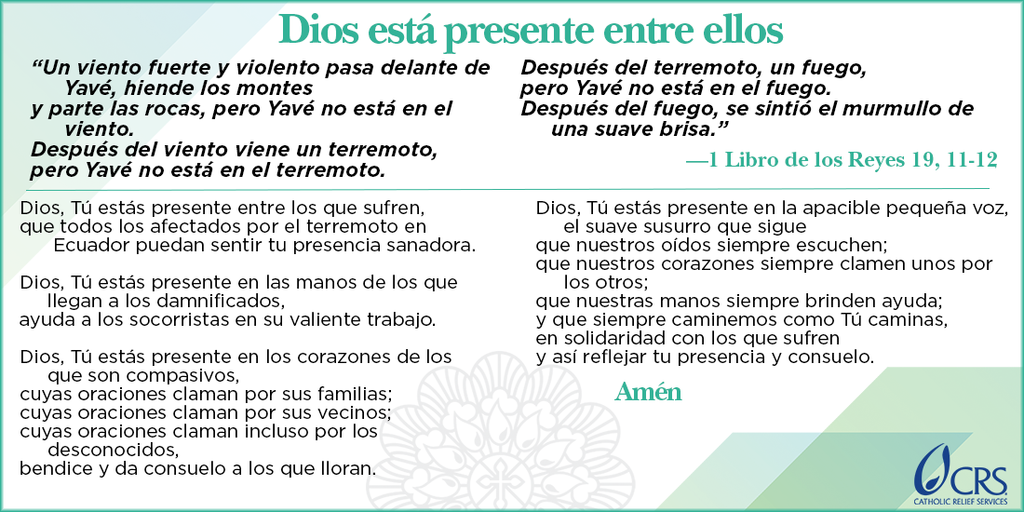 ---
GIVE