As I fall to my knees, in prayer, in fasting
In sacrifice and penitence
Somehow, you have it in yourself to reach out and gently lift me
To renew me
To claim me as nothing of this world can claim me.
We have three callings for Lent: prayer, fasting, and almsgiving. The flagship program for Catholic Relief Services, CRS Rice Bowl, supports all of these, but it all begins with prayer. We invite you and your faith communities to use these prayers and prayer resources during this Lenten season:
---
A prayer for abstaining during Lent
---
A Lenten prayer that we will meet Jesus "in the desert" and be renewed
---
A Lenten prayer, asking that what we give up turn our hearts to what we truly desire
---
A Lenten prayer of solidarity with refugees everywhere
---
A prayer asking the Lord bring us into a deeper Lenten solidarity with our global family.
---
A prayer for the strength to stay close in solidarity to Christ in his suffering, present still in the suffering of his people.
---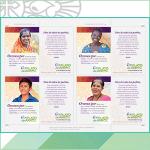 Printable prayer cards that can be used as a reflection at home or in a classroom
---