Advent Prayers and Resources
Photo courtesy of SERRV, used with permission
These Advent reflections, activities and prayers invite the entire parish community to prepare their hearts to welcome Emmanuel, "God with us" (Matthew 1:23), into our world at Christmas. 
---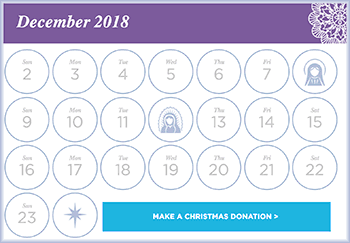 Advent Calendar  
Brief, daily reflections for Advent in the form of a quote or photo designed to be shared on social media. Sign up for weekly reminders about the calendar and to be notified when it goes live on December 2, the first day of Advent.
 
---
Weekly Advent Reflections for Families (for 2018/Lectionary Cycle C) 
These weekly reflections, based on the Gospel readings for each Sunday in Advent, connect the journey that brought Mary and Joseph to the stable with the journey of all those communities around the world that continue to encounter poverty. 
First Sunday of Advent | En Español
Second Sunday of Advent | En Español
Third Sunday of Advent | En Español
Fourth Sunday of Advent | En Español
 
---
Advent Activities
The Gift of Hope Tree is an opportunity to invite children and families to consider what gifts the Holy Family might have needed when Mary gave birth to Jesus in a manger, and how those gifts compare to what people who live in poverty might need. They will assemble Gift of Hope Tree ornaments, which feature gifts that donations to Catholic Relief Services provide to people around the world. This activity is a great addition to an intergenerational Advent festival or Christmas bazaar. | En Español
This video (in Spanish only) reflects on the significance of celebrating Las Posadas in the United States and reminds us of our responsibility to welcome the world's most vulnerable.
 
---
Advent Digital Reflections 
Advent Meditation: Joyful Mysteries of the Rosary with Reflections on Refugees | En Español

Holy Family, Refugee Family: Digital Advent Retreat
---