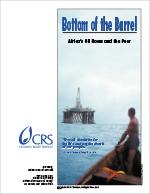 The new African oil boom—centered on the oil-rich Atlantic waters of the Gulf of Guinea, from Nigeria to Angola—is a moment of great opportunity and great peril for countries...
More
September 1, 2001
Tools for Field Staff
›
Best Practices
CRS has a niche in the microfinance industry, but we can lose sight, from time to time, of why we do what we do. This guide reminds us of the bigger "why." It has two purposes for...
More