CRS in Philippines
Super Typhoon Rai slammed into the Philippines on December 16, 2021 with wind speeds of 120 mph. Millions have been affected by the typhoon, with vital communication lines, crops and livelihoods devastated on a widespread scale. Many families lost their homes and the death toll is still rising. Catholic Relief Services is on the ground with our local Caritas partner, evaluating needs, connecting with affected communities and providing urgent relief. Families need emergency shelter for protection from the elements and safe temporary places to stay other than crowded evacuation centers. They also need support to repair their damaged homes so they can be safely livable.
With its location near the equator and on the Pacific Ring of Fire, The Philippines is one of the world's most disaster-prone countries, with an average of 20 typhoons per year, as well as earthquakes, landslides and volcanic eruptions. In the southern Philippines, long-standing conflicts between religious and ethnic groups challenge lasting peace and development.
Catholic Relief Services' humanitarian work in the Philippines answers the call for immediate help after disasters. CRS commits to help those affected by emergencies recover with living supplies, shelter and jobs. We also help build peace and resilience in areas affected by tension. But this work cannot be done without you.
When you donate to CRS, you do it all. You teach families to put their lives back together after disaster. You rebuild better homes and stronger futures. You bring dignity to communities and families affected by conflict.
CRS' humanitarian work in the Philippines focuses on five primary areas: responding to emergencies and teaching resilience, preparing communities for disasters before they happen, constructing innovative and safe shelters, agro-enterprise development, and peacebuilding.
To date, the largest example of CRS' emergency response and recovery efforts followed Typhoon Haiyan. Considered one of the most powerful storms to ever make landfall, Haiyan slammed the center of the Philippines in November 2013. The storm left more than 6,000 dead and 14 million people affected. Within three months of the typhoon, CRS, in collaboration with Caritas, was able to provide 40,000 families or 200,000 people with emergency shelter, clean water and sanitation. This was accomplished because of your support.  
But CRS and you have not left the Philippines after Haiyan. The work continues as families find sustainable jobs and innovative permanent housing. CRS rebuilt and repaired more than 20,000 houses by December 2015 as part of one of the largest rebuilding projects in the country. With your help, CRS has also committed to a resettlement project for Haiyan-affected families still living in vulnerable communities. The project will help relocate them to a more resilient, safer community.
By supporting CRS, you are also helping bring aid and peace to communities in the southern Philippines. You are there as CRS helps vulnerable people caught between a violent present and their hope for the moment they can begin to plan for their futures again.  
---
Giving Displaced Families a Place to Grow
When fighting broke out in May 2017 in Marawi City, over 70,000 families fled their homes. We're helping people who escaped the violence cope with the tragedy they witnessed by providing housing, clean water, safe spaces for children to play, jobs and more.. Click to learn more.
Photo by Tiffany Tsang for CRS
---
Rebuilding Homes and Community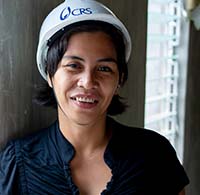 In 2013, Typhoon Haiyan was one of the most powerful storms ever to make landfall. In the Philippines, it washed away the Anibong community. People rebuilt after the storm, but the area remains dangerous—it floods, there's no running water, toilets, etc. It's been declared a no-dwell zone. Girlita "Girli" Ascalona and her family are among those forced to leave their homes in Anibong. For many poor and vulnerable Filipinos, owning a home is out of reach. Even with her husband having a steady job in sales, Girli couldn't afford to buy a house. So CRS is taking on a major project in the Philippines. We're building a new community for 900 families being evicted from areas in Anibong. Click to learn more.
Photo by Jennifer Hardy/CRS
---
Reducing the impact of disasters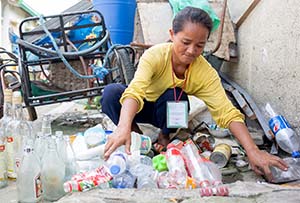 The Philippines is prone to natural disasters. Six to nine typhoons make landfall each year. That's why it's crucial to help people living in the most vulnerable conditions become more resilient to natural disasters. CRS is helping families prepare for natural disasters and reduce the storm impact. We show communities how to prevent flooding with trash-collection businesses, while earning an income. See how Marissa Cabalan is not only keeping her neighborhood clean, but is providing income for her family.
Photo by Jennifer Hardy/CRS
---
Building resilience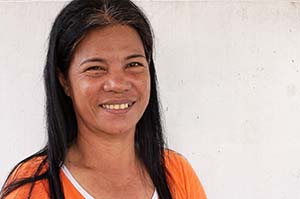 CRS also creates safe evacuation centers where families can relocate, helping them decide what paperwork to take during an evacuation and creating community savings and lending groups to save money. Remy Demingoy was able to make home improvements to help storm-proof her home.See how she and others are using community savings and lending groups to build a business selling coconut water and using her profit to make her home safer during Typhoon season.
Photo by Jennifer Hardy/CRS
stats
People Served: 1,524,867
Population: 104,256,076
Size: 300,000 sq km with over 7,000 islands; slightly less than twice the size of Georgia; slightly larger than Arizona
CRS' History in Philippines
Since 1945, CRS has been supporting the Philippines and providing Filipino communities long-term development aid through various programs ranging from emergency response and recovery to disaster preparedness, agro-enterprise and peacebuilding.  
CRS helps communities and families to more effectively protect their lives and livelihoods and mitigate the effects of disasters through disaster risk reduction.
In emergency response and recovery efforts, CRS takes a comprehensive approach that addresses urgent life-saving assistance with an eye toward a full recovery. The agency also aims to help people survive with dignity, get back on their feet, rebuild their homes and lives and strengthen their long-term stability and resilience. 
View Another Region or Country