CRS in Nepal
Nepal's borders include 8 of the 10 tallest mountains in the world in the world.  Mt. Everest, being the tallest, stands at 29,000 feet above sea level. These mountain areas attract tourists from around the world, as Nepal is considered a paradise for trekkers and hikers and many outdoor sports. In contrast to the grandeur or its landscape, the country is among the poorest countries in the world.   Ten years of conflict and the ongoing political unrest has cost many Nepalese lives and battered the Himalayan kingdom's already weak economy. In addition, each year Nepal experiences multiple natural disasters such as monsoon floods, landslides, fires and drought. Most parts of the country are also seismically active. Catholic Relief Services focuses primarily on supporting Caritas Nepal in emergency aid to families affected by disasters.
In April and May 2015 two massive earthquakes struck Nepal. Over eight million of Nepal's 28 million people were affected with nearly 2.6 million in urgent need of emergency shelter, water, food, medicine and reconstruction support. The Government of Nepal declared a state of emergency and reported 8,891 deaths, 605,254 houses destroyed, and 288,244 damaged.
Within hours of the earthquake, CRS had released pre-positioned stocks of emergency shelter materials, water and hygiene kits, and blankets. We continued to provide necessary emergency relief through our sister organization Caritas Nepal. Moving forward with recovery, CRS is currently focused on supporting the Nepal Government Recovery and Rehabilitation efforts, for shelter, water, heath, sanitation and hygiene (WASH), and livelihoods through the following programs:
Completed
A 2-year $5 million Okhaldunga Recovery and Resilience Program implemented with 3 partners in 7 village development communities to serve more than 4,000 households in reconstruction of earthquake resilient houses, livelihoods recovery, and WASH.
Ongoing
A 3-year multi-donor $14 million Recovery and Resilience Project in Gorkha district with three implementing partners, currently in the final year of implementation (technical support for reconstruction of earthquake resilient houses, livelihoods recovery, and WASH).

A 1-year $ 2 million Kavre Recovery and Resilience Project provides technical support for more than 2,500 households in reconstruction of earthquake resilient houses. This program has been funded by CRS private funds.

Acting as Lead Agency for the Housing Reconstruction and Recovery Platform.  This is the follow on to the Shelter Cluster, and provides coordination, information management services and technical advice to the Government of Nepal, implementing partners and other stakeholders in the earthquake recovery process.
Upcoming
Resilient Communities through Vulnerable Earthquake Recovery (ReCoVER) is a 3-year multisectoral recovery project that will support 6,240 families affected by the 2015 earthquake.  Using a targeted, tailored approach to reconstruction, ReCoVER will assist 4,000 households in the districts of Lamjung, Tanahun and Kaski to build safer homes and restore critical water supply for the most vulnerable families. To ensure the success of this approach, the program will support households to improve financial planning, home-based livelihoods and savings that help families withstand future shocks. The 4,000 reconstructed homes plus an additional 2,240 neighboring households that benefit from water supply and livelihood improvements add to a total of 6,240 households, or 31,200 individuals, that will be supported to survive and thrive in their homes and communities. 
Signature Program Areas
Emergency Response and Recovery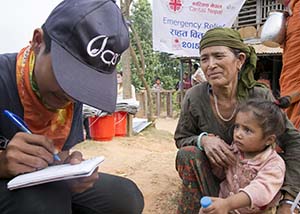 CRS arrived in Nepal within 48 hours of the earthquake and coordinated with Caritas Nepal for emergency relief and response activities. Later CRS started implementing a recovery and resilience program in Gorkha and Okhaldhunga Districts of integrated livelihoods and shelter activities, to help people build back safer and more resilient houses. CRS plans to extend its recovery activities in Kavre District to support vulnerable households with case management and community leadership capacity building activities.
---
Homes and Communities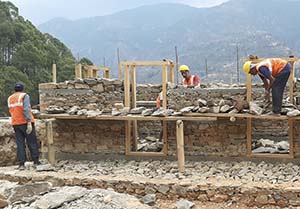 The CRS Nepal- Balito Ghar Baliyo Sahar (Homes and Communities) program in close coordination with Government of Nepal (GoN), aims to demonstrate safe and dignified urban recovery in Nepal, thereby Influencing GoN, Partner Organizations (POs,) institutions and the private sector to adopt developed learning and practices to build safer communities.
---
Agriculture and Livelihoods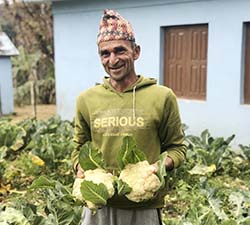 Aligning with the priorities of the GoN, CRS will focus on promoting inclusive value chains by increasing effectiveness of various actors across the value chain and facilitating stronger linkages between producers and business service providers. The livelihoods team will focus on reaching women, smallholder farmers and young people in Provinces 3, 5, 6 and 7 to increase their engagement in value chains for higher and sustainable profitability. The key crops will include rice, maize, lentil, vegetables, dairy, goats and cash crops like large cardamom, ginger. CRS Nepal will partner with local municipalities, relevant agriculture agencies, academic institutions and the private sector to achieve sustainable results. 
---
Localization of Leadership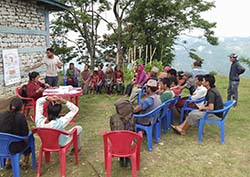 Five years after the 2015 earthquake, CRS has become a central actor in the national-level recovery effort, leading both the third and fourth phases of the Housing Reconstruction and Recovery Platform (HRRP), and local-level initatives in Gorkha and Okhaldhunga Districts. HRRP provides coordination support services for the National Reconstruction Authority (NRA), Building and Grant Management and Local Infrastructure (GMALI), Central Level Program Implementation Units (CLPIUS), other relevant government authorities and POs.
Nepal Earthquake Recovery
Stats
People Served: 137,500
Population: 28,384,297
Size: 56,136 sq mi; about the size and shape of Tennessee
CRS' History in Nepal
CRS has been working with Caritas Nepal since the 1970s, and has been supporting Caritas Nepal in emergency response, capacity building and disaster management since 2005. Caritas Nepal is the social arm of the Catholic Church in Nepal, providing support to marginalized and vulnerable communities. Given the magnitude of natural disasters affecting Nepal each year, CRS began supporting Caritas Nepal in emergency response efforts.
CRS' ability to rapidly assess and address needs in the aftermath of disasters in Nepal, like the 2015 earthquakes, is thanks to a strong and long-running partnership between CRS and Caritas Nepal. Caritas and CRS are able to mobilize local volunteers through grassroots networks and community-based organization contacts in Nepal.
View Another Region or Country