CRS in Madagascar
Madagascar's people and landscape share at least two surprising features: despite persistent hardship, they remain generous and resilient.
Madagascar is one of the poorest countries in the world. Nearly the entire population (92%) lives on less than $2 a day. GDP per capita is $528, and the country ranks 164 out of 189 in the 2019 Human Development Index. Madagascar also has one of the highest rates of chronic malnutrition in the world. Almost half its children are malnourished (47%).
Ravaged by global warming, Madagascar's landscape sees increasing cyclones, unpredictable rains and chronic drought, particularly in the South of Madagascar where more than a million people linger on the brink of starvation, largely because it is not raining consistently enough to grow food.
And yet, Madagascar is ripe for strategic investment in the agriculture sector. It remains one of the most fertile countries in the world. The world's most prized vanilla grows here as well as cinnamon, ginger and turmeric.
And Madagascar's people are poised to make the adjustments necessary to return their landscape and livelihoods full health and productivity.
CRS Madagascar has identified five priority areas that we, believe address the main challenges to advancing development, alleviating suffering and accelerating poverty reduction.
With its 2030 Strategy, CRS Madagascar will focus on:
Education
Emergency
Resilient Livelihoods and Environment
Health, Nutrition and Water, Sanitation and Hygiene (WASH)
Youth
Our Country Program's approach will also include work in gender and inclusion as well as governance and social cohesion.
Partnerships are foundational. We know that sustainable change at scale must include all stakeholders.  CRS Madagascar will continue to develop partnerships with church structures, civil society organizations, private sector entities and the government of Madagascar. We are committed to continuously reinforce our programs and systems and develop staff competencies while promoting local leadership within our staff and with our partners. We currently have 680 staff and continuing to grow. More than 98% of CRS Madagascar staff are Malagasy.
Maharo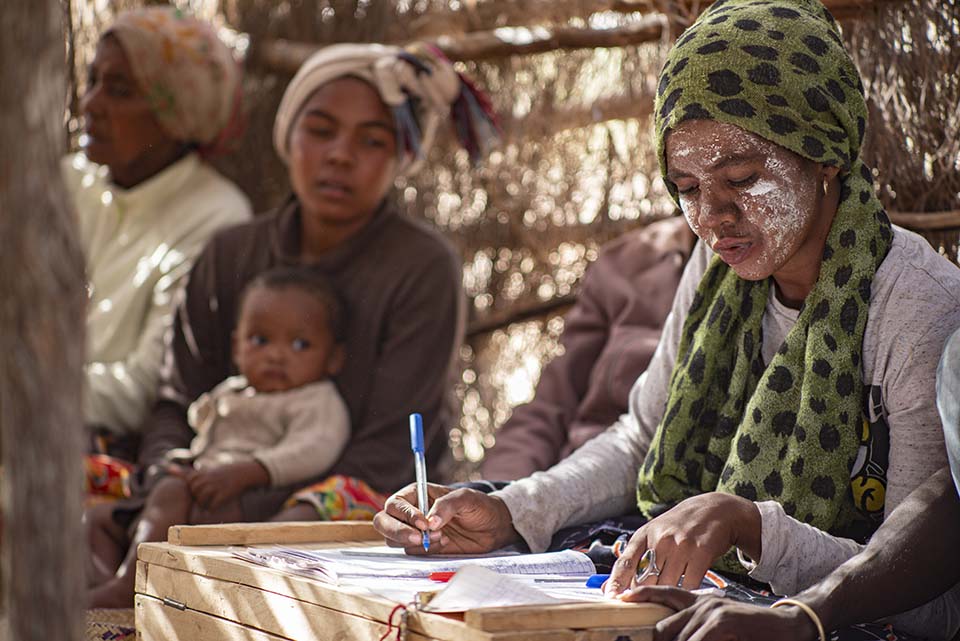 A SILC group meets in Betratratra village. The woman on the right is the secretary of the group. She tracks the register of money in the cash box, as well as the group's internal rules.
Photo by Sedera Ramanitra/CRS.
Maharo ("capable to protect or defend" in Antandroy) is a $45 million comprehensive food and nutrition security program designed to prevent and reduce acute food insecurity among the most vulnerable people, households and communities in the deep South of Madagascar over five years (2019-2024). Maharo is funded by the Bureau for Humanitarian Assistance (USAID).
Maharo builds on multi-sectoral food and nutrition security projects implemented by CRS in the south of Madagascar since 2008, in collaboration with the Government of Madagascar's technical and administrative services, local and international developmental organizations and Catholic Church partners.
Maharo is strengthening systems and risk mitigation strategies to enhance and protect the resiliency of communities, households and individuals most vulnerable to food and nutrition insecurity. CRS is supporting families to improve their health; their livelihoods through agriculture, fisheries and livestock; improve social services and safety nets. CRS is working to ensure that households are able to withstand shocks and climate-related stresses with a strong focus on inclusion—to make sure that youth, girls and people with disabilities are reached.
Maharo's partners include the Conseil Diocésain de Développement de Toliara (local development in Atsimo Andrefana), Youth First (youth participation and empowerment); Humanity & Inclusion (inclusive development); Land O'Lakes/Venture37 (livestock and livestock value chains); Harvard University (health research, early warning systems); and Cornell University (research on resilience, food and nutrition security monitoring).
Emergency Support for the Food Crisis in the South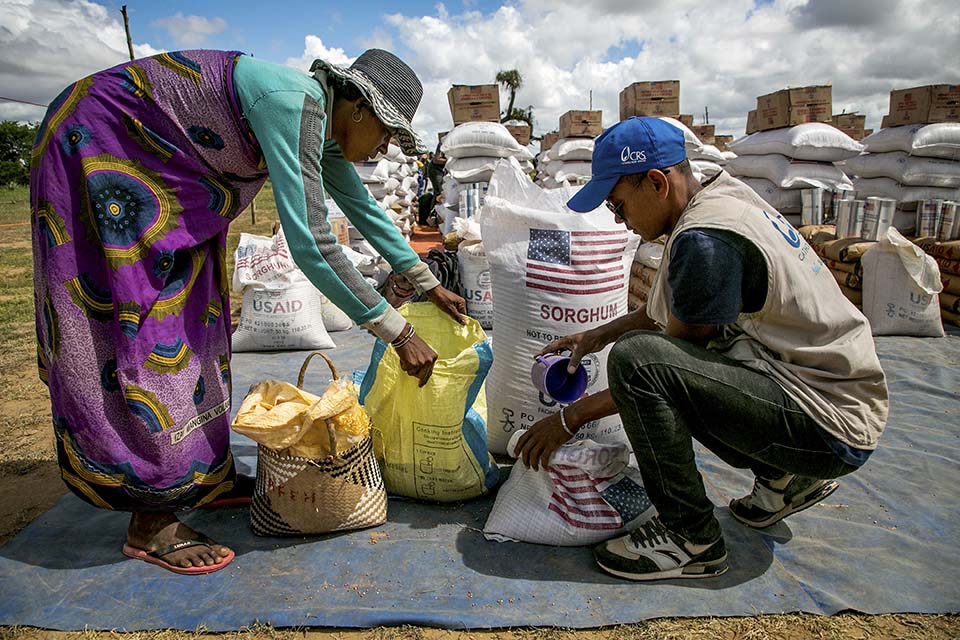 Preparing for a CRS food distribution in Marojela village,in southern Madagascar. Over the past five years, the southern region of Madagascar has been affected by recurring droughts. Communities can't rely on agriculture because of insufficient and unreliable rains.
Photo by Jim Stipe/CRS
CRS is providing over $20 million of emergency food assistance to the South of Madagascar for two years. The deep south of Madagascar is suffering from a major drought because of poor rainfall, complicated by COVID-19, sandstorms, and pest infestations. Climate change is thought to be a contributing factor.
Currently, around 1.14 million people in the deep south are hungry, with 14,000 experiencing famine conditions. CRS gives food to over 220,000 people and provides nutrition counseling and monitoring to over 25,000 children. CRS is repairing water points to provide much needed water to people in this extremely arid environment. Participants form committees trained to maintain water points.
CRS is also thinking about long-term solutions to drought and poverty. We work with communities to understand their priorities, strengthen local governance structures, and encourage positive health and agriculture practices. CRS provides life skills training to youth and supports gender champions to promote joint decision-making. Adult literacy and Saving and Internal Lending Communities are two other important activities which are changing people's lives by helping people access information and money.
Current projects are funded primarily through USAID: $45 million for a five-year development project and 20 million for two one-year emergency projects. 
Thriving and Sustainable Investments for land Restoration and economic Opportunity (TSIRO)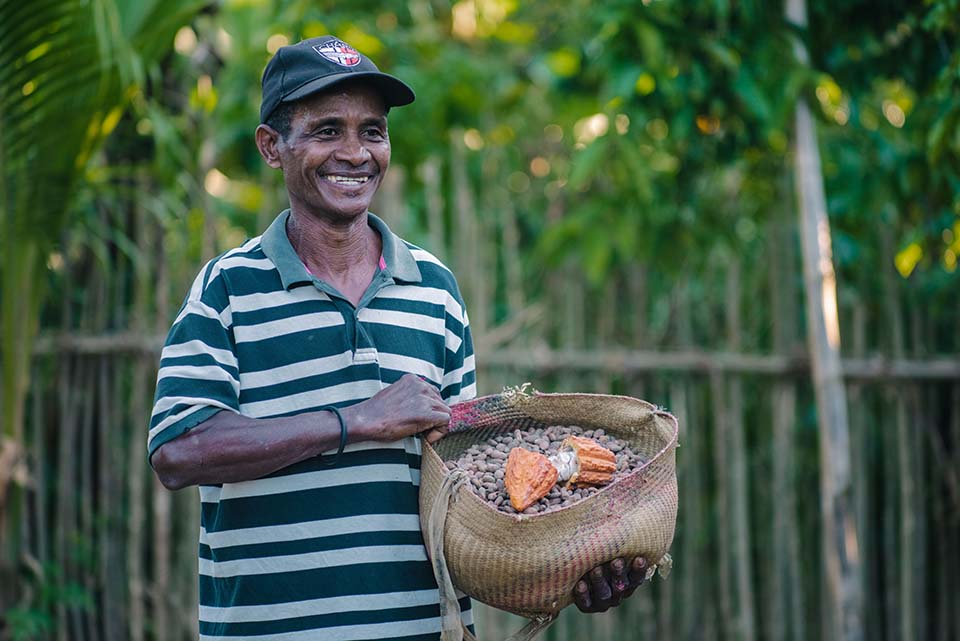 A basket of Madagascar cacao on its way to becoming chocolate. Climate smart agriculture will help sustain harvests of this high-value crop.
Photo by Sedera Ramanitra/CRS
USAID, CRS, and multiple private sector companies from the cocoa value chain understand the devastating problems facing the Malagasy people and their environment and have formed the TSIRO alliance. The alliance focuses on conserving biodiversity and improving the livelihoods of over 2,000 small-holder cocoa and spice farmers in 30 communities, planting over 1.5 million trees to support agroforestry systems, and enhancing biodiversity in Madagascar over the next five years (2021-2026). This public-private partnership will invest $5.8 million to diversify income streams, introduce climate-smart agriculture techniques, and reasserting the value of healthy trees and ecosystems to support Madagascar's fragile ecosystem. TSIRO stands for Thriving & Sustainable Investments for land Restoration & economic Opportunity and means "Taste" in Malagasy.
Securing and Protecting Investments and Capacities for Environmental Sustainability (SPICES)
A cacao pod is cut open to reveal the beans that will be processed into chocolate.
Photo by Sedera Ramanitra/CRS
The SPICES project aims to improve the well-being and resiliency of small holder farmers living in the eastern landscapes of Madagascar and who are most affected by climate change. CRS will serve them in several ways: restore land through agroforestry production; engaging government, businesses, and communities to improve environmental stewardship; increase opportunities for youth; and improve education and health of farmers.
A major focus of the project is increasing revenue of farmers from cash crops such as vanilla, cinnamon, cloves, pepper, turmeric, ginger and cocoa, while simultaneously protecting forests. CRS will do this by supporting farmers and cooperatives to plant endemic trees to expand forests, fruit trees to improve healthy diets, and cash crops to increase revenues. The planned diversification of these systems will bring farmers out of poverty and support the biodiversity Madagascar rightly prides itself on. CRS will support tree nurseries, train farmers on climate-smart agricultural practices and financial management and support farmers to save and access credit.
The additional income from cash crops will allow farmers to invest in education, nutrition and health care. With that in mind, SPICES will work with schools and agricultural training programs to improve the overall management of resources for schools, teachers, and school and training center infrastructure — all priorities for famers and families in the region.
Sustainability is key and this market-incentivized model, combined with support for financial management, youth empowerment and optimal agriculture practices are fundamental to alleviating poverty over the long term.
Currently, CRS is working with seven Dioceses in five regions of the country reaching over 20,000 households. With a ten-year vision, SPICES will serve additional communities and private sector partners.
Water, Sanitation and Hygiene (WASH)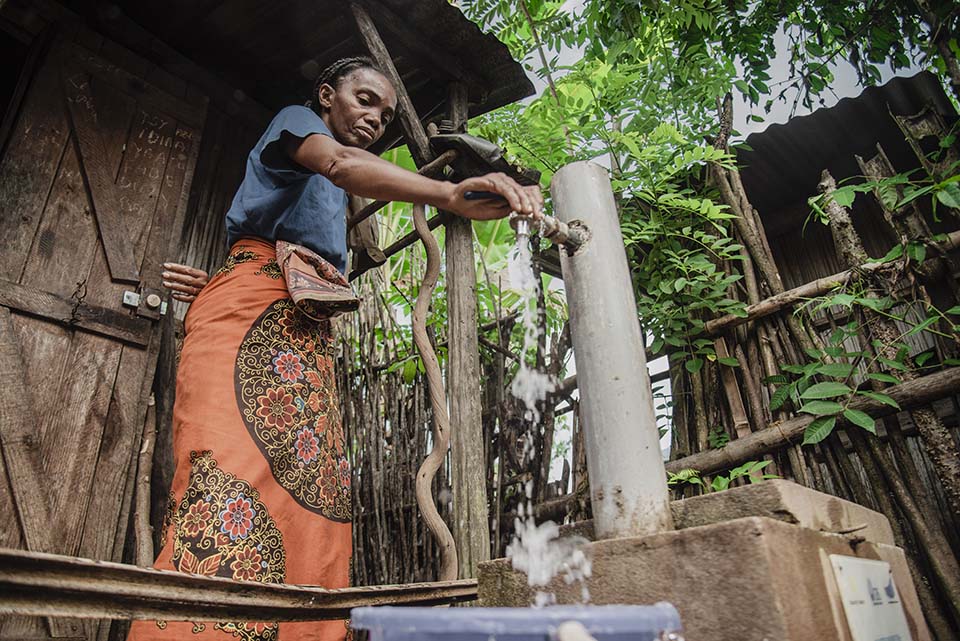 A woman uses a community water point close to her house. CRS located the tap for easy access to an improved water supply.
Photo by Sedera Ramanitra/CRS
CRS is working at scale to improve access to clean water, sanitation, and hygiene in Madagascar. National access to drinking water, sanitation, and hygiene is estimated at only 41%, 17%, and 23% respectively, with higher inaccessibility in rural areas.[1]
With funding from USAID and charity: water, CRS is working in twelve regions with innovative approaches in communities, clinics and schools using sustainable solutions. The private sector plays an important role particularly with access to water and CRS is using the public-private partnership model wherein businesses invest between 10 and 15% of the cost of the system, relying on subsequent profits to recoup their investments. In fiscal year 2020, CRS helped 112,000 people access safe drinking water. However, CRS invests not only in infrastructure but on governance and putting in place systems and structures to make sure there is a plan for maintaining the water systems, toilet blocks and handwashing stations.
CRS also serves health care facilities to reduce infections and create clean, desirable and well attended facilities. In the last two years, CRS has built or repaired toilet blocks with handwashing stations in 77 clinics.
COVID-19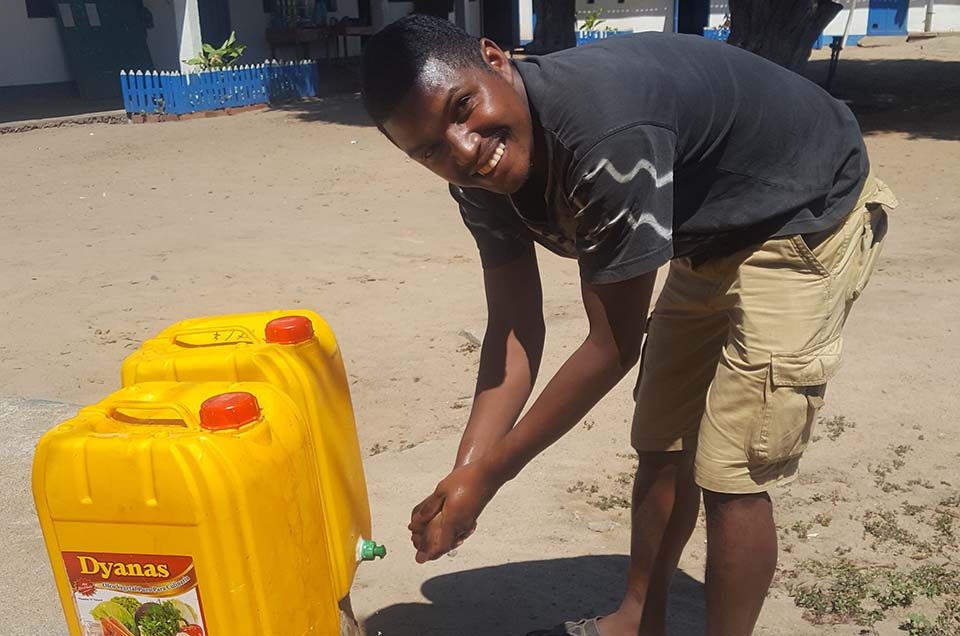 As Coronavirus limits travel in Madagascar, families affected by drought, floods and poor harvest will have fewer options to get food. It's critical that CRS continues food distributions. CRS staff got creative and made these handwashing stations for our food distribution sites.
Photo by Christian Ratianarivo/CRS
CRS is active in efforts to combat the damage of the COVID-19 pandemic. We promote vaccinations by leading webinars and presentations that provide people the chance to ask questions and receive the most up-to-date information. We promote safe prevention practices that support health workers and health facilities with vital sanitation, trainings, and equipment. In the South of Madagascar, CRS is tracking the effects of COVID-19 on markets, food security and health.
CRS Madagascar is rolling out a $500,000 project to increase demand of COVID-19 vaccinations in three regions. Also, CRS is working with the Ministry of Health to create mobile clinics to expand access to the vaccinations. This is essential given that only 3% of the people in Madagascar are vaccinated.
In 2020, CRS provided cash transfers to vulnerable people when lockdowns affected their ability to work and earn wages. As in most of the world, COVID-19 has had a profound impact on the country. While official numbers show 937 deaths as of July 2021, the damage is likely much higher and will only continue until many more people are vaccinated. The economic impact is also significant, as prices have increased dramatically, exports have dropped, tourism is almost non-existent, and lockdowns forced people away from work.
Tuberculosis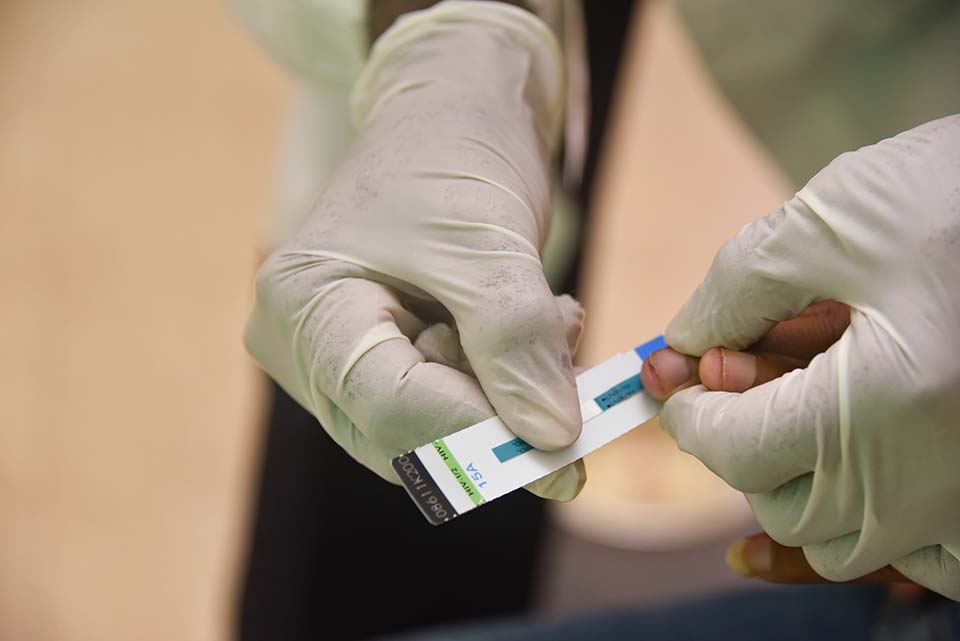 A health worker performs a rapid tuberculosis test on a patient in Madagascar. CRS works with the Malagasy Government to strengthen the health system's diagnosis and management of Tuberculosis.
Photo by Sedera Ramanitra/CRS
Tuberculosis is a major problem in Madagascar—causing unnecessary deaths among the most vulnerable people. Tuberculosis is curable and preventable. The incidence of tuberculosis is falling globally as in Madagascar but not fast enough, where there are 233 cases per 100,000 inhabitants. CRS is working with the government and several partners to diagnose people with TB early and successfully treating those who have TB. CRS is working closely with high-risk populations — such as people with HIV/AIDS, diabetes, in prisons and miners — to ensure effective diagnosis and management of Tuberculosis. CRS's work in this sector is supported by a three-year grant through the Global Fund for $15 million.
Links to some interesting work CRS is doing in Madagascar:
---
| | | |
| --- | --- | --- |
| Measuring Resilience | The Firanga II Project | Southern Madagascar |
| | | |
| | |
| --- | --- |
|  January Newsletter - French version | January Newsletter - English version |
| | |
| | |
| --- | --- |
| September Newsletter - French version | September Newsletter - English version |
| | |
Stats
People served: 8,220,559
Population: 25,054,161
Size: ​226,658 sq mi; slightly less than twice the size of Arizona 
CRS' History in Madagascar
CRS began working in Madagascar in 1962 to provide life-saving relief in the wake of natural and man-made emergencies and address issues of chronic poverty and injustice through innovative and sustainable development programs.
CRS has since diversified its program portfolio in several sectors, including education, emergency response and recovery, agriculture, agro-business, health and nutrition, good governance, climate change, and water and sanitation programs (WASH).
The country program supports multiple large and small projects in the east, southeast, southwest and deep south regions of the country with an annual budget of over $20 million per fiscal year, implemented by over 10 local partner organizations. This program is managed by over 600 national staff and 10 international staff and reaches an estimated 800,000 direct participants. CRS programming covers multiple sectors and serves poor and marginalized communities in several geographic regions in the country, depending on need. 
View Another Region or Country