CRS in Liberia
In Liberia, as in the rest of the CRS world, overcoming challenges is a long process, but changing people's lives is not. The country program targets local communities in close collaboration with the Government of Liberia, the Catholic Church, and other partners to ensure that the success of our interventions are rapid and most importantly, sustainable.
Though we have complex tools and systems to ensure our work is both successful and sustainable, there is nothing more satisfying than witnessing and hearing directly from beneficiaries how their lives and communities are better because of activities that we have undertaken together. 
CRS PROGRAMMING IN LIBERIA
CRS' work in Liberia over the years have included both emergency response and development programming. In 2016, after intense focus on the Ebola outbreak, CRS Liberia progressed from recovery activities and began implementing development programming in three main program areas: peacebuilding, health, and economic empowerment. The country program has projects that cut across these areas with a specific focus on women, youth, community health, and systems strengthening. As with all other CRS country programs worldwide, CRS Liberia continues to provide relief services when emergencies arise.
PEACEBUILDING
Liberians have seldom experienced a healthy social contract between citizens and the state. Land disputes, ethnic rivalries and clashes, and limited state capacity for peaceful resolution of disputes explain Liberia's propensity for conflict. For positive peace to take root and prevail, Liberians must find ways to reconcile, overcome mutual mistrust, and live in harmony.
To contribute to these efforts, CRS has been implementing the USAID-funded Connect for Peace (C4P) project, a 3-year initiative to support peace efforts in Nimba County and Monrovia. Building on our success, USAID has extended its support for another year, and we are now negotiating a further three years of support for our peacebuilding activities.  The project uses CRS' innovative methodology to promote healing and reconciliation and to strengthen vertical and horizontal social cohesion in and between key social groups and state actors in Nimba County and Monrovia.
To help ensure that Liberian youth participated responsibly in the 2017 presidential election and post-elections processes, CRS implemented the 'Promoting Positive Engagement' in the 2017 Elections by Youth in Montserrado County. The project targeted young people in 50 communities in Careysburg and Todee districts. The project helped ensure that the youth had access to accurate election information and promoted peaceful behavior. Voter education campaigns were carried out in target areas involving peer-to-peer education led by youth voter education volunteers, social mobilization activities, a radio campaign, social media, and a voter engagement call center and hotline.
HEALTH
Health System Strengthening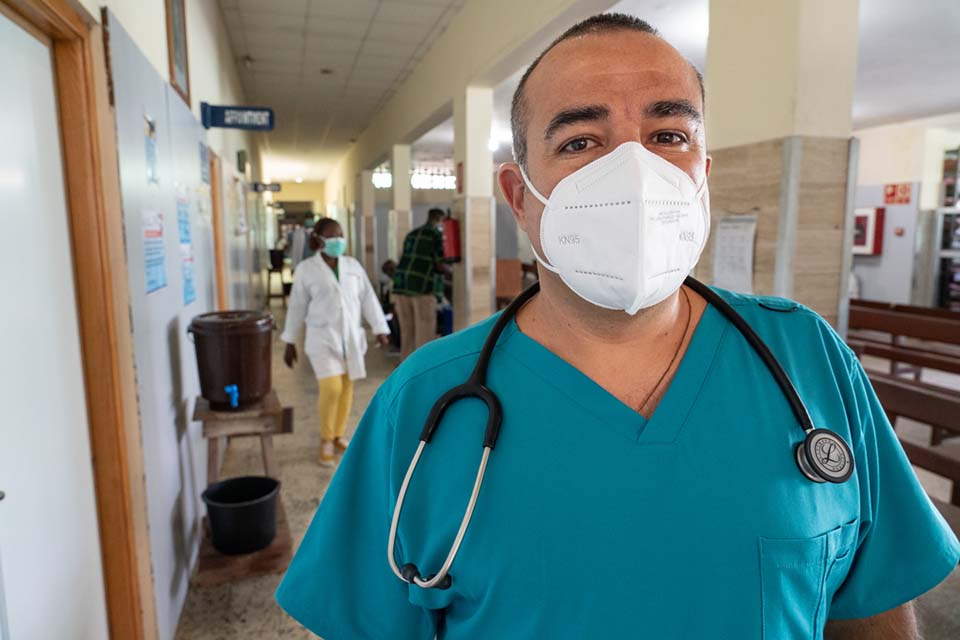 Dr. Marlon Fernandez from Costa Rica works at the St. Joseph's Catholic Hospital in Monrovia, Liberia.
Photo by Carielle Doe for CRS
Nearly 30% of Liberians have limited access to quality basic health services, essential medicines, and equipment, and are consequently more likely to experience poor health. To address these key issues, CRS began implementing the Liberia Health Systems Strengthening project to improve the following:
Household-level health behaviors.
Faith-based health facilities' ability to provide quality basic health services.
Accountability mechanisms between communities, health facilities, health networks, and government health teams.
This assistance has been in collaboration with the National Catholic Health Commission (NCHC). As a major intervention, CRS trains community health facilitators identified by community members to lead communities to develop health action plans that serve the people. In response to the added challenge of COVID-19, we provided essential protective equipment to allow health workers continue their work in safety.
Nutrition
The project's first phase, HELINA I, was implemented between January – December 2021. CRS and the Ministry of Health developed a dedicated nutrition curriculum to achieve the project's goal. The curriculum included information on Infant and Young Child Feeding (IYCF), and water, sanitation, and hygiene (WASH) behaviors. The curriculum was taught through a nutrition counseling approach that allows home and clinic visits led by community health promoters (CHPs). It was delivered both at Star of the Sea clinic and through home visits to selected mother participants. Participants acquired knowledge in exclusive breastfeeding, complementary feeding, personal hygiene practices, and the diverse types of food to eat to keep them and their babies nutritionally strong and healthy. The project has also supported a subset of adolescent girls and young women in entrepreneurship skills training and provided seed funding for small businesses which has led to the improvement of household food security for the participants.
The second phase, HELINA II, is providing nutrition-sensitive life skills development to support young mothers to succeed with their entrepreneurial business initiatives while applying their nutritional knowledge, skills, and practices through continued nutrition education as part of the life skills development.  In-home counseling on nutrition and hygiene by community health promoters to address undernutrition needs will continue to be intensified, and project participants who are not involved in business will receive income-generating life skills to support and strengthen their livelihood to enable them to take care of their infants. HELINA II will ensure medium to longer-term impact and sustainability of translating knowledge on nutrition into practical nutrition-sensitive skills and behaviors.
Water, Sanitation, and Hygiene
Liberia is one of the wettest nations in the world and is home to numerous rivers, mangrove swamps, and rainforests. However, it lacks the infrastructure and services necessary to provide everyone with access to clean water. As a result of the severe lack of decent latrines and toilet facilities in rural areas, most residents are forced to urinate in the open. Open defecation is practiced by about 42% of Liberians. Overall, fewer than 10% of Liberians have access to sanitization and drinking water services that are safely managed.
To address the issues of the lack of access to basic drinking water, CRS Liberia proposes the Helping to Elevate the Lives of People in Small Cities (HELPS) project. Through HELPS, CRS, and its local implementing partner, Evangelical Children Rehabilitation Program (ECREP), who work along with two government agencies, Liberia Water and Sewer Corporation (LWSC) and the WASH Commission. The aim is to connect additional communities to the LWSC water transmission line with water kiosks, rehabilitate the existing stand-alone water supply system and construct new stand-alone water supply systems in locations with no access to the LWSC water pipeline.
The project aims to provide basic drinking water for Margibi and Montserrado counties and establish a system for water source management. The HELPS project will adopt Liberia's WASH sector plan for developing a sustainable and inclusive water supply that is low cost and effective. Using a market-based approach, the project will implement the construction, rehabilitation, and connection of innovative, low-cost, stand-alone water supply systems (powered by solar) to increase access to basic drinking water in targeted communities.
ECONOMIC EMPOWERMENT
Agriculture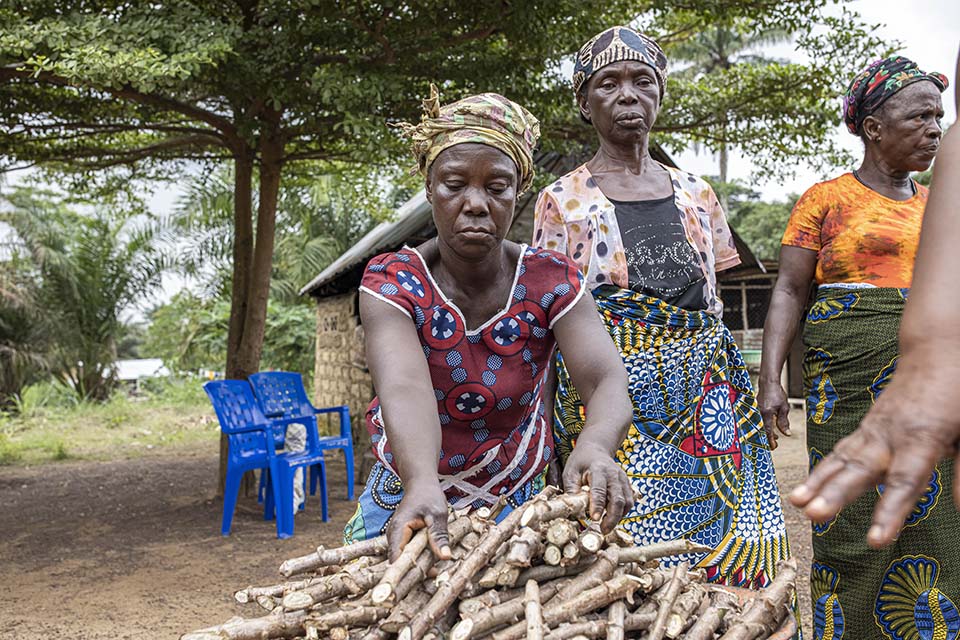 Women sort out and arrange cassava stems delivered by CRS to their offices in Melekie Town, Liberia. They're part of a cooperative created to bring women together so they could help each other and support their families. 
Photo by Patrick Meinhardt for CRS
Liberia, located on Africa's Atlantic coast, is regarded as one of the world's least developed, lowest-income, and most food-deficient nations. The 2019 Human Development Index gives it a score of 176 out of 189 nations. Both the COVID-19 outbreak in 2019 and the Ebola virus disease outbreak in March 2014 claimed thousands of lives and exposed Liberia's vulnerability. Although Liberia was able to contain those pandemics, the country's economy has been severely impacted. In rural Liberia, where 51% of the population reside, poverty and food insecurity are widespread, and over 83% of the population survives on less than $1.25 per day. Among the major underlying causes of food insecurity and poverty in Liberia are the low level of access to education and the challenges farmers face.
To address those issues, the USAID-funded Agriculture Sustainability Activity being implemented by the CRS was a one-year intervention that promoted sustainable economic growth, food security, and agricultural development in Liberia. The project connected a pool of local, regional, and international volunteers to smallholder farmers in Liberia.
The project leveraged local volunteer expertise from within Liberia while also tapping into global networks within the West Africa region and from the United States and works with targeted participants to increase production and productivity, availability of domestically processed rice and cassava in Liberia, improve business profitability, and address environmental and natural resource management challenges.
Livelihoods
Three-fourths of Liberian youth are engaged in some form of self-employment with many struggling to make a living. A weak business environment, a lack of entrepreneurial education, poor access to startup capital, and weak social and business networks are some of the key barriers impeding successful youth entrepreneurship.
To address these issues, CRS implemented the Activating a Supportive Platform for Young Rural Entrepreneurs (ASPYRE) project that targeted youth across communities in Todee District, a rural district in Montserrado County.
ASPYRE supported young people as they develop their own sustainable businesses. The project taught entrepreneurial skills, access to financial services, and engagement with private sector businesses. It linked youth to viable market-based work opportunities and technical training, promoted saving, and created opportunities for the youth to grow their professional network and social connections for positive business outcomes. The project used the I am an Entrepreneur curriculum to teach foundational entrepreneurial skills and the knowledge needed for the youth to start their first business. At the close of the course, participants emerged with the confidence, practical experience, and skills to successfully began their first business endeavor.
In addition, CRS Liberia is implementing a Rural Savings for the Future project to minimize the financial and cultural barriers that women experience. The project uses a two-pronged approach targeted at increasing financial capacity and money management for women while improving intra-household decision-making so that women have an equal say in how savings and loans are used. The project also aims at increasing the rural Liberia women's financial and decision-making power. This approach will consist of forming savings and internal lending communities (SILC) groups for women in farming communities, especially those who are receiving technical assistance from the USAID Agriculture Sustainability Activity (ASA) in Bong and Nimba counties.
The Small Enterprise Development Program (SEDP) project provided business and soft skills training to 277 direct beneficiaries, of whom 259 received cash grants in four counties (Montserrado, Nimba, Grand Gedeh, and Maryland) across Liberia.
EMERGENCY RELIEF
CRS in Liberia continues to implement emergency relief programs as the need arises. In 2020, a 6-month USAID-funded project, Hygiene and Economic Support for Communities affected by COVID-19 (HESCA), was a WASH and multi-purpose cash assistance project implemented to assist vulnerable families to survive COVID-19 with dignity. This included the installation of handwashing stations in key locations,  hygiene promotion activities, and cash transfers for basic and essential needs.
In 2021, CRS partnered with UNHCR to implement the Protection and Assistance of Ivorian Refugees and Asylum Seekers in Liberia project. The Project was designed to ensure that refugees living in the border counties of Grand Gedeh, Maryland, and River Gee lived in dignity and with respect while their WASH needs are met. CRS worked in the Bahn, Little Wlebo camps, and other communities in the targeted counties to improve access to quality potable water, access to sanitation facilities, and to increase awareness of key public health issues related to WASH. In these efforts, CRS coordinated with UNHCR, relevant government agencies, refugees and host communities, and long-time local partner the National Commission for Justice, Peace and Caritas (NCJPC).
A few other emergency projects are the Rapid Economic Assistance for Communities and Households - Affected by Flooding referred to as the REACH project. This project provided rapid response assistance that met the urgent needs of the most vulnerable households in Monrovia.
COVID-19 Vaccine Rollout (CDP) project is supporting the Ministry of Health with the COVID-19 vaccination campaign in Montserrado, Bong, and Lofa counties. This project is supported by the Center for Disaster Philanthropy and will increase the uptake of COVID-19 vaccines and help bring an end to the COVID-19 pandemic and related negative social and economic impacts.
The country program is expanding into areas where there are needs, and opportunities to meet those needs.
Stats
People served: 1,534,384
Population: 4,689,021
Size: 42,999 sq. mi.; slightly larger than Tennessee
Programming Areas
CRS' History in Liberia
First, it is important to understand the unique relationship Liberia and the US have had for well over 100 years.  Though Liberia is one of only two countries in Africa that were never colonized, there is a rich – and at times tragic – history which ties us together.  These strong ties continue up to today.  In many ways Liberia looks to US leadership in the world, and they have proven to be a loyal friend as well.
The complex political history of Liberia culminated in a decade and a half of terrible civil war from 1990.  A short time later while struggling to move beyond the violence of war to development, the country was again hit by tragedy in the form of the Ebola virus. This was a massive setback to what had been a promising start back on the road to development and democracy.
Today, however, Liberia is again on the road to development under the leadership of a new government.  In close collaboration with the international community the Government is implementing a " pro-poor"  agenda, with an aim of creating jobs and stimulating the economy.  This is being led in part by many Liberians returning home after spending years in the US getting educated and developing key skills.  Nonetheless, in the short term, Liberia needs help in addressing essential needs of the people.  In this context CRS is also redirecting our efforts and resources in the areas of rural health, urban sanitation, youth employment, and strengthening civil society's capacity to maintain peace in the country.
CRS has already invested in each of these areas and we now look to expand these investments reaching a larger population.  For this we need the continued support so generously given in the past to meet emergency needs.  Now we are re-building the country.  — William Rastetter, country representative, CRS Liberia
Committed to Liberia
CRS first began working in Liberia in 1957, with a permanent country program office opening in 1990. During the ensuing 14+ years of conflict and war, CRS was one of the few agencies to maintain a constant presence in the country, providing life-saving humanitarian assistance to tens of thousands of people.
With the establishment of peace, CRS wanted to redirect its efforts to the rebuilding of a peaceful society, but these efforts were undermined by another national tragedy. The first cases of Ebola were confirmed in Liberia in March 2014, leading to an unprecedented outbreak of the virus the country. Owing to the contagious nature of the virus, major health facilities closed to protect their staff. This contributed to high mortality rates from other sicknesses.  CRS provided support to the response to the outbreak in the country, working with faith based partners to improve water, sanitation and hygiene facilities, establish triage, isolation/holding areas, and train medical staff in infection, prevention and control in targeted health facilities. The main objective of these interventions was to ensure that these facilities could continue routine services through the provision of quality and safe health care within the faith based health network. In 2016 CRS was again able to move from recovery to development programming.
CRS and partners focused increasingly on reconstruction and development activities, working in health, agriculture, livelihoods, peace and justice, and micro-savings responding to the new challenges faced by a peaceful and developing country.
View Another Region or Country