CRS in Bangladesh
Rohingya Refugee Crisis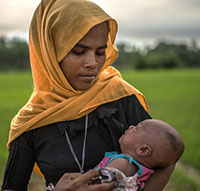 More than 400,000 Rohingya have fled to Bangladesh to escape violent conflict. Many are staying in informal settlements because refugee camps are at full capacity. Catholic Relief Services, working with Caritas Bangladesh, has initiated an immediate relief response, including access to food and critical living supplies, for up to 10,000 refugee families.
Located on the Bay of Bengal and crisscrossed by hundreds of rivers, Bangladesh bears the brunt of severe weather during its rainy season. When cyclones hit, villagers in coastal areas must struggle against powerful winds and neck-high, surging water to reach safety.
Through its local partner, Caritas Bangladesh, CRS responds to these emergencies with lifesaving aid. CRS helps survivors start over after storms, rebuild homes and replace lost assets such as rickshaws or cows so that people can earn a living. CRS-supported Disaster Risk Reduction programs prepare villagers to save their families and assets during future storms. CRS also provides strategic leadership and technical guidance on water and sanitation for health (WASH) activities, and supports the formation of savings and internal lending committees (SILC).
CRS is working with Helen Keller International (HKI) and Caritas Bangladesh, along with five local partners to implement the USAID-funded Development Food Assistance Program (DFAP) Sustainable Agriculture and Production Linked to Improved Nutrition Status, Resilience, and Gender Equity (SAPLING). This five-year program applies a multi-sectoral, integrated approach to reduce food insecurity and malnutrition within the Bandarban District of the Chittagong Hill Tracts (CHT). Since 2014, CRS and Caritas Bangladesh (CB) have been supported by a private foundation to implement the Make Us Knowledgeable and Trained in Emergencies (MUKTE) disaster risk reduction project in Monpura Union, a remote and underserved area of Barisal Division that experiences a high frequency of natural disasters including almost constant river erosion. The current phase of this project operates from 2016-2019 and expands activities to new communities vulnerable to disasters. In cooperation with Caritas Australia and the Australian NGO Cooperation Program, CRS is working with Caritas Bangladesh to implement the Sustainable Food and Livelihood Security (SuFoL) Project Phase II that supports vulnerable communities in Barisal and Dinajpur districts to achieve sustainable food security.
Lifesaving device for Bangladesh fishing crews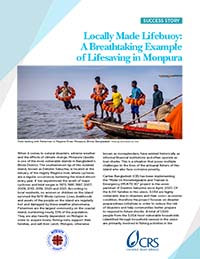 Stats
People served: 19,912
Population: 157,826,578
Size: 55,813 sq mi; about the size of Wisconsin
Programming Areas
CRS' History in Bangladesh
CRS has been providing humanitarian assistance to Bangladesh since its independence in 1971. We began by assisting refugees and then gradually moved to education, emergency response activities, and helping communities prepare for disasters. CRS reaches out to Bangladesh's most vulnerable people, especially in isolated areas.
In the past, CRS has implemented projects funded by the U.S. Office of Foreign Disaster Assistance (OFDA) to reduce coastal communities' vulnerability to natural hazards and support recovery of shelters, waster, sanitation and hygiene following disasters and a USAID project focused on community-led livelihood restoration and risk reduction, among other projects.
View Another Region or Country