About Youth Employment
THE NEED
In Central America more than 1 million young people age 15-25 years are out of school and unemployed. They lack the basic skills to enter the labor market. Honduras, El Salvador and Guatemala are among the top five countries with the highest murder rates in the world. The escalating violence is stifling investment and economic growth, further limiting opportunities for jobs. These factors are pushing young people, already discouraged by a lack of opportunity, to emigrate in record numbers. Economic opportunities are limited and most education and employment programs do not reach the most at-risk youth, nor are the programs linked to real jobs in the market.
HOW WE DO IT
CRS will reach its goals through a three-pronged strategy of:
creating a network of service providers capable of implementing the YouthBuild model,
building evidence of effectiveness and
strengthening government sponsored youth workforce development programs and engaging the private sector.
CRS directly engages the private sector to ensure that all employment-training programs are demand-driven and can place young people in jobs.
CRS trains partners (service providers) in the YouthBuild model using design and performance standards, a core philosophy that ensures consistent, quality application of the model.
YouthBuild is a year- long program that includes 6 months intensive training and 6 months of follow-up coaching and mentoring. The training takes a comprehensive approach to positive youth development and includes life skills, applied basic education, vocational training, job readiness preparation and community service. The program then provides job placement, school re-entry and business start-up services to all youth who complete the program. The underlying cognitive behavioral therapy combined with a nurturing environment provide young people with a life changing experience that prepares them for making decisions and taking on positive roles in the world of work, family, and citizenship.
BY THE NUMBERS
By 2020, YouthBuild in Central America will have:
Reached 20,000+ youth
Connected with 400+ private sector businesses
Placed 40% graduates in jobs
Helped 20% youth return to school
Started 20% youth enterprises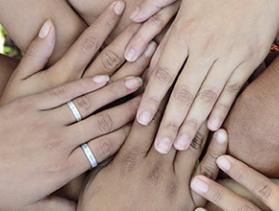 Building Up Youth and Communities in El Salvador
CRS YouthBuild program helps young people in El Salvador gain confidence, and receive life and job skills training.Read more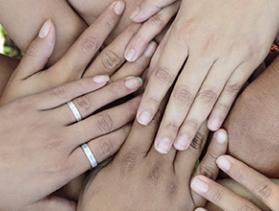 Salvadoran Youth Find Alternatives to Violence, Gangs
They say you can never really leave the gang. But that's not always true. Although he almost died trying, Manuel* got out, and now he's trying to help...Read more