About Water Finance and Governance
---
WHAT WE DO
Because water is a public good, ensuring sustainable water security requires systems change—fostering an enabling environment, and supporting governments and local institutions to manage their own resources effectively. In Laudato Sí', Pope Francis cites the necessity to foster policies and institutions that address issues holistically.  However, good water governance is not just about institutions—it also requires social capital, and increased voice and agency of traditionally disadvantaged groups to enable communities to resolve problems related to public goods.  For CRS and our partners, water governance is our entry point for systems strengthening and scale.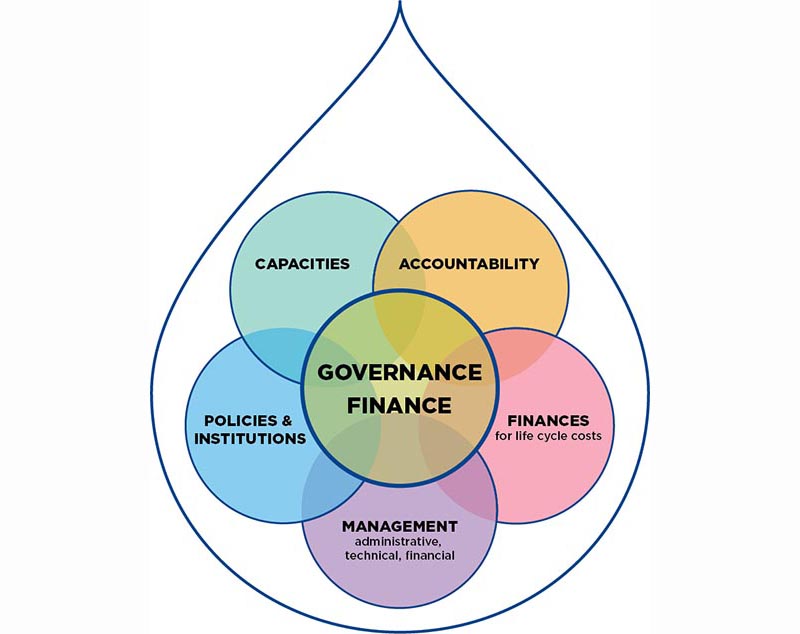 In parallel to requisite systems change, we recognize the enormous gap in financing required to meet U.N. Sustainable Development Goal 6, or SDG6. In 2016, the World Bank estimated this need at $1.7 trillion. At the same time, official development assistance, or ODA, equated to less than 20% of that amount. Consequently, CRS recognizes the enormous need to access non-ODA financing to meet SDG6.
Ultimately, water governance and finance mobilization are interrelated and mutually reinforcing. CRS and its partners work to expand and replicate successful models that integrate governance and financing for water security (e.g., Azure, Water Funds, etc.) while also identifying new models (e.g., leveraging remittance capital) that can catalyze change at scale and improve the enabling environment (e.g. strengthening institutions and accountability) for sustainable landscapes and WASH.
HOW WE DO IT
Clean water programming at CRS incorporates a variety of approaches designed to advocate for and support accountability, responsiveness, gender equity, transparency in institutions and participation by communities. We carry out this work at watershed and landscape scales, working with multiple stakeholders impacted by water resource use across a range of rural and urban contexts. 
To help address the gap in funding needed to achieve SDG6, CRS catalyzes and mobilizes diverse financial resources to reduce water scarcity, extending beyond conventional, grant-based fundraising to achieve impact at scale. Funding from a variety of sources, including individuals, communities, the private sector, and both local and national governments, are combined with and supported by traditional aid and philanthropy through diverse funding vehicles like social-impact investment funds, guarantees, pay-for-success mechanisms and green bonds.
Fact Sheet

A Water Secure World for All by 2030

Vulnerable households and communities achieve water security in ways that contribute to improving health, protecting the environment and saving lives. More