About Malaria
In 2021, there were approximately 247 million cases of malaria worldwide. Approximately 619,000 people died, most of these them were children under the age of five. According to the 2021 World Malaria Report, total global funding for malaria was $3.5 billion, which "fell short of the $7.3 billion estimated to be required to stay on track with the GTS ".
Our Work
In FY22, CRS implemented a portfolio of 18 malaria projects in 15 countries, contributing to saving the lives of an estimated 27,000 children under the age of 5, and averting 3.7 million cases of malaria also in children under five through Seasonal Malaria Chemoprevention (SMC) and Insecticide-Treated Net (ITN) campaigns. This work was made possible through support from the Global Fund to Fight AIDS, Tuberculosis and Malaria (Global Fund), the Bill and Melinda Gates Foundation (BMGF), Unitaid, the World Bank Group, and other private donors.
CRS is a trusted partner to ministries of health (MoHs) around the world and supports National Malaria Program (NMP) strategies, emphasizing malaria prevention and community and facility case management, through social and behavior change (SBC), quality data for use in decision-making, procurement and supply chain management, and capacity building and advocacy at the national, regional and international levels. CRS promotes evidence-based, high-impact practices while testing innovative responses that can contribute to the evidence base and continuously improve program quality.
CRS' vast local, national and international network of partners, including faith-based, civil society and non-governmental organizations (NGOs), governments, universities and research partners, are instrumental in strengthening national health systems. CRS' expertise lies in improving in-country capacities to provide high-quality, sustainable services and facilitating linkages with communities to ensure prioritization of their needs. CRS has extensive experience assessing institutional capacity and has developed tools—applicable to national, regional, district, facility and community levels of the health system—which underpin targeted technical assistance.
CRS provides technical and implementation assistance across a number of technical areas of expertise according to our Global Malaria Technical Strategy, including:
Vector Control
Since 2007, CRS has supported NMP vector control strategies through the distribution of over 200 million ITNs in Cambodia, Ghana, Guinea, Madagascar, Niger, Nigeria, Senegal, Sierra Leone, and The Gambia. CRS supports both mass and routine distributions and assists countries in forecasting and quantifying needs, purchasing and distributing nets, and tracking utilization. CRS programs also embrace alternative ways to distribute ITNs for increased and continued coverage, such as through schools, emergency response programs and communities. Examples of projects include:
As Global Fund PR in Niger since 2008, CRS worked to increase the number of pregnant women and children under five who sleep under a ITN through universal coverage of ITNs. The percentage of pregnant women who slept under ITNs the previous night increased from 7% in 2012 to 90% in 2021, and the percentage for children under five years similarly increased from 7% to 86% over the same period.

In 2019, CRS supported cross border distribution of 990,000 ITNs in The Gambia and 8.5 million ITNs in Senegal with coverage rates of 82% in The Gambia, 92% in Senegal and 84% in border communities. The joint campaign required political commitment, data sharing, expertise sharing, joint logistics and infrastructure, and schedule adjustments. Due to the success of the campaign, The Gambia accelerated its campaign by one year to match Senegal's schedule.

Under the Unitaid-funded Advancing Evidence for the Global Implementation of Spatial Repellents (AEGIS) project, led by the University of Notre Dame, CRS and Mali's Malaria Research Technical Center (MRTC) is leading a randomized control trial in Southern Mali to test the efficacy of a new passive emanating spatial repellent product. In 2023, CRS and its partners are also expected to begin operations research in Northwestern Uganda within refugee settlements and host communities to test the effectiveness of different distribution methods in delivering spatial repellents. Results from these as well as from trials in Kenya and Sri Lanka are expected to influence a WHO policy recommendation on including spatial repellents as an additional intervention in the global malaria prevention toolkit.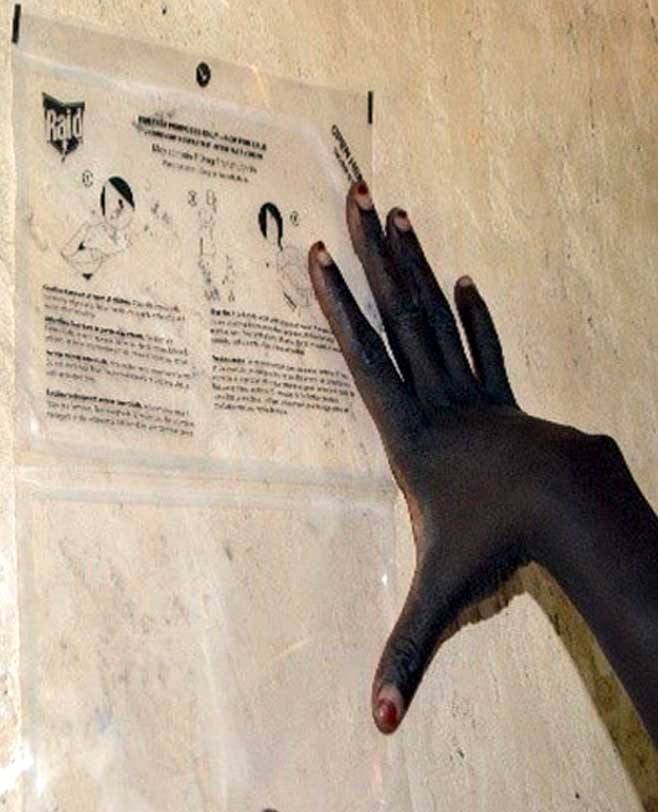 Drug-Based Prevention
(SMC and IPT for Pregnant Women)
CRS is a leader in SMC, delivering this life-saving intervention in close collaboration with NMPs through national health systems. Since 2014, CRS has supported nine countries (Benin, Burkina Faso, Cameroon, Guinea, Mali, Niger, Nigeria, Senegal and The Gambia) in the scale-up of SMC. As of the end of 2022, CRS has supported the distribution of SMC to 63 million children under five years. CRS has supported SMC activities even in highly tense, and at times insecure, border districts where extremist groups are present as well as during the Ebola outbreak in Guinea.
CRS works with NMPs to plan and implement successful SMC campaigns. Working with technical working groups, CRS supports countries to conduct formative research and develop or update guidance, plans, training materials, and tools for SMC implementation—applying global guidelines and state-of-the-art practices. CRS assists NMPs to cascade SMC training down to the CHW level and provides longitudinal supervisory support and coaching.
As local teams prepare to implement campaigns, CRS advises NMPs through iterative micro- and macro-planning exercises, introducing digital registration and tracking systems (developed and used at scale in The Gambia and Benin) and developing SMC dashboards. CRS assists decision-makers to dynamically respond to real-time data and modify plans based on post-campaign routine data quality assessments. This is especially important in unstable areas or those with mobile populations, where many SMC-eligible children reside (e.g., Northern Nigeria, border areas of Niger, Northern Mali). CRS also supports NMPs to address gender-related barriers to effective SMC, including devising outreach strategies that reach mothers and children where they are and ensuring that mothers who need to travel to a fixed distribution point can do so safely.
CRS also supports NMPs to prevent malaria during pregnancy.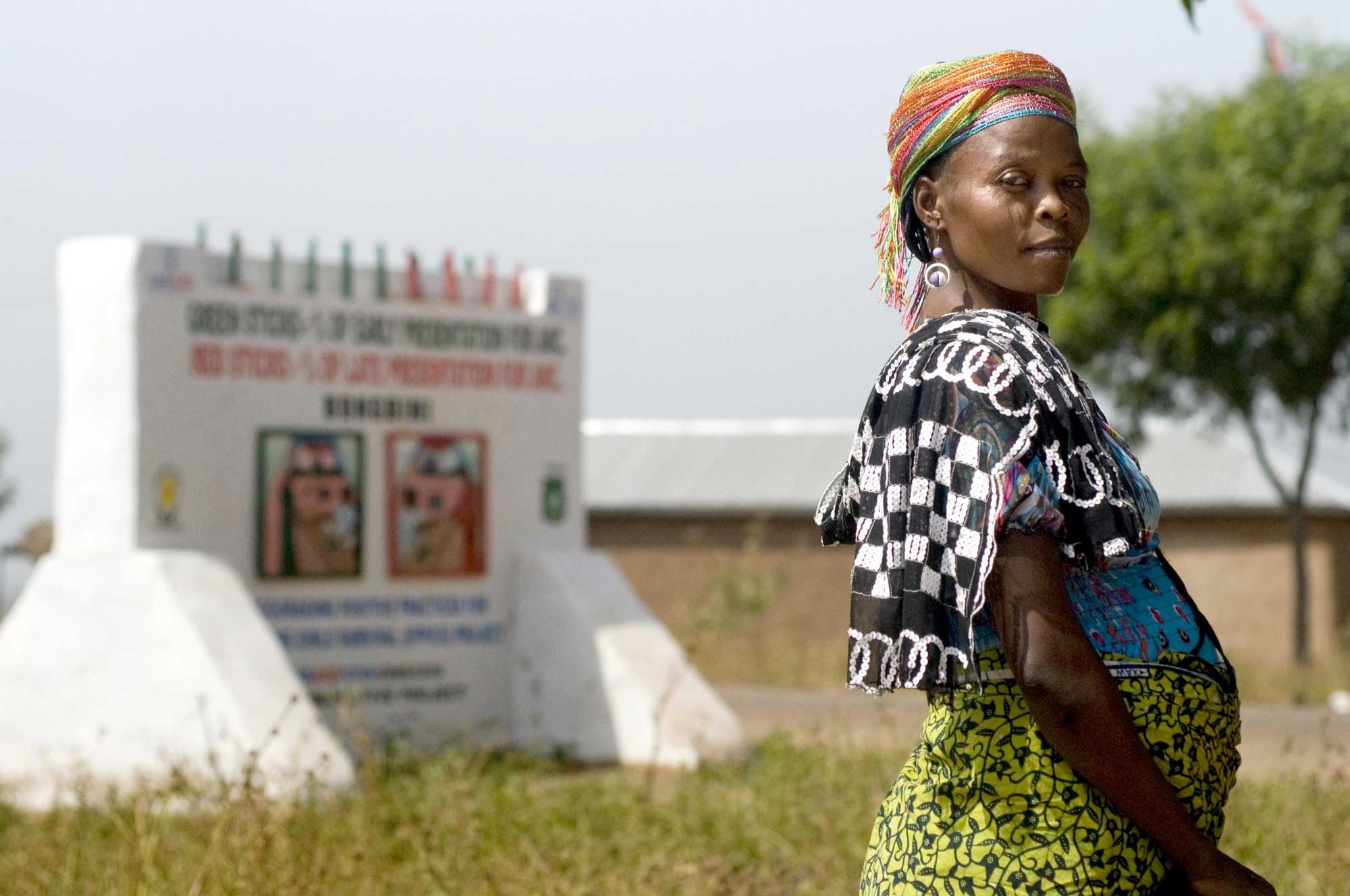 CRS programs support Intermittent Preventive Treatment in pregnancy (IPTp) by collaborating with reproductive, maternal, neonatal and child health programs to generate demand for medications, understand barriers to uptake and conduct community distributions, as appropriate. In Guinea, the percentage of pregnant women attending antenatal care who received at least three doses of Sulfadoxine-Pyrimethamine continues to increase in areas where CRS implements a package of malaria interventions. From January 2018 to December 2019, the percentage increased from 59% to 67%, and to 77% by the end of 2021.

CRS has been supporting Sierra Leone's National Malaria Control Program as co-PR since 2011 through the scale up of a mixed package of social behavior change interventions targeting both the community and health facilities, as well as national and district levels. In Guinea, the percentage of pregnant women attending antenatal care who received at least three doses of Sulfadoxine-Pyrimethamine continues to increase in areas where CRS and partners implements a package of malaria interventions. Additionally, IPTp3 has increased by over 21 percentage points from 31% in 2016 to 52% in 2021. Other components of the package include uptake of Perennial Malaria Chemoprevention (PMC), sleeping under an ITN, and prompt access to care for febrile children. Overall, this package has contributed to the 50% decrease in malaria prevalence from 42.9% in 2013 to 21.6% in 2021.
Digital tools to improve vector control access and use & improve SMC coverage and adherence
Technology plays a vital role in efficiently managing large-scale distributions of ITNs and SMC. To manage the distribution of nets and SMC drugs more efficiently at scale, over 90% of CRS' malaria projects use mobile technology platforms. Frontline workers are trained to use GPS-enabled mobile platforms. We currently use CommCare (a cloud-based mobile data collection tool), Cash and Asset Transfer (CAT) platforms, and the District Health Information Software 2 (DHIS2) tracker, which are hosted on Android devices and used to register beneficiaries, track training attendance, manage distributions, monitor coverage and provide payments to those involved in distributions. Digitalization of health campaigns along with improved use of DHIS2 helps national programs improve transparency and accountability and leverage data analysis for increased impact. CRS has been working with national governments in West and Central Africa since 2007 to optimize their use of national health information systems and to digitize national health campaigns, including ITN and SMC distributions.
The benefits of digitizing mass campaigns are numerous. Digitization enables more efficient, precise implementation of all phases of the campaign, including planning. A digital approach improves the speed of data collection and analysis, allows for remote real-time monitoring of field activities, supports evidence-based decision-making, and (in the context of the COVID-19 pandemic) facilitates quick adaption to a "no-touch" approach.
Case Management
CRS supports both facility- and community-based malaria case management mainly in high-transmission settings, supporting the operationalization of policy recommendations. CRS projects build the capacity of health workers at all levels to ensure that malaria case management includes both passive and active case detection to find and treat all symptomatic and asymptomatic cases, especially in countries transitioning between control and sub-national elimination. In countries with very low transmission, CRS works side-by-side with government staff to strengthen surveillance and case management systems so that all malaria cases are detected, notified, investigated and classified, treatment is supervised, and follow-up is provided.
CRS programs include iCCM of malaria, diarrhea and pneumonia, especially in remote areas where there is little access to formal health services. We support community-based organizations (CBOs) and government health workers to promptly test, diagnose, treat and track both active and passive cases of malaria, emphasizing treating children under five and pregnant women and helping local governments to roll out and scale up community-based testing prior to treatment.
A key criterion for a successful malaria case management program is ensuring the availability of quality assured medicine and diagnostics at all levels of the health system—from central pharmacies down to communities and health centers. CRS has ample and strong expertise in supply chain management for health products, including quantification, forecasting, procurement, distribution, tracking and minimizing commodity stock-outs. CRS is also a leader in the introduction of mobile technology to support tracking malaria commodities and the intake of medicine by beneficiaries. Additionally, CRS has strong experience in data management, mainly ensuring that data collected is integrated into national health information systems and strengthening the information systems at central and district levels.
Improving Community-Based Health Systems
CRS is a global leader in SBC interventions and has extensive experience working with national health agencies and programs to develop, test and roll out national SBC strategies. CRS applies a strong gender, diversity and disability inclusion lens. CRS engages households and communities through multiple channels: interpersonal communication, local radio and television programs, and participatory community programs. Working closely with civil society organizations (CSOs), CRS effectively promotes essential health actions. Because of the complexity of addressing barriers to SBC, CRS adopts a people-centered approach in its community engagement programming and works to strengthen evidence-based strategies that leave lasting positive change. We also employ the most cost-effective and impactful technologies to promote positive behaviors. For instance, in several countries, CRS has partnered with technology vendors to distribute vital information through a combination of hotlines, SMS and interactive voice response.
Surveillance and Operations Research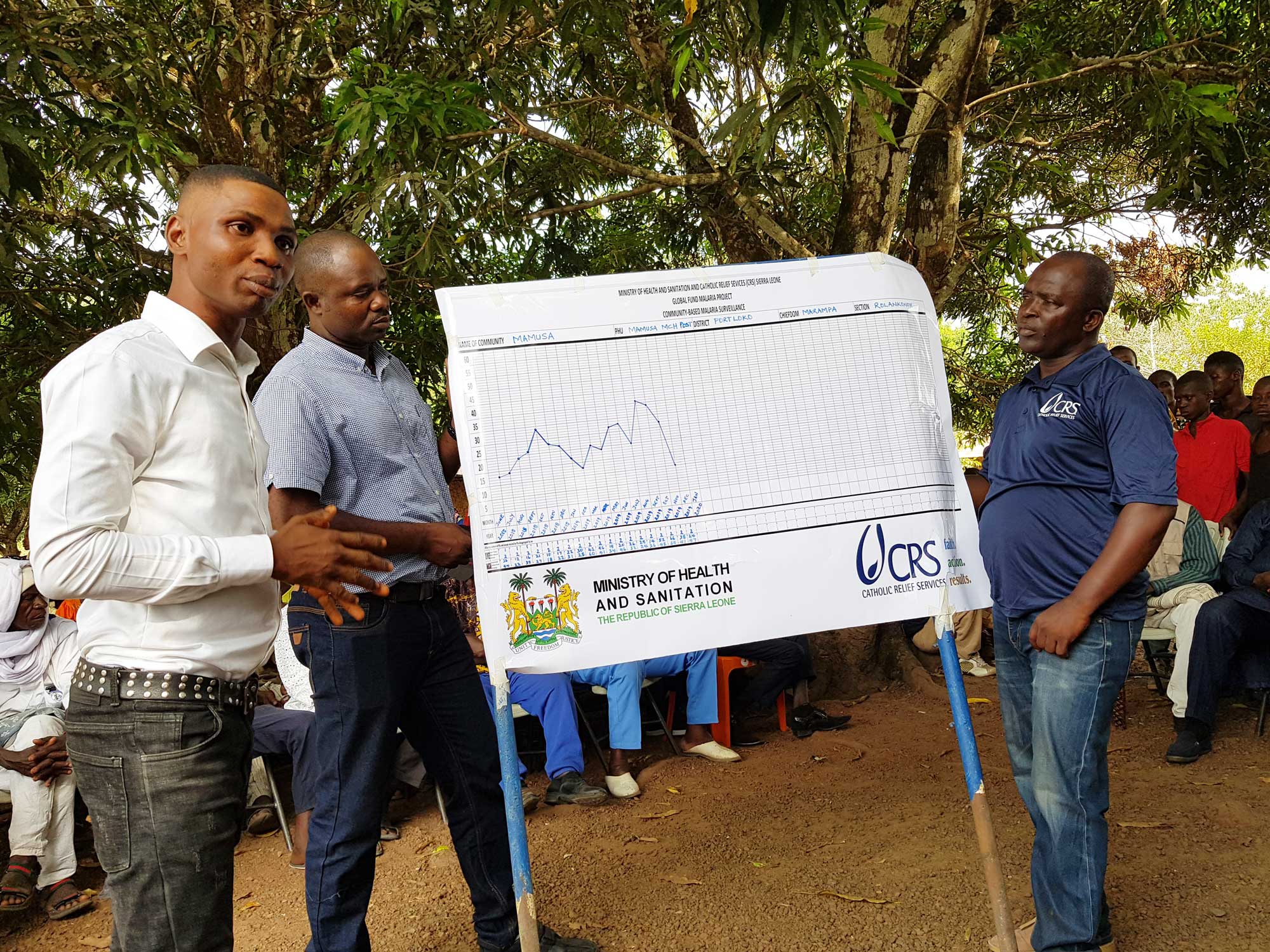 CRS assists all countries to iteratively plan toward the goal of elimination, regardless of the intensity of malaria transmission. New tools and approaches and robust surveillance systems are critical to this endeavor. CRS supports a combination of existing interventions to lower malaria transmission and ensure sustainability of those levels. High-impact interventions (e.g., ITNs, indoor residual spraying, malaria case management and IPTp) will eventually need to be coupled with new diagnostics and drug-based interventions, or delivered in different ways, along with robust surveillance systems to further reduce the parasite reservoir in humans. CRS has the ability to conduct operational research to determine how best to introduce new tools and approaches. CRS concurrently strengthens information and surveillance systems and community-based service delivery platforms to support new drug-based intervention pilot planning and/or to shift strategies as transmission levels drop.

For example, in Sierra Leone, CRS uses the Community Action Against Malaria approach to help communities recognize the presence, magnitude and negative impact of malaria. Each month, community volunteers, health facility staff and CHWs review malaria incidence data within that community to gauge progress and link incidence patterns with key behaviors that needs to be addressed. The data is used to create and revise goals and action plans. With this data, CRS and its partners have been able to tailor advocacy interventions and design and implement targeted communication interventions. Following the success of this approach with malaria programming, it is now also being applied to tuberculosis and HIV activities using similar community-based methods.
Multisectoral Programs
As the number of malaria cases globally remains consistent, and to help overcome stagnating funding for malaria programs, new multisectoral malaria approaches are needed. CRS is helping to lead a global effort to expand multisectoral programming activities into ongoing or new projects. As part of CRS' Vision 2030 Strategy, CRS has invested discretionary funds to invest in a malaria multisectoral project, called 'Accelerating the end of malaria across sectors' which seek to leverage synergies across other development and relief programs to scale up access to and use of malaria prevention, testing and treatment commodities. By finding synergies across sectors, CRS' multisectoral malaria approach has a dual impact, helping reach program goals while reducing malaria's burden on the most at-risk populations. This effort focuses on three areas:
Testing the concept: CRS is establishing a baseline of knowledge by testing the approach in high malaria burden countries in sub-Saharan Africa in collaboration with other development sectors and partners.

Influencing global policy: At a global level, CRS is using its influence to help expand the multisectoral approach to malaria programming into actionable policy to be used by NMPs and implementing stakeholders.

Expanding resources for multisectoral programming: Using the reach and scale of CRS programming, the approach is also advocating to increase the resources invested in multisectoral malaria programming.
CRS' Accelerating the End of Malaria Across Sectors project works to expand the evidence base for key sectors defined by the Roll Back Malaria's Multisectoral Action Guide. CRS is investing in evidence generating projects within ongoing CRS projects in other sectors. Examples of this work include:
Malaria and nutrition - In Madagascar, malaria hotspots overlap with areas with poor nutritional status and food insecurity. CRS is partnering with Harvard and Princeton on research that uses a combination of laboratory analyses, computational modeling and GIS data to enhance understanding of malaria-malnutrition dynamics. CRS is deploying mobile clinic surveillance units that provide access to care, collect data on nutritional metrics and simultaneously highlight local malaria hotspots for targeted interventions. By improving community systems for both malaria and nutrition and ensuring that there is joint policy in place, CRS is helping bridge efforts to confront the two leading causes of childhood mortality.

Urban malaria, housing and water - In Freetown, Sierra Leone, many of those living in poverty are in large makeshift communities of densely populated urban households with no access to clean water or sanitation services. These environments often result in standing water and increased malaria breeding sites during the rainy season. However, because malaria prevalence is generally lower in Freetown than in rural areas, there has been little research on malaria prevalence among the urban poor. CRS is piloting a program that systematically measures malaria incidence and prevalence before, during and after housing improvements and water-related activities. The results will show which activities have the potential to decrease malaria burden within at-risk urban communities.

Malaria and agriculture - In the Karonga Province of Malawi, rice farming is an expanding agricultural and livelihood activity. Man-made irrigation and land changes have increased standing water, and therefore mosquito breeding sites. CRS, with local partners and Michigan State University, is working to better understand the impact of expanded rice farming on malaria rates in this region and also working with communities to develop local solutions to help reduce mosquito breeding and malaria transmission in these high burden areas. By bringing together the national malaria control program and Ministry of Agriculture, CRS is helping to bridge unique multisectoral partners to develop common and impactful solutions.
Supporting Transition to Local Primes
Partnership and Capacity Strengthening is central to CRS' philosophy and the agency has well-articulated partnership development materials that guide interactions with partners. CRS works with approximately 1,700 partner organizations around the world, both faith-based and secular. CRS works hand-in-hand with institutional partners to deliver quality malaria services and accompany them to scale innovative approaches. CRS' proven partner-led capacity strengthening model is founded on strong relationships, mutual commitment and its three-pronged capacity strengthening approach comprised of 1) capacity building to develop competencies among individuals and teams in the form of knowledge, skills and attitudes; 2) institutional strengthening to develop efficient systems, structures and practices at the organizational level, enabling individuals and teams to apply acquired skills and knowledge within strengthened institutions; and 3) accompaniment to ensure application of learning and the use of systems by combining coaching, mentoring and supportive supervision methods. CRS has developed an expansive array of resources to support partners, including CRS' Institute for Capacity Strengthening, a one-stop-shop for capacity-strengthening resources, Compass, an online platform for project management, and the Institutional Strengthening Guide.
CRS conducts regular data quality assessments to ensure that data is accurate, reliable, meaningful and timely. Often assessments are conducted jointly with government health partners and sub-recipients in order to build their capacity. CRS staff also meet with implementing partners at least once a quarter to jointly analyze and reflect on project monitoring data, which takes into account observations from field visits and informal monitoring activities. These types of meetings help to inform project decision-making and adjust project activities as needed based on evidence.
Advocacy and Policy
In all countries where CRS works, country teams have a keen understanding of national malaria priorities and strategies, including active participation in national fora and working groups to support the development of guidelines and policies, and maintain formal relationships and agreements with key ministries and local and international NGOs.
At the global level, CRS actively participates in the RBM Partnership to End Malaria through the Alliance for Malaria Prevention, the SMC Alliance, the Vector Control Working Group, the Case Management Working Group, and the Francophonie Working Group. CRS is a Core Group/Steering Committee member of the Alliance for Malaria Prevention, the SMC Alliance and the Advocacy and Resource Mobilization Partners Committee (ARMPC). CRS also serves as the co-chair of RBM ARMPC's Multisectoral Advocacy Workstream. Through these global leadership roles, CRS works with malaria technical partners, the RBM Secretariat and the WHO's Global Malaria Program to draft new global policy guidance and ensure sustained introduction and scale-up of new interventions.