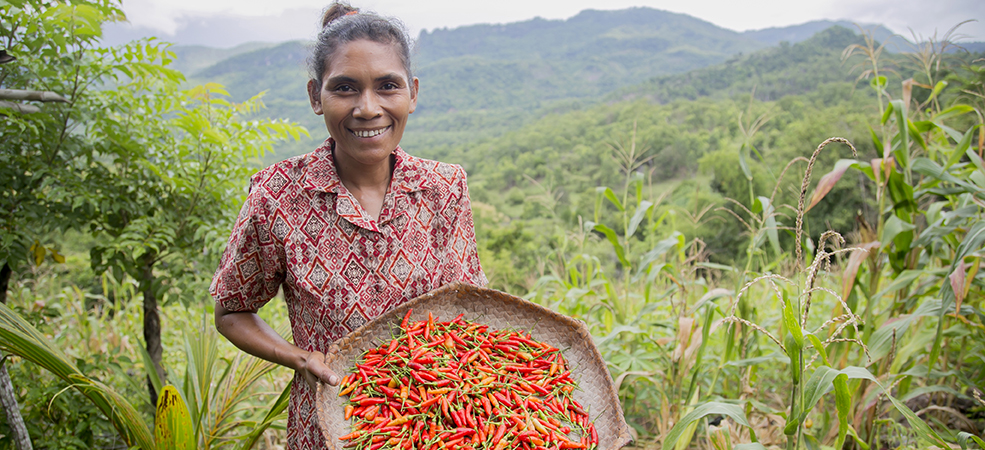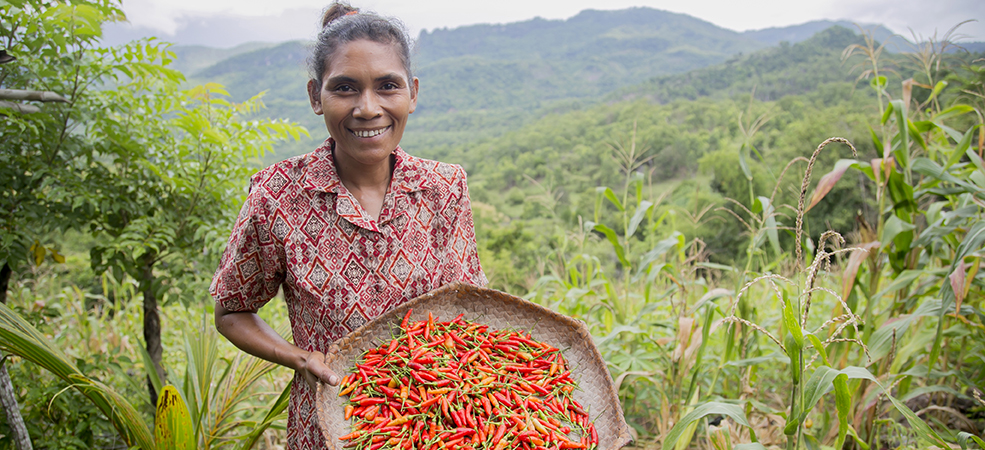 ICT4Ag Suite
Photo by Jennifer Hardy/CRS
ICT FOR AGRIBUSINESS AND RURAL DEVELOPMENT
For most farmers and many field agents, business development is a challenge. Most smallholder farmers do not keep records. Most field agents are trained in production, not business management, and lack the skills to help farmers plan their enterprises.
To enable farmers to analyze market opportunities and increase their income, more attention needs to be given to monitor the profits that different types of farmers gain from using new technologies and linking to markets.
WHAT IS CRS's ICT4Ag SUITE?
CRS's ICT4Ag Suite is a set of integrated field-based tools that we are developing and testing to help agents support farmer groups. The tools are designed to improve training, business planning, market analysis and GIS-linked service delivery.
We have assembled the ICT4Ag Suite at the request of a consortium of NGOs working in the Southern African Agro-Enterprise Learning Alliance.
The ICT4Ag Suite has four primary features to meet the needs of farmers, field agents and project managers:
WHY USE THE CRS ICT4AG SUITE?
Integrated ICT tools allow fast and accurate implementation and M&E
E-learning modules help farmers create effective and sustainable linkages to markets
Business-planning software enables farmers to make better decisions based on market information
Real-time feedback helps project managers improve results
BUSINESS-FOCUSED INFORMATION
Business development is a challenging part of most farmers' and field agents' work. Most smallholder farmers do not keep records. Most field agents have not received any formal education in business management and therefore rarely help farmers to plan their businesses.
For development processes and rural upgrading strategies to work in today's business environment, more attention needs to be given to improving market performance.
The ICT4Ag Suite offers field agents and farmers a business-planning process that focuses not only on production but also on market opportunities. It provides customized business information (rather than general market information) so farmers can make the most of their investments.
HOW THE ICT4AG SUITE WORKS WITHIN A PROJECT
Once a project decides to use the ICT4Ag Suite, the project team hires staff and collects some basic data on local products and units. Staff members register the project, project managers and field agents in the suite. 
SMART SKILLS E-LEARNING
Before field agents train farmers, field agents receive training in two core courses: Marketing Basics and The Seven Steps of Marketing. These courses provide basic enterprise training so field agents can better help farmers.
Farmbook Suite combines face-to-face training and e-learning modules for mobile devices. Courses are available online and offline. Meanwhile, CRS' Agriculture and Livelihoods Team is continuing to develop alternative educational methods that are tailored to local needs.
PARTICIPATORY PROFITABILITY ANALYSIS
As field agents use participatory value-chain analysis to gather information about target products, they record this information via . This information enables teams to prepare customized business plans, keep records and make assessments about value-chain components—including production, storage, delivery and market options.
The software helps field agents calculate basic production figures, postharvest handling costs, estimated incomes and gross margin. This systematized information can be viewed and printed in a report format for farmers. Participants can enter additional information to consider different market scenarios, compare markets, assess delivery and sales methods, and select the most profitable option.
FARMER FEEDBACK
Farmer Feedback is a new component that will provide farmers' feedback to project managers via call centers, interactive voice response, feedback forms, SMS and other technologies. Teams can select the appropriate technologies based on the types of questions that they need to ask, their budgets and respondents' relationships with the project. This allows projects to collect direct feedback from farmers so project managers can improve service delivery and effectiveness.
LEARN MORE
For more information about the ICT4Ag Suite, contact [email protected].
Learn more about our work in sustainable growth and capacity strengthening for agriculture.