Global Supporting Seed Systems for Development Activity (S34D)
---
Activity Overview
The Feed the Future Global Supporting Seed Systems for Development (S34D) is a Leader with Associate (LWA) activity, funded by the Feed the Future initiative through the Bureau for Resilience and Food Security (RFS) and by USAID through the Bureau for Humanitarian Assistance (BHA). S34D was created to enhance farmers' access to a full range of seed choices and options to maximize their responsive decision making and planning for production. The activity builds on existing partnerships and seeks to provide new insights and business models to extend the reach of quality seed to last mile users including women, youth, and vulnerable groups. S34D seeks to improve the functioning of formal, informal and emergency seed sectors in Feed the Future aligned and other priority countries with economic growth, resilience and emergency seed security programs.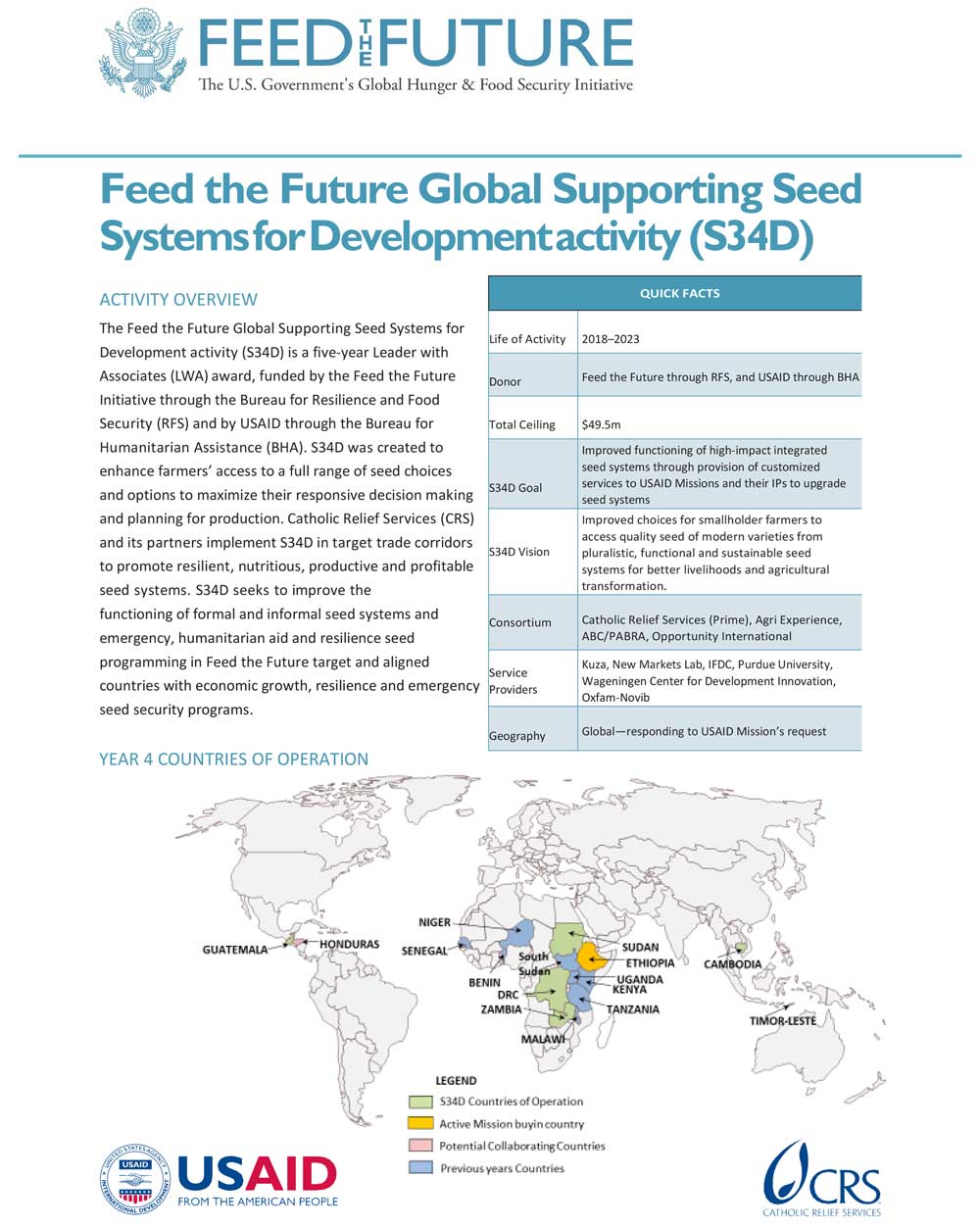 Download
2-page overview of S34D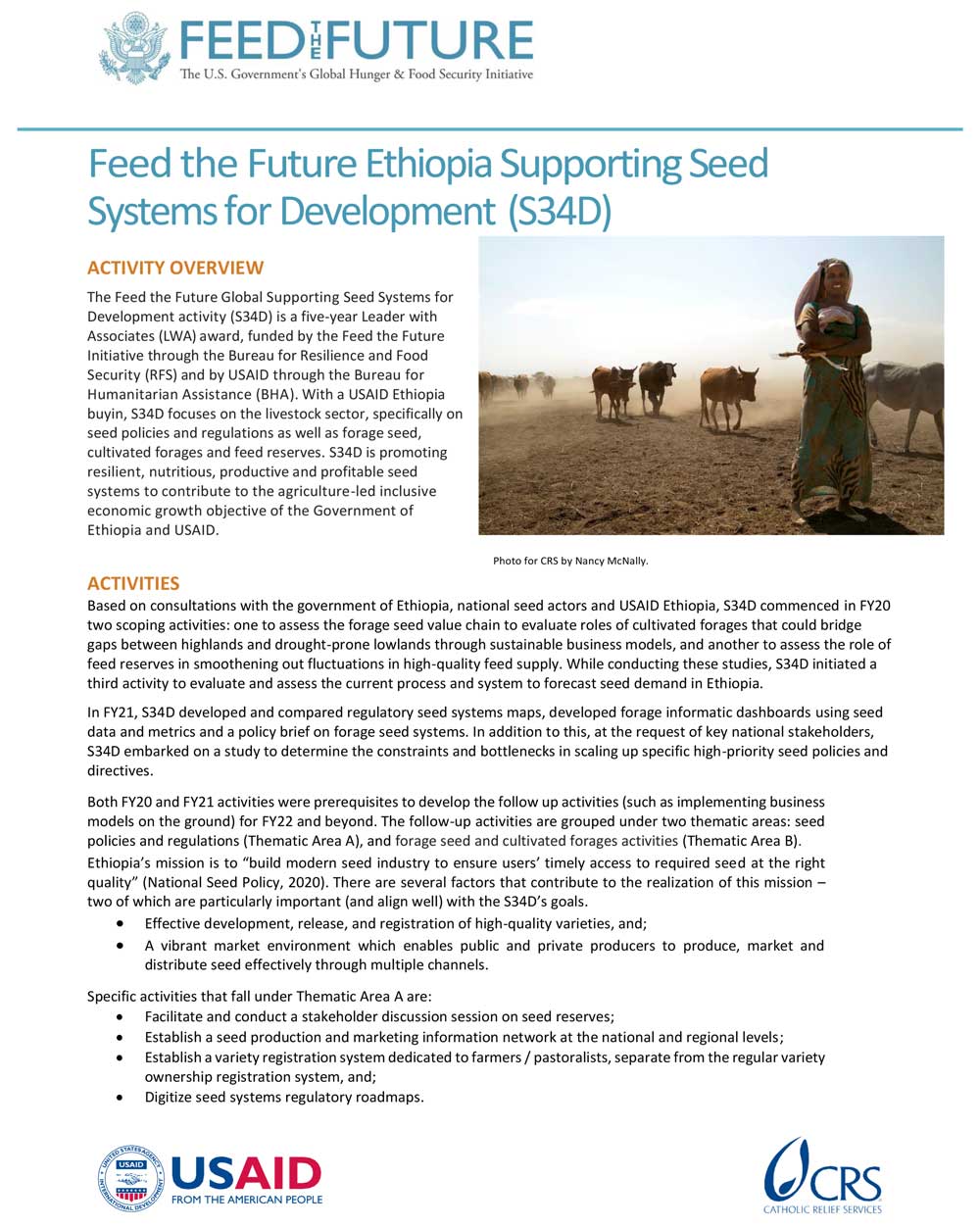 Download
S34D's Ethiopia
2-page overview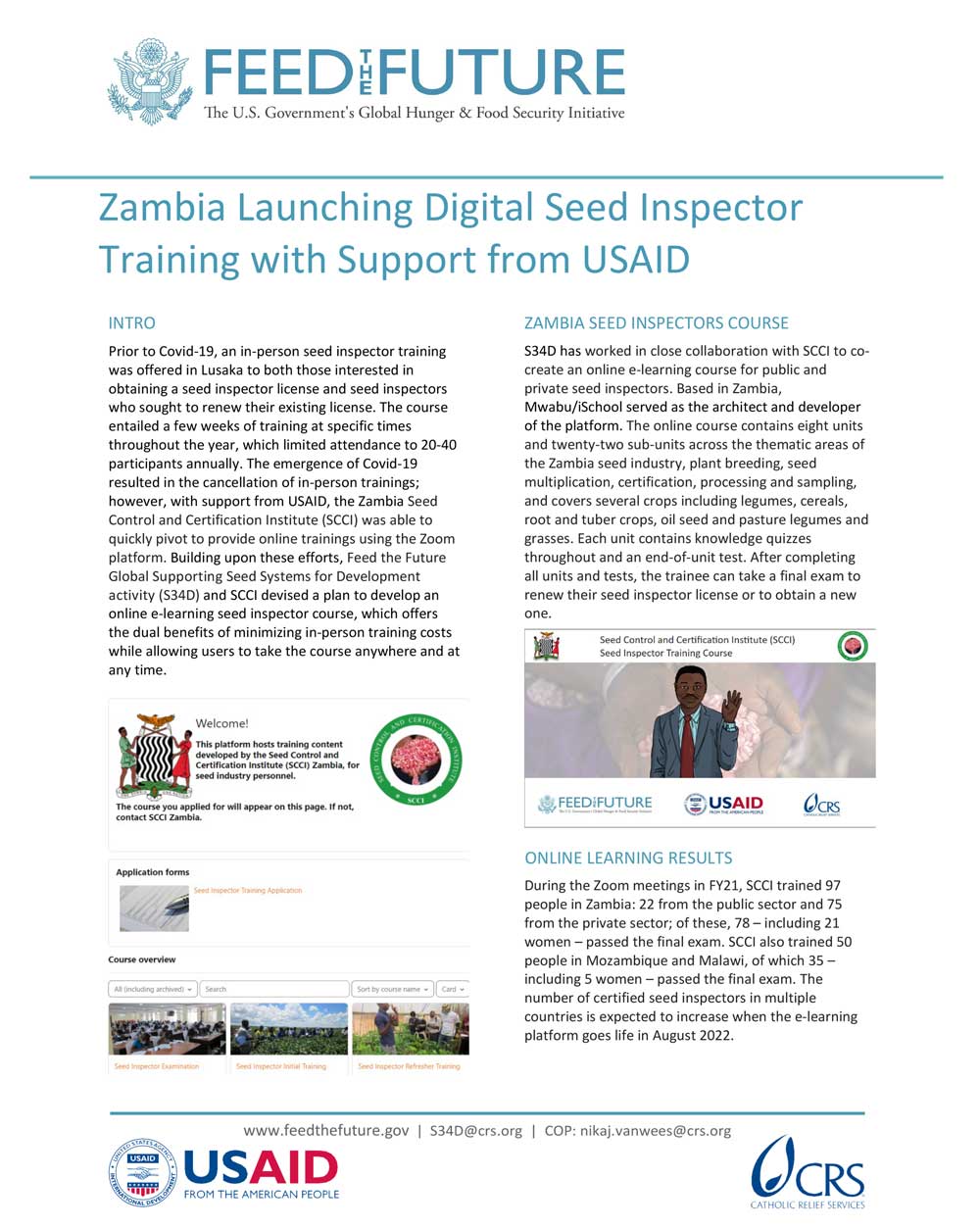 Download
S34D's Zambia
1-page overview
Quick Facts
Life of Activity: 2018-2023
Total Ceiling: $49.5m
Donor: Feed the Future through RFS, and USAID through BHA
S34D Goal: Improved functioning of high-impact integrated seed systems through provision of customized services to USAID Missions and their IPs to upgrade seed systems.
S34D Vision: Improved choices for smallholder farmers to access quality seed of modern varieties from pluralistic, functional and sustainable seed systems for better livelihood and agricultural transformation.
Consortium: Catholic Relief Services (Prime), Agri Experience, The Alliance for Bioversity Interational and CIAT, Opportunity International
Service Providers: IFDC, Kuza, New Markets Lab, Purdue University, Wageningen Center for Development Innovation, Oxfam Novib
Geography: Global—responding to any USAID Mission's request
Info: [email protected] | COP: [email protected]
New Seed Business Models
New financial instruments for firms and farmers.
Reduce bottlenecks to seed system development, availability, access and quality.
Build capacity of seed companies to improve efficiency and diversify crops.
Catalyze new vendors of post-harvest technologies.
Digital Feedback & Last Mile Delivery
Fee-based multi-sided AgTech digital platform of rural agents for last mile delivery.
Assess farmer adoption of new varieties using point-of-sale applications.
Develop digital training and testing platform for seed inspectors.
Seed Diagnostics
Identify methods to improve market forecasting; cost and demand estimation.
Use DNA fingerprinting to assess genetic purity of seed.
Provide seed information, data and analytical services.
Emergency, Humanitarian and Resilient Seed Systems
Develop rapid remote seed security assessment tool.
Support resiliency in seed systems and mitigate market distortions.
Develop market-based humanitarian seed interventions.
Liberalize Seed Policies & Practices
Limit free seed distribution to critical needs.
Implement 'stop bad seed' strategies.
Support policy and regulatory reform implementation.
Integrate Seed Systems & Trade Corridors
Analyze seed access within target grain corridors.
Facilitate implementation and harmonization of regional seed catalogues and protocols.
CRS and its partners bring seed expertise across the formal and informal seed systems and humanitarian seed interventions to integrate and develop seed systems. S34D's senior management team includes Jason Sullivan (CRS-Chief of Party), Bhramar Dey (CRS-Senior Technical Advisor MEL, Seed Policy, Data, Strategy), Shaun Ferris (CRS-Formal Seed Sector Advisor), and Kate Longley (CRS-Emergency, Humanitarian and Resilience Seed Systems Advisor). This team is strengthened by our CRS HQ staff: Sarah Beakes (Global Grants Finance Officer), Gideon Mavise (MEAL Advisor), Kelly Collis (Specialist II), and Emily Keast (Operations Specialist), as well as our consortium partners' staff: Aline O'Connor and Mulemia Maina (AgriExperience), Tim Strong and John Magnay (Opportunity International).
Click on the highlighted areas of the map below to explore where S34D works, what we do and more.
Please see the S34D publications page to view and download S34D studies, reports and publications.
---
Consortium Partners
Agrilinks is the online hub where agriculture, food security and development professionals connect, share and learn. Established in 2011, Agrilinks has become the go-to source for informative discussions on development topics and the latest information that is furthering resilience, food security and poverty reduction.
For more seed resources, check out our partner site https://seedsystem.org.
For more information on the Feed the Future initiative, please visit www.feedthefuture.gov.
---
This website was made possible by the generous support from the American people through the U.S. Government's Feed the Future initiative and the United States Agency for International Development (USAID) through Cooperative Agreement 7200AA18LE00004. The contents are the responsibility of Catholic Relief Services and do not necessarily reflect the views of USAID or the United States Government.
The information provided on this website is not official U.S. Government information and does not represent the views or positions of the U.S. Agency for International Development or the U.S. Government.