Syrian Refugees: Meet the People Everyone's Talking About
Photo by Kira Horvath for CRS
Refugees from Syria
Catholic Relief Services has assisted 1.25 million refugees from Syria in the Middle East and Europe. Working with and for them, we get to know them, learning not only about the fear and terror they fled, but also their hopes and dreams for a peaceful future. Many Americans believe that closing our doors to these innocent men, women and children is the way to protect our nation. Our experience shows that is not the case. We ask you to meet six Syrian refugees, who once lived in Syria, enjoying their families and thriving in fulfilling jobs, but now face only uncertainty. They deserve our compassion rather than our fear. You can help by donating to our work to assist Syrian refugees.
Sakeena Mteir
'She likes to know about everything'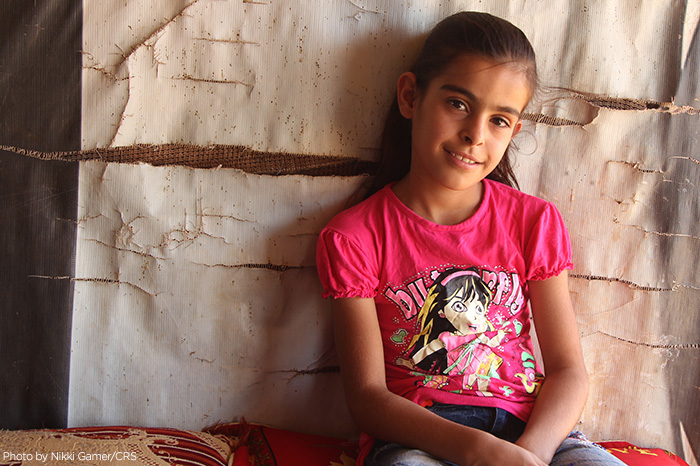 With her thick black hair pulled into a long ponytail, a bright pink T-shirt and multi-colored nail polish, Sakeena Mteir looks like your typical 11-year-old. And in some ways, she is. But for more than 4 years, Sakeena, her parents and eight siblings have lived in a makeshift shelter made of a few wood beams and an assortment of tarps in Lebanon's remote Bekaa Valley.
This was where Sakeena's father, Isameil, used to work on a farm to support his family back in Syria. Then, when civil war came to Syria, he moved the family from there to live with him in Lebanon. With no end in sight to that conflict, they continue to live in limbo.
Sakeena's mother, Turfa, describes her daughter as a bright child who is always looking out for her siblings.
"She likes to know about everything," Tufa explains. "You send her to the shop and she comes back with the right amount of money."
Turfa hopes that her daughter will someday become a teacher. In the meantime, the family is focused on day-to-day survival.  
Turfa knows what she wants for the future. "If God let the war end tomorrow," she says, "we would walk barefoot back home." 
Hassan Zaroid
'I lost everything'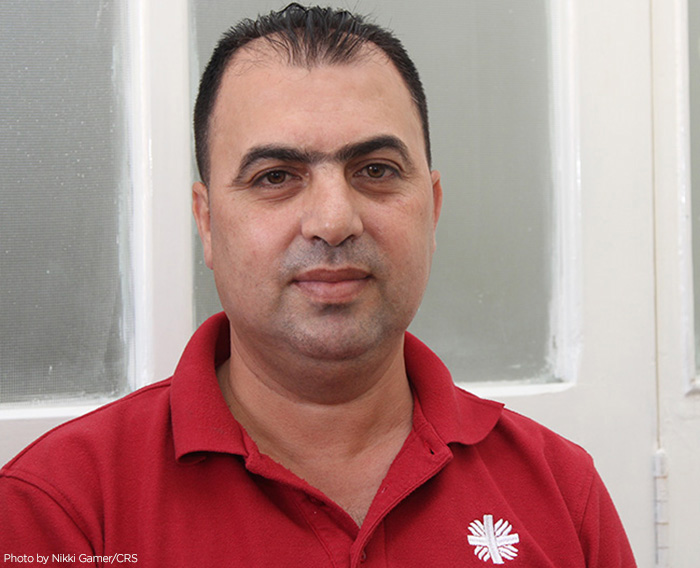 Before the Syrian civil war began, Hassan Zaroid, 42, owned his own business in the Syrian city of Homs.
"I was happy. I had a house. I had a car," he says. "But then I lost everything."
In 2012, a year into the war, he and his then-pregnant wife decided it was too dangerous to continue to stay in Syria. So they fled to Jordan with just the clothes on their backs. They've been there ever since.
Unable to work because of his refugee status, Hassan spends his time helping other Syrian refugees by serving as a volunteer at the Caritas Jordan refugee center in the city of Zarqa, greeting people and helping direct them to the right offices.
Hassan says that he began volunteering as a way to lift his own spirits, to feel more hopeful about a future that is still filled with uncertainty.
"I was so depressed," he says. "There was so much emptiness." 
"I've gotten better. I've started seeing other people who were worse off than me," Hassan says.  "Through my prayers to God I feel optimistic that tomorrow will be a better day."
Ensure tomorrow is a better day for all Refugees
The Basheer Family
'We were frightened every single minute'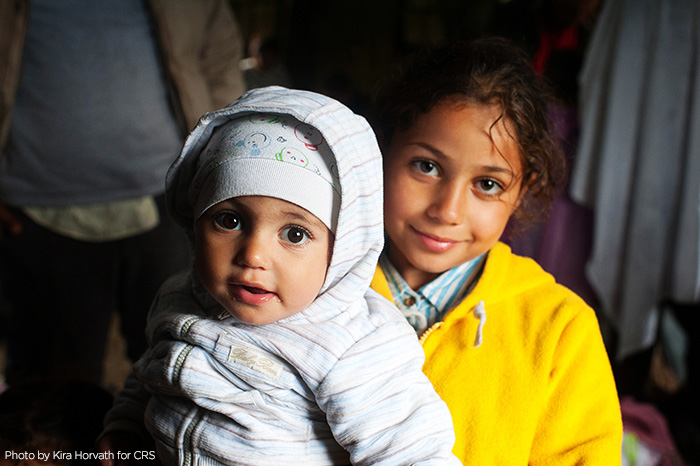 The Basheer family fled Syria when a bomb destroyed their home. Luckily, Khaled Basheer, his wife and three children survived (two of them shown in the photo).
"Can you really say we were lucky?" Khaled asks. "We had to live in a tent in the suburbs of our hometown, Aleppo, from then on. For more than one year. And we were frightened every single minute, every day and every night."
The Basheers feared more bomb attacks. They heard explosions and gunfire nearly every day. "We were also very frightened of an attack by the [Islamic State]. We heard such horrible stories how cruelly they kill innocent people and rape women and young girls," he says.
Now staying at a refugee camp in Serbia, the family hopes to make it to Germany. "Daddy promised we will get a nice home there," his 8-year-old daughter Omama says. "And he said there will be good people there."
Khaled was a construction worker in Syria. He says he's used to working hard and wants to do that again to provide that nice home.
Omama sometimes tells her father that she feels homesick. His reply: "How can you feel homesick when there is no home any longer?" 
Support Refugee Families Forced to Flee
Malak
'It was always my dream to be a teacher'
Malak, a young Syrian woman who fled her home in Aleppo a couple of years ago, has been working as a teacher in Turkey.
"It was always my dream to be a teacher," she says. "But, this dream is to be with children back in Aleppo."
Instead, she is teaching Syrian children who, like her, have lost their homes and are living as refugees. Many are traumatized by the violence they've witnessed.
"At first the children would sit by themselves, alone, in a corner," Malak says. "Now, they are no longer screaming or shouting [in fear]."
"At first, every single child would draw planes or guns or tanks," she says. "We want to give these children space to move and feel free."
One of Malak's lessons has her start a story and then let the children continue it, each adding something.
"They love to create a story with a happy ending," she says.
Lead the Way to a Happy Ending
Abdalkarim Zahra
'I could never hurt, let alone kill, someone'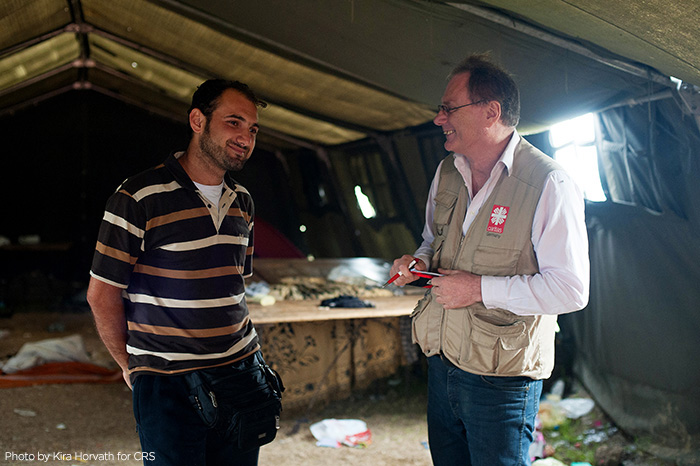 Abdalkarim Zahra, recently arrived in Serbia, making the treacherous journey from Turkey, where he had spent 2 years after fleeing his home in Syria. The national army of Bashar al-Assad was trying to recruit him.
"I deserted," he says. "I'm a sensitive man. I could never hurt, let alone kill, someone." 
Zahra worked in a shoe repair shop in Turkey for 2 years, then headed to Europe in search of a better life.
"I walked so many roads," he says. "I crossed so many rivers. I went over so many hills and valleys. I lost my home, my belongings, literally everything."
Zahra is only 26, yet he says he is "totally finished."
His journey took him from Turkey through Greece and Macedonia to Serbia. Smugglers took all his money. He was pushed into an overcrowded boat to reach Greece. He has been kicked by border police, and has stayed in three different camps in Serbia alone.
"Can I still be called a human?" he asks.
Pray for Safety and Peace for Refugees like Abdalkarim
Read more about Catholic Relief Services' work with Syrian refugees.
Join the movement and urge Congress to support refugees.