Media Center

U.S. NGO Official Calls for Game Changer in Humanitarian Assistance: Stop Man-Made Disasters
FOR IMMEDIATE RELEASE
CONTACT:
Kim Pozniak
Catholic Relief Services
[email protected]
410-951-7281
Quotes from Top U.S. NGO Official Ahead of May Global Summits
BALTIMORE, MD, May 17, 2016 -- Ahead of the World Humanitarian and the G-7 summits this month, Catholic Relief Services' (CRS) Chief Operating Officer, Sean Callahan, urges cooperation among governments to immediately address the issues, including conflict, that cause and prolong human suffering.
The United Nations World Humanitarian Summit, billed as a "global call to action," asks governments, donors and humanitarian actors to make clear commitments to actions that will strengthen our response to emergencies and protracted crises. At the G-7 summit a few days later, some of the richest countries in the world will wrestle with issues ranging from the Syrian refugee crisis to the crisis in Ukraine.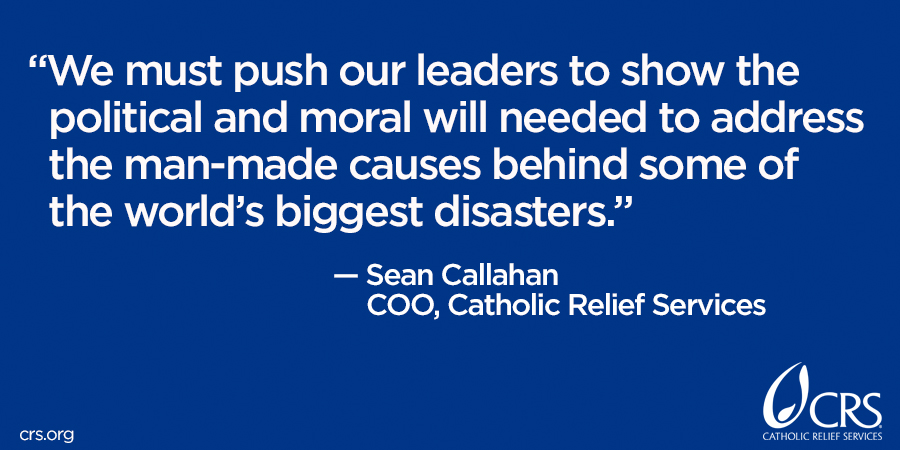 Sean Callahan will be at the World Humanitarian Summit (WHS) and says:
"The World Humanitarian Summit will only be successful if governments and the U.N. show the political will to find meaningful solutions to long-term crises, including a negotiated end to the Syrian conflict. They need to come to the table with real commitments. Humanitarian commitments are great, but they're not enough."
"Key components of the humanitarian system are missing. We must push our leaders to show the political and moral will needed to address the man-made causes behind some of the world's biggest disasters."
"Certainly people are suffering and need help right now, but what they really need is an end to the reasons that they are suffering. That doesn't mean stopping storms or earthquakes, it means stopping wars, ending climate change, eliminating corruption and fostering good governance."
CRS joins a network of U.S. organizations making special commitments at the WHS through the InterAction alliance. CRS' commitments include a number of key components aimed at improving the effectiveness and efficiency of humanitarian response.
"Investing in the ability of local organizations and strengthening their readiness to respond will be a game changer for how we deliver humanitarian assistance - in a way that fosters resilience on a much greater scale."
"Currently, 65 million people are displaced because of conflict and persecution – the highest number in recorded history.  Millions more are affected by natural disasters every year. While U.S. government funding for humanitarian assistance has steadily increased over time, it still hasn't kept pace with increasing needs. The U.S. government needs to robustly fund programs that help communities to be better prepared and able to respond when disaster strikes."  
TO INTERVIEW SEAN CALLAHAN, CONTACT: Kim Pozniak, (410) 951-7281, [email protected]
###
Catholic Relief Services is the official international humanitarian agency of the Catholic community in the United States. The agency alleviates suffering and provides assistance to people in need in more than 100 countries, without regard to race, religion or nationality. CRS' relief and development work is accomplished through programs of emergency response, HIV, health, agriculture, education, microfinance and peacebuilding. For more information, please visit crs.org or crsespanol.org and follow CRS on social media: Facebook, @CatholicRelief, @CRSnews, YouTube, Instagram and Pinterest.