Media Center

This Lent CRS Rice Bowl Opens Path to a Culture of Encounter

Photo by Petterik Wiggers for Catholic Relief Services
FOR IMMEDIATE RELEASE
CONTACT:          
Susan Walters
Catholic Relief Services
443-955-7103
[email protected]
BALTIMORE, MD, January 17, 2017 --   The season of Lent is marked by many traditions among Catholics in the United States. Symbolized by its ubiquitous cardboard box, CRS Rice Bowl has been a tradition for generations of Catholics. Beginning in 1975 as a response to a growing famine in Africa, CRS Rice Bowl today shines a light on the Catholic community's commitment to poor and vulnerable families – our brothers and sisters. Their lives are improving in meaningful, measurable ways through the humanitarian programs and services provided by Catholic Relief Services (CRS) and the Catholic Church around the world.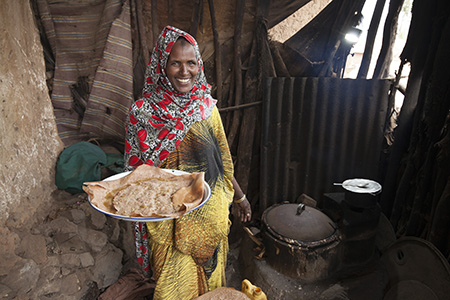 This year, CRS Rice Bowl provides a path for Catholics in the United States to build, what Pope Francis calls "a culture of encounter". By following the daily Lenten calendar, sharing the weekly stories of hope, and making the meatless meals, participants will follow a personal journey that leads to us seeing ourselves in the faces of our neighbors, cultivating a spirit of global solidarity and encountering God's love anew.
Pope Francis told Catholic leaders that the "ability to see yourselves in the faces of others, this daily proximity to their share of troubles and their little acts of heroism: this is what enables you to practice the commandment of love, not on the basis of ideas or concepts, but rather on the basis of genuine interpersonal encounter." 
"We do not love concepts or ideas," the Pope said.  "We love people."
"CRS Rice Bowl is about people and the hope we have for each other. It's about our ability to encounter our neighbors no matter where they live, to love them as God loves us," said Joan Rosenhauer, Executive Vice President of U.S. Operations for CRS.  "At a time when there is so much conflict in the world, this Lenten program gives people of all ages a way to respond to human suffering with compassion and action.  To learn the names and stories of our brothers and sisters, to include them in our prayers, to contribute our Lenten sacrifices so they can live better, healthier lives; this is the way we deepen our faith, building a culture of encounter and holding up the dignity of each and every one of us," Rosenhauer said. 
For over 40 years, CRS Rice Bowl has provided an inspired collection of resources for families, parishes and Catholic schools to incorporate into their Lenten season.  With CRS Rice Bowl, each week of Lent is a new opportunity to meet a family from a different country overseas, hear their personal stories, learn about their culture and experience a meatless meal they serve at home.  Each Lenten story illustrates a principal of Catholic social teaching – an essential element of Catholic faith that says every human being is created in the image of God and redeemed by Jesus Christ, and therefore is invaluable and worthy of respect as a member of the human family.
"We want to meet people where they are in their day-to-day lives, in schools, in parishes, and on the go.  CRS Rice Bowl is an easy to use tool that helps people deepen their Lenten journey by participating in our Lenten traditions – prayer, fasting and alms giving - in a time and way that suits them best.  For some families this means following the Lenten calendar at home, for others it means downloading the App, or making the Lenten recipes, or watching the Lenten stories of hope on their tablets – anyway people choose is a good way to make this Lent a season to encounter ourselves, our neighbors and our God and serve the poor around the world," said Beth Martin, program director for U.S. Operations.  
CRS Rice Bowl is global in its reach, bringing tangible goods and services to people in need around the world.  Twenty-five percent of all contributions stay in local dioceses to support hunger and poverty prevention programs such as community gardens, food pantries, soup kitchens, support groups, and job centers.  The remaining 75% goes to support CRS' humanitarian and development programs overseas, providing life-saving assistance and hope to impoverished and vulnerable communities.
This year's weekly Lenten features are:
Week 1:  Encounter the Singh Family from East India
Serve this simple meal from India: Dalma with spinach/Vegetable stew.
Week 2:   Encounter Evelina from Zambia
Serve this simple meal from Zambia: Ifisashi/Peanut stew over polenta.
Week 3:  Encounter Fernando from El Salvador
Serve this simple meal from El Salvador: Pupusas with cheese/Cheese stuffed tortillas.
Week 4: Encounter Maria from Mexico
Serve this simple meal from Mexico: Arroz rojo/Red rice.
Week 5: Encounter Dita from Ethiopia
Serve this simple meal from Ethiopia: Injera with atkilt wat/Cabbage wotj crepes.
Week 6: Encounter Our Neighbors from the Diocese of Honolulu, Hawaii representing the local use of CRS Rice Bowl alms given in each U.S. diocese.
CRS Rice Bowl materials are designed for families, parishes, educators, universities and dioceses. They are available in print, on the web, and through the mobile app, and in both English and Spanish.
Printed materials can be ordered for groups of 25 or more for free. Call 800-222-0025 or visit crsricebowl.org to place an order.
Follow CRS Rice Bowl on Twitter @CRSRiceBowl, like CRS Rice Bowl on Facebook and download the app from the iTunes or Google Play stores.
To learn more about CRS Rice Bowl, visit crsricebowl.org.
Editors, Reporters and Bloggers:
For photos, FAQs, social media memes, web banners, and bios please visit the CRS Rice Bowl Media Kit online or contact: Anna Ruiz [email protected] or 410-951-7238