Media Center

CRS Providing Emergency Aid to Areas Hit by Hurricanes Irma and Maria

Image courtesy of NASA
Catholic Relief Services (CRS) emergency staff in the Caribbean are working with Caritas partners this week to distribute emergency supplies in communities hit by back to back hurricanes in the Caribbean.
Ten days after Hurricane Irma struck the region, Hurricane Maria made landfall on the island of Dominica as a Category 5 storm on Monday September 18, with winds registered up to 160 mph.  It was the first time in Dominica's history that a Category 5 hurricane made landfall on the island. The Caribbean's Disaster Management Agency (CDEMA) reports that the entire island has been affected. More than 70 percent of homes have lost their roofing and hundreds of rivers have overflowed their banks, flooding towns and the capital city of Rouseau.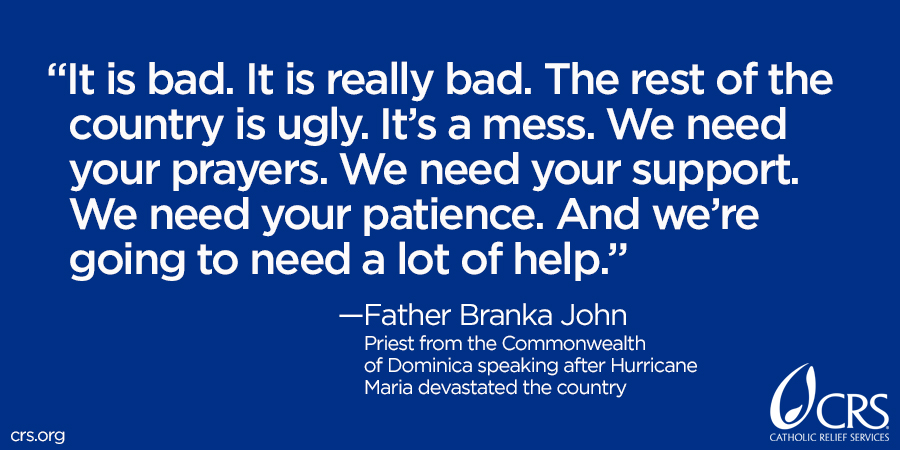 Caritas Antillas staff who are on the island say people are desperate for food and water.
"Water and food is a priority now," said Dianne Jhariah-Robinson, from Caritas Antillas. "I am concerned about the use of the water from the river for drinking and noticed people walking around with empty buckets. There is no distinction between the rich and the poor. People are in need."
Although the Dominican Republic did not sustain a direct hit from Hurricane Maria, 27 provinces received torrential rains and flooding. The diocese of La Vega is reporting "never before seen" flooding. An estimated 10,929 people remain in over 200 shelters and 7,000 people are staying in neighbors' homes. At least 110 houses have been completely destroyed and almost 3,000 homes damaged. Still, 38 communities remain cut off with 4 bridges damaged. 
In the British Virgin Islands (BVI) after the passage of Hurricane Maria, power has been restored and some additional damage to roofs and mountain roads have been reported. The BVI government will continue to distribute food and water for 2-3 more weeks and then move into a recovery phase. In Tortola, the government is estimating approximately 8,000 households are severely affected, with 50% being renters.
"There are a lot of vulnerable people here who lost everything the minute their roof was ripped off. They don't have couches or chairs, everything has been destroyed," said Amanda Schweitzer, CRS' emergency coordinator, from Tortola in the British Virgin Islands.
CRS is prioritizing efforts in the Dominican Republic, Cuba and Antilles, and coordinating closely with Caritas partners, the United Nations and humanitarian actors. Emergency priorities, which will evolve based on needs on the ground, currently include emergency shelter; access to water and rehabilitation of public water supply systems; emergency living supplies; hygiene education to prevent waterborne illnesses; cleanup of cities and neighborhoods through work programs; and livelihoods recovery. 
In Cuba, CRS and Caritas partners have reached 7,000 families with prepared food and hygiene kits. CRS and five Caritas diocesan partners in Dominican Republic have provided 1,750 families with hygiene kits using vouchers. In the Dominican Republic, we have distributed tarps across five dioceses, and In the Antilles, we are working with Caritas Antilles to explore providing cash grants through debit cards for shelter repair and possibly other needs on the islands of Tortola and Virgin Gorda in the British Virgin Islands. Assessments on the island of Dominica have just started but we are already planning to bring in tarps for emergency shelter and focus on ensuring access to safe water and the repair of public water systems. 
Puerto Rico also suffered tremendous, wide-spread damage. Because CRS is the U.S. Catholic Church's international humanitarian agency -- assisting vulnerable people overseas -- we're supporting the emergency response outside of the United States. CRS' sister organization, Catholic Charities, is aiding those affected by the hurricanes in the United States and its territories, including Puerto Rico and the U.S. Virgin Islands.