Media Center

CRS Releases Photo of the Month January 2017
FOR IMMEDIATE RELEASE
CONTACT:
Susan Walters
Catholic Relief Services
[email protected]
(410) 925-8268 (cell)
New Year Brings Fresh Hope to Mothers and Children in Guatemala
News Photography and Captions (in English and Spanish) for Use by Catholic Media
BALTIMORE, MD, JANUARY 3, 2016 –   The work of Catholic Relief Services (CRS) is documented in a collection of over 124,000 photographs showing the compassion and expertise CRS brings to people in need around the world.  Each month we deliver a photo and short story from CRS' collection for use by Catholic media in print digital and social media.
This month's photo is from Guatemala where CRS is helping teach mothers and parents learn how to prevent malnutrition and grow healthy and brighter futures for their children.
Catholic Relief Services is an international humanitarian organization that seeks to end poverty, hunger and disease. We work more than 101 countries and reach more than 100 million people. Our mission is grounded in Catholic values, which call on us to foster compassion and dignity among the world's most marginalized people.
The date of distribution will be by the first Tuesday of every month.  The next "CRS photo of the month" will be distributed by Tuesday, February 7, 2017.
The collection of hi-res photos and captions in ENGLISH AND SPANISH for publications are found here: 
http://photos.crs.org/crs_photoofthemonth_2017
password: photos
New Beginnings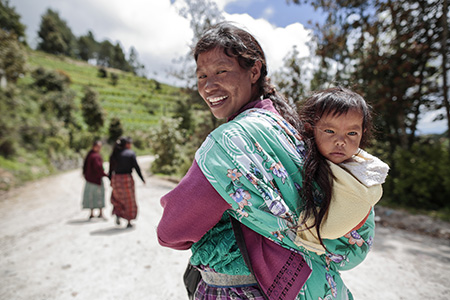 Photo by Oscar Levia/Silverlight for CRS
With a new year, comes a new beginning, and all the hope that brings. No one knows that more than Virginia Gomez and young mothers like her in Comitancillo, Guatemala. Virginia is the proud mom of a healthy 11-month-old, Gladys. But until recently, young, new lives were the most fragile in Comitancillo, where malnutrition poses a deadly problem for infants and toddlers. That's why Catholic Relief Services is working with 10,500 vulnerable families there every year, so that children, pregnant women and new moms can have better access to food and health care. CRS distributes food and water filters and teaches mothers like Virginia how to prevent malnutrition, treat common illnesses and improve hygiene. The women then learn how to teach this lifesaving information to other parents, ensuring these lessons will reach more people and be passed down through generations to come.
 
"Malnutrition is often a part of a vicious cycle that includes poverty and disease," says Monica Rodriguez, who oversees the project. "A malnourished child gets sick more often, doesn't do as well in school and can become physically and mentally stunted. This keeps communities trapped in the cycle of poverty."
 
Mayan indigenous communities are especially shut off from basic government services, so CRS is focusing its efforts on farming families in 357 communities like Virginia's. Most families in the region earn their living growing potatoes, and now they are learning how to improve the quality of their crop and connect directly with markets and buyers to negotiate better rates. So with the start of this year—and many more to come—Virginia and many others can look forward to a stronger, healthier future.
 
For more information, read our story at crs.org/stories/improving-child-health-and-survival-guatemala. Photo by Oscar Leiva/Silverlight for CRS
Nuevos comienzos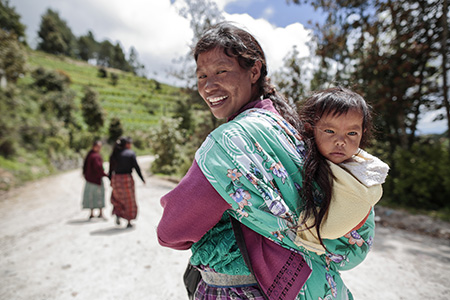 foto de Oscar Leiva/Silverlight para CRS
Con un año nuevo, llega un comienzo nuevo cargado de esperanza. Nadie lo sabe mejor que Virginia Gómez y jóvenes como ella en Comitancillo, Guatemala. Virginia es la orgullosa mamá de una saludable niña de 11 meses llamada Gladys. Pero hasta hace muy poco, las vidas de los más pequeños eran extremadamente frágiles en Comitancillo, donde la desnutrición constituye un problema letal para infantes y niños de corta edad. Por ello, cada año CRS trabaja con 10.500 familias vulnerables, para que niños, mujeres encintas y nuevas mamás puedan tener un mejor acceso a alimentos y a atención sanitaria. CRS distribuye alimentos y filtros de agua; también enseña a madres como Virginia a prevenir la desnutrición, a tratar enfermedades comunes y a mejorar la higiene. Luego, las mujeres aprenden cómo transmitir estos conocimientos que salvan vidas a otros padres y madres, con lo que se garantiza que estas lecciones lleguen a más personas y pasen a las generaciones venideras.
"La desnutrición con frecuencia forma parte de un círculo vicioso que incluye también pobreza y enfermedad", dice Mónica Rodríguez, supervisora del proyecto. "Un niño mal alimentado se enferma con mayor frecuencia, no tiene buen rendimiento en la escuela y puede sufrir atrofias físicas y mentales. Esto retiene a las comunidades atrapadas en el ciclo de la pobreza".
Los servicios básicos gubernamentales ignoran en especial a las comunidades indígenas mayas. Por esta razón, CRS centra sus esfuerzos en familias campesinas de 357 comunidades como la de Virginia. La mayor parte de las familias en esta región se ganan el sustento con el cultivo de papas y ahora están aprendiendo a mejorar la calidad de sus cosechas y a ponerse en contacto con mercados y compradores directamente para negociar precios mejores. Así pues, con el comienzo de este año —y de los muchos que vendrán— Virginia y muchas otras personas pueden tener la esperanza de un futuro más seguro y saludable.
Para más información, lee nuestra historia en crs.org/stories/improving-child-health-and-survival-guatemala. Foto de Oscar Leiva/Silverlight para CRS.
###
Catholic Relief Services is the official international humanitarian agency of the Catholic community in the United States. The agency alleviates suffering and provides assistance to people in need in more than 100 countries, without regard to race, religion or nationality. CRS' relief and development work is accomplished through programs of emergency response, HIV, health, agriculture, education, microfinance and peacebuilding. For more information, please visit crs.org or crsespanol.org and follow CRS on social media: Facebook, @CatholicRelief, @CRSnews, YouTube, Instagram and Pinterest.