Media Center

Bishop Frank J. Caggiano Named Chairman of CRS' Board of Directors

Philip Laubner/CRS
FOR IMMEDIATE RELEASE
CONTACT:
Nikki Gamer
Media Relations Manager
Catholic Relief Services
443-955-7135
[email protected]
BALTIMORE, MARYLAND, November 25, 2019 – Bishop Frank J. Caggiano, bishop of the Diocese of Bridgeport, CT, has been named chairman of the Catholic Relief Services (CRS) board of directors by Archbishop José H. Gomez of Los Angeles, the newly elected president of the U.S. Conference of Catholic Bishops (USCCB).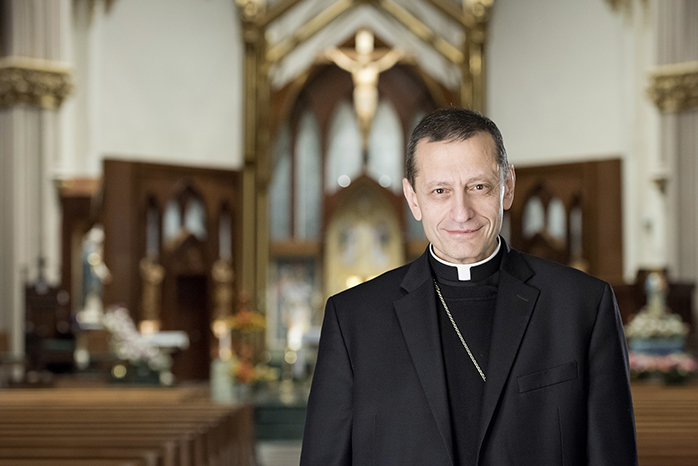 Bishop Caggiano succeeds Bishop Gregory J. Mansour, bishop of the Eparchy of Saint Maron of Brooklyn, who had been CRS' board chairman since November 2016.
"It's a great honor to lead an organization that is such a bright light for all of our brothers and sisters overseas who don't have enough to eat or a place to sleep because of entrenched poverty," Caggiano said. "All of God's children have the right to live in just and peaceful societies, and for more than 75 years CRS has worked toward making that a reality. I look forward to joining forces to build on all of the organization's substantial achievements, and to tackling the challenges that affect so many members of God's family."
Bishop Caggiano's term as chair begins immediately and will run until November 2022.
"Bishop Caggiano will be a hands-on leader who will roll up his sleeves and get to work while inspiring others to do the same," Mansour said. "He speaks with clarity and is laser focused on renewing the Church and tending to its needs. His love and commitment to our Lord Jesus is truly remarkable. " 
Bishop Mansour noted that one of Bishop Caggiano's strengths is his understanding of the priorities of Catholic youth.
"Young people want to see a Church that is very close to the poor and a Church that is doing works of justice. Bishop Caggiano understands these values and is committed to making sure that youth have a seat at the table in the Church's outreach to the poor. That's why he's a perfect fit for CRS," Mansour said.
Bishop Caggiano earned a bachelor's degree in philosophy in 1981 from Cathedral College of the Immaculate Conception, and began his major seminary studies at the Immaculate Conception Seminary in Huntington, NY. He was ordained to the priesthood in 1987, and was consecrated as a bishop in 2006.
In 2013, Bishop Caggiano was installed as fifth bishop of Bridgeport, CT. A noted catechist, he was invited by Pope Francis to serve as a catechist at World Youth Day in Panama in 2019 and Rio de Janeiro 2013. Pope Benedict XVI asked him to deliver World Youth Day talks in Madrid in 2011 and Sydney in 2008.
Bishop Caggiano currently serves on a number of USCCB committees, including its committee on Evangelization and Catechesis; its subcommittee on the Catechism, which he chairs; and the Orthodox Union Catholic Dialogue. In addition, he was one of five American bishops elected by the USCCB to represent the United States at the Vatican's XV Ordinary General Assembly: Young People, the Faith, and Vocational Discernment.
"It is a privilege to have Bishop Caggiano serve as our new board chair," said CRS' president & CEO Sean Callahan. "He has been actively engaged and supportive of CRS in the Diocese of Bridgeport, and he has sent several of his priests on visits to CRS programs overseas. I am looking forward to traveling with the Bishop as he shares his ministry beyond our national shores, and I am confident that, together, we will broaden the reach of the U.S. Catholic community in the years ahead."
 ###
Catholic Relief Services is the official international humanitarian agency of the Catholic community in the United States. The agency alleviates suffering and provides assistance to people in need in more than 100 countries, without regard to race, religion or nationality. CRS' relief and development work is accomplished through programs of emergency response, HIV, health, agriculture, education, microfinance and peacebuilding. For more information, visit www.crs.org or www.crsespanol.org and follow Catholic Relief Services on social media in English at Facebook, Twitter, Instagram and YouTube; and in Spanish at: Facebook, Twitter and Instagram.