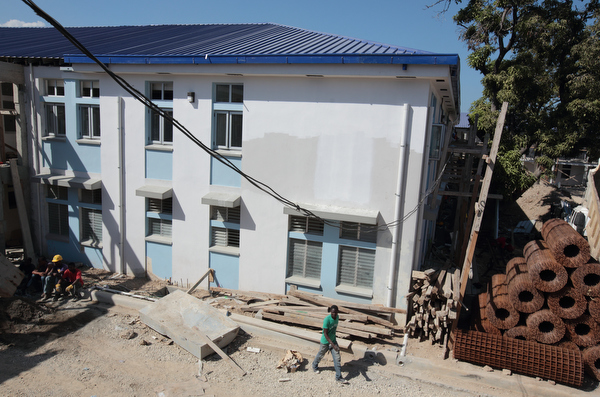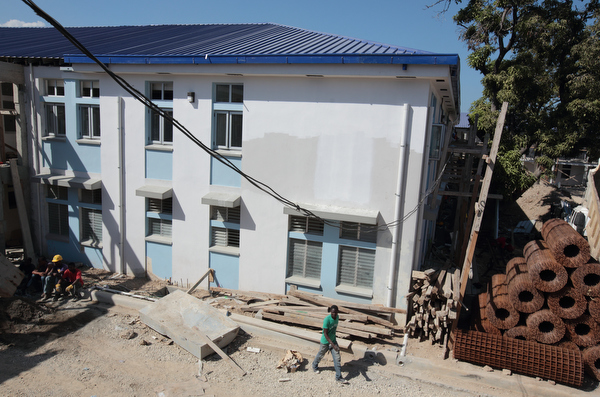 Media Center

5 Years After Haiti Earthquake, a Landmark Hospital Is Rebuilt
FOR IMMEDIATE RELEASE
CONTACT:
Tom Price
Catholic Relief Services
410-951-7450
Cell 443-951-7245
[email protected]
St. Francois de Sales Hospital reopens as teaching facility 
BALTIMORE, MD, January 12, 2015 – Five years after being devastated in Haiti's horrific earthquake, St. Francois de Sales Hospital will celebrate its reopening this week at its original site in the heart of downtown Port-au-Prince.
The rebuilding has transformed one of the country's oldest Catholic hospitals into a modern teaching facility that will train medical professionals and serve as a model for providing quality care to the poor around the country.
"The new St. Francois de Sales Hospital is more than a first-rate medical facility," said Carolyn Woo, president and chief executive officer of Catholic Relief Services (CRS), which was instrumental in the rebuilding. "It will also be an important part of the future of medicine in Haiti through its training mission even as it provides the quality healthcare the poor of this country need and deserve."
The 200-bed, 125,000-square-foot facility, which is owned and operated by the Roman Catholic Archdiocese of Port-au-Prince, will be dedicated Jan. 15 at a ceremony to be attended by Church leaders from Haiti and the United States. Donors for the $22.8 million project include The Catholic Health Association of the United States and the Sur Futuro Foundation, a private non-profit organization in the Dominican Republic.
"Having worked in the country alongside the Haitian Church since the 1950s, CRS knows the importance of facilities like St. Francois de Sales that provide services to the most impoverished people in Port-au-Prince," Woo said. "CRS is proud to have played a role and remains committed to helping the country."
St. Francois de Sales features services in pediatrics, obstetrics and gynecology, internal medicine, surgery, orthopedics, and outpatient and emergency care. The hospital is equipped with an ambulance system, a rarity in Haiti's challenged healthcare environment, to provide rapid, life-saving transport to patients in and around Port-au-Prince. A new electronic medical management information system will allow staff to track individual patients and monitor their care.
For more than a century, St. Francois de Sales has provided healthcare to the poorest and most vulnerable people in Haiti's capital. The Jan. 12, 2010 earthquake destroyed 80 percent of its buildings and killed about 70 staff and patients. Within days, hospital and CRS staff salvaged an emergency facility from the rubble and continued to treat patients with critical injuries, saving lives and limbs. After the initial emergency phase, the Archdiocese of Port-au-Prince and CRS joined forces to rebuild the hospital.
Additional Resources:
###
Catholic Relief Services (CRS) is the official international humanitarian agency of the Catholic community in the United States. CRS eases suffering and provides assistance to people in need in 93 countries, without regard to race, religion or nationality. Our programs touch nearly 100 million lives. CRS has been helping people in need for more than 70 years. For more information, please visit crs.org or crsespanol.org and follow CRS on social media: Facebook, Twitter at @CatholicRelief and CRSnews, Google+, Pinterest and YouTube.