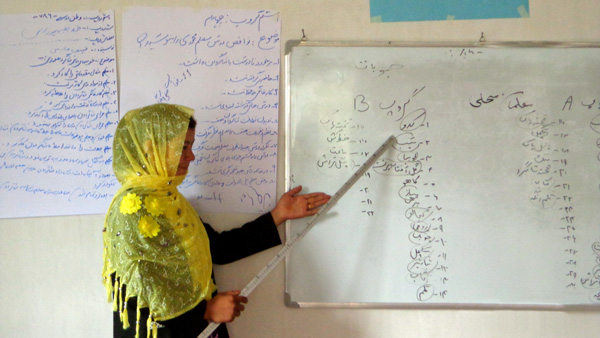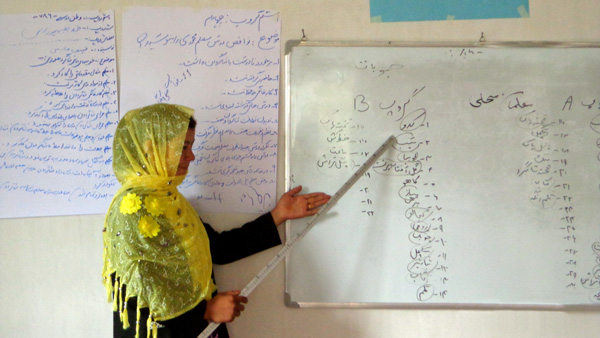 Media Center

Education on the Edge: Reaching Children in the Mountains of Afghanistan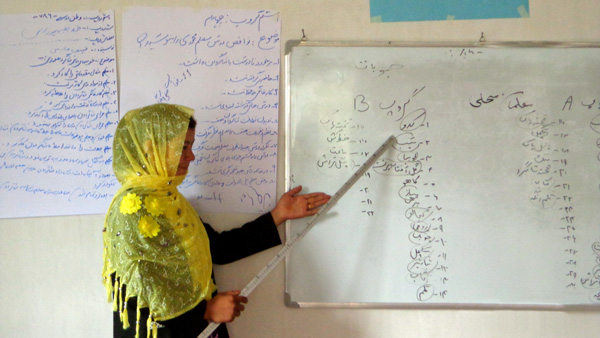 A teacher demonstrates how to conduct a lesson during a training of 22 first grade teachers from Sangi Takht District at an Orientation to Teaching session. Photo by Nasar Ahmad Afzali/CRS
In May 2014, a Catholic Relief Services (CRS) vehicle drove up to Naw Mazar village to meet with the community about education opportunities for their children. Villagers excitedly reported that theirs was the first vehicle to ever drive up in the village—the community had constructed the road the previous fall.
This year, generous support from the Canadian government's Department of Foreign Affairs, Trade and Development (DFATD) is allowing CRS to expand community based education (CBE) programming to some of the most remote areas of the Central Highlands of Afghanistan, including two districts of Daykundi Province. CBE is a policy of the Afghan Ministry of Education, and is a permanent solution to meeting educational needs of remote and insecure areas of Afghanistan.
DFATD is supporting a five-year Community-Based Education Enrichment Program (CBEEP) for CRS to establish 132 CBE classes, providing educational opportunities to an estimated 3,500 school-aged girls and boys in four Provinces of Afghanistan. In Daykundi, a CRS assessment team slept in vehicles and shoveled through snow-covered roads to reach extremely remote areas. Since March 2014, 31 Grade 1 classes have been established in 30 communities.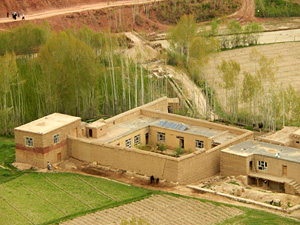 A view of the CRS Sangi Takht office from a hillside. Eight rooftop solar panels power the entire office. Photo by Joe Weber/CRS
With the support of long-time CRS education staff from other provinces, the newly-recruited CRS Daykundi team met with each of the 30 communities to select a qualified teacher, identify eligible students, locate a learning space (one tenet of CBE is that the community provides the classroom, often a room in a home or mosque), and select five influential community members to serve as the school management committee (termed shura, locally). CRS staff provided teacher training on student-centered methodology as well as content – using the official Ministry of Education curriculum. CRS Teacher Trainers aim to visit each classroom twice per month to provide on-job coaching to the teacher. CRS staff have also provided training to the committee members so they understand their roles and responsibilities as it relates to monitoring and supporting the class – this is especially critical when CRS staff are temporarily unable to access communities due to weather conditions.
CRS established an office earlier this year in Sangi Takht, one of the Daykundi district centers. In warmer months, the most direct route for traveling from Kabul to the Sangi Takht office requires a 1.5 hour helicopter ride, followed by a two hour drive over the mountains on a dirt road. In winter months, if weather is clear for air travel, the drive turns into 4.5 hours with chains on the tires through the snow – and this is just to get to the office in the district center.
Travel to the communities outside the district center is an entirely separate feat – though one that is accomplished regularly by 12 Afghan education programming staff based in Daykundi. To access many communities in one of the nearby valleys, the road begins with an extremely difficult two kilometer stretch down the middle of a river. Staff use various combinations of rental vans, motorcycles and walking (often several hours) to visit the communities.
During a recent team meal together in the Sangi Takht office compound (which also serves as a guest house after 5 pm), staff were asked to share a favorite memory from community visits since the start of the program. A Teacher Trainer explained that one community had made a detailed cleaning schedule for the classroom, with adults and children sharing tasks. Another staff shared that in an extremely remote community where a class was established, though children still have to walk up to an hour to reach their class, attendance has been perfect because the community is so happy to have education opportunities. Finally, the Education Coordinator recounted how one of the elderly male shura members would sit in the back of the first grade classroom and enthusiastically voice his support for the new students, shouting, "Excellent, excellent, beautifully done!", clapping loudly after each child went to the chalkboard and successfully completed their math calculations.