Syrian Refugee Crisis: Facts and How to Help

The Syrian Refugee Crisis
Background
Now in its tenth year, Syria's civil war has taken an alarming toll on millions of people. While some areas of the country have stabilized and are trying to recover from years of war, others continue to be subject to heavy rocket and mortar attacks. Even those areas retaken by the government, car bombs and suicide blasts threaten the lives of many attempting to get back to a normal way of life.
Refugee Crisis Continues to Grow
The continued fighting and instability is still forcing people to leave their homes. As of March 2021, more than 6.5 million Syrians are registered as refugees, having left their homes because of the conflict. Many leave their homes with almost nothing, so they become dependent on humanitarian aid for their basic needs. Children sometimes miss years of school, making it increasingly difficult for them to catch up. Adults often cannot find work, so they struggle to support their families.
The widespread insecurity and unbearable economic conditions have resulted in the largest refugee crisis of our time.
COVID-19 & Syrian Refugees
With the new threat of COVID-19, Syrian refugees throughout the region are even more vulnerable. Unlike other communities across Europe and North America, refugees in densely-packed camps do not have the ability to physically distance from one another and often live below the poverty line, unable to buy food, let alone soap and other hygiene materials.
MEDIA CONTACT
Nikki Gamer
Media Relations Manager
443-955-7125
Nikki.gamer1
Facts and Quotes
Since the war began:
13.1 million people have been displaced with 5.6 million seeking refuge in neighboring countries
Turkey has the most Syrian refugees at more than 3.6 million and growing
Lebanon has more than 1 million refugees and Jordan has more than 660,000, with nearly 80 percent of the refugee population in each country living below the poverty line
Syrian refugees now represent a quarter of Lebanon's total population, a higher proportion of refugees than in any other nation
Iraq has seen an increase in Syrian refugees, now hosting more than 244,000
Most Syrian refugees are women, children and the elderly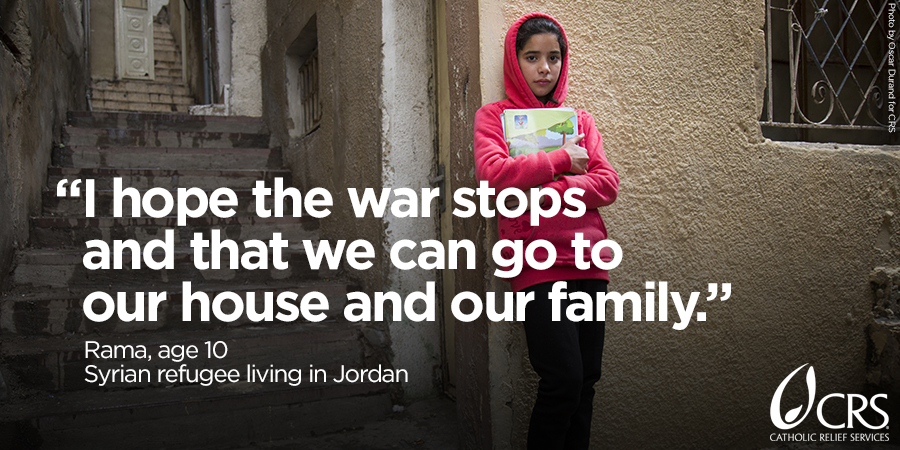 CRS Response to the Syrian Refugee Crisis
Since the war began, CRS and our church and other local partners have been working to provide comprehensive support for Syrian refugee families and communities across the Middle East and Europe.
 
In the Middle East region, Syrian refugees have limited job opportunities and often have to sell valuables to pay rent and buy food and other essentials. Many refugee children have been out of school for months—even years—making it challenging to integrate back into the classroom.
CRS works to address these needs by providing education, shelter, medical assistance and job support.
Educational support and tutoring for children enrolled in public school to help them catch up to their grade levels, and succeed in school
Recreational activities for children in safe, communal spaces, with a trained facilitator, to resume normal activities of childhood, in terms of play and healthy interaction
Counseling for children and parents to manage issues of stress, grief, anxiety, and to have access to professionals for more advanced trauma care
Medical assistance, including immediate care for life-threatening injuries, care for chronic conditions such as diabetes, and maternal and child care
Stipends to support rental payments for safe housing
Cash and voucher programs for families to be able to purchase food and living supplies
Relief kits of bedding, stoves, buckets and other household items for especially vulnerable or newly arriving refugees 
CRS and our partners have assisted 400,000 refugees and migrants across Greece, Serbia, Macedonia, Croatia, Bulgaria, and Bosnia and Herzegovina as they build news lives in communities where they have been granted asylum, with the goal of helping them become self-sufficient. Support includes:
Assistance to have safe, dignified housing and key living supplies
Social services support with case managers to access social services, as well as information about legal rights and opportunities
Language training for children and adults
Informal education support for children
Jobs skills and preparedness trainings
Integration support though "buddy" programs and other activities that help link refugees with local members of the community
Syrian Family from Aleppo Finds Refuge in Europe
Helping Refugees Integrate Into Society
FAQ
Fast facts: What is the current situation in Syria?
Some of the areas in Syria have stabilized and are trying to recover from more than seven years of war, but others continue to be subject to heavy rockets and mortar attacks. There are still more than 5.5 million registered Syrian refugees throughout Turkey, Lebanon, Jordan, Iraq, Egypt and Northern Africa.
How did the civil war start?
In March of 2011, pro-democracy demonstrations took place throughout Syria as protestors demanded reforms from the authoritarian regime. The government responded with a violent crackdown on the protestors, resulting in the deaths and arrests of hundreds of protestors. Since then several groups, including rebel groups, government forces, and members of ISIS have continued to fight over territory in Syria.
What was Syria like before the war?
Syria has a rich cultural history that dates back to ancient civilizations. Before the war, it was a popular tourist destination, drawing millions of visitors each year to its ancient Roman ruins, vast deserts and Mediterranean beaches. Many of those places have been damaged or destroyed in the conflict.
What is a refugee?
In order to be declared a refugee, you must show that you have been forced to flee your country because of violence, war, persecution or reasonable fear of persecution. If you are granted refugee status, you are guaranteed certain legal protections, including not being forced to return to your home country.
If you have refugee status, are you automatically resettled?
No. The percentages vary by year, but generally less than one percent of refugees are resettled in other countries. Several refugees are displaced for years, even decades, which makes establishing a stable home life extremely difficult.
Where have Syrian refugees gone?
As of March 2021, Turkey has the most Syrian refugees with more than 3.6 million. Lebanon has more than 1 million refugees, followed by Jordan with over 660,000. Iraq has almost a quarter million Syrian refugees and Egypt is home to more than 130,000 Syrian refugees.
Why can't Syrians stay in their country?
In places where there is still active fighting, it is too dangerous for people to stay in their homes. Years of bombing have damaged infrastructure in so many cities throughout Syria, they have become almost uninhabitable.
What are the living conditions like for Syrians in other countries?
Most Syrians who live in neighboring countries live in exceedingly difficult conditions in urban areas outside government-run camps. Often, they live in squalid apartments or in crowded, run-down buildings. They have difficulty working due to legal barriers and most rely on aid to survive. Infrastructures, economies, and social service structures in those countries, such as schools and medical services, are overwhelmed and are running out of resources. Only a small percentage of Syrians have the funds to flee to Europe. Many risk their lives for this new start, taking dangerous trips across the Mediterranean.
Can you help us to get the word out?
Thank you for your compassion. Your support saves lives.