DONATE NOW: SUPPORT SYRIAN REFUGEES
Background
The war in Syria has killed as many as 400,000 Syrians, and has uprooted more than 11 million people. Children, who make up more than half of Syrian refugees in the Middle East, are paying the heaviest price: many have witnessed violence and the loss of homes or loved ones; the vast majority have been out of school for years. Syria's neighbors, Jordan, Lebanon, Turkey and Egypt, have responded to the call to welcome the stranger and are doing their best to provide Syrian refugee aid. With an influx of some 5 million refugees, their economies, social services and basic infrastructure are strained to the breaking point. But unless and until families can feed their children and provide opportunities, they will continue to look for other opportunities.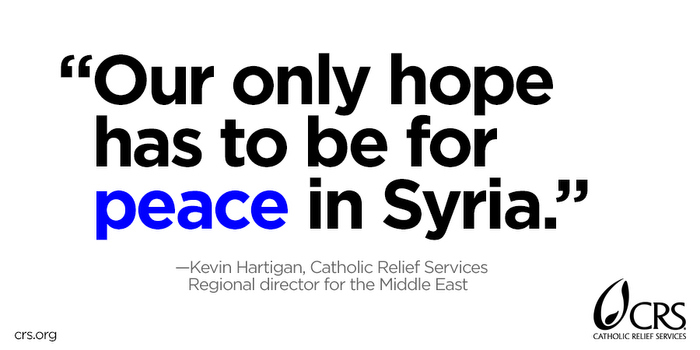 European Refugee Crisis
Driven by violence and seeking safety and a fresh start, Syrians made up half of the more than one million refugees and economic migrants who arrived on European shores in 2015. However, following border closures throughout the Balkans in March 2016, tens of thousands of refugees and economic migrants have become stranded in Greece. Thousands more are stuck in Macedonia, Serbia and Croatia. With their options in flux and conditions increasingly perilous, these families need food, basic supplies, shelter and clear information about legal options for seeking asylum and international protection.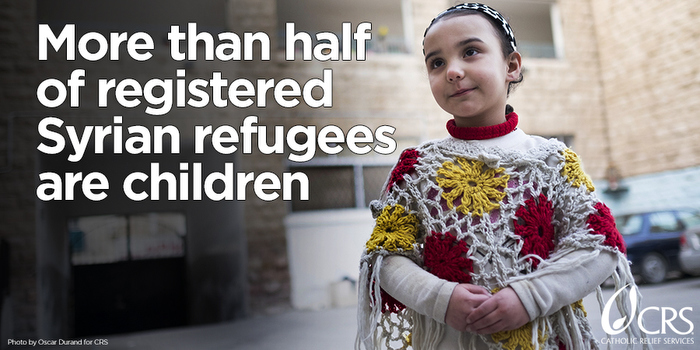 Since the beginning of the conflict, CRS has provided refugee aid to approximately 1.25 million war-affected Syrians across the Middle East and Europe.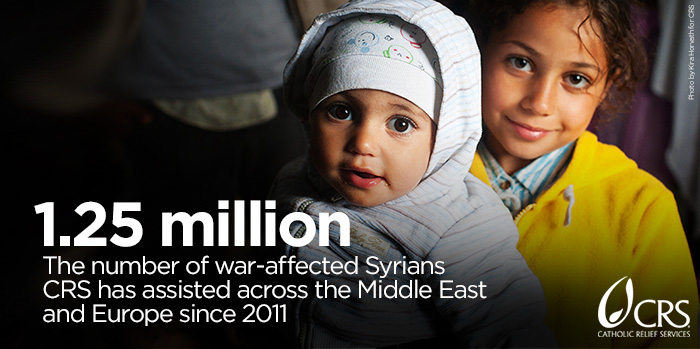 CRS Response in the Middle East
Since 2011, CRS has worked with our Catholic Church partners across the Middle East, including in Turkey, Jordan, Lebanon and Egypt.
Food
Living supplies and hygiene kits
Shelter and rent assistance
Medical support
Livelihoods support
Formal and informal educational support and counseling for children
CRS Response in Europe
Since the summer of 2015, CRS has been scaling up our response to the refugee crisis unfolding in Europe by working with Church and other local partners across the refugees' routes, including in Greece, Macedonia, Croatia and Serbia. Our Syrian refugee aid includes:
Food and emergency living supplies
Medical assistance
Temporary shelter
Information, translation services, and legal services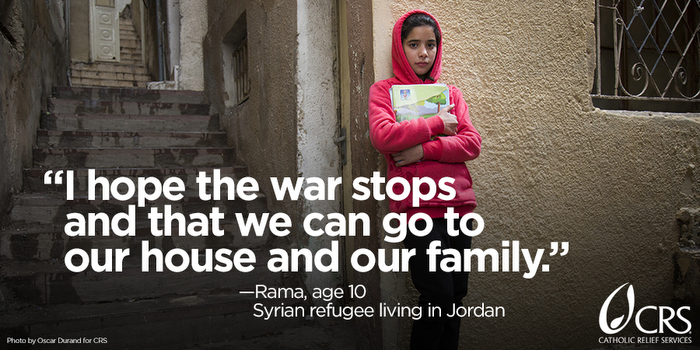 Media Contacts
CRS Resources
Articles
11 Things You May Not About Refugees
Syrian Refugee Crisis: 7 Things You Can Do to Help
Syrian Refugees: Meet the People Everyone's Talking About
Refugee Summits, September 19 & 20
World Refugee Day: 17 Years in Limbo - What Would You Do?
Syrian Refugees: Starting Up and Starting Over
Refugee Crisis: The Beauty of Serving
CRS Assists One Million Syrians Affected by the Civil War
CRS Responds to Thousands of Refugees Arriving in Greece
Helping Syrian Refugees: By the Numbers
CRS Applauds New Syrian Peace Agreement
CRS Responding to Growing Number of Syrian Refugees in Southern Turkey
Understanding Syrian Refugees One Story at a Time
CRS Applauds Administration for Continued Support of Syrian Refugees
An appeal to end the suffering in Syria
Syrian Refugees Find Room at The Inn
5 Reasons Not to Punish Syrian Refugees For Paris Attacks
Faces of Families Caught in the Refugee Crisis
In Jordan, Keeping Syrian Refugee Children in Class
Refugee Crisis: Weary Travelers Reach Serbia
Quotes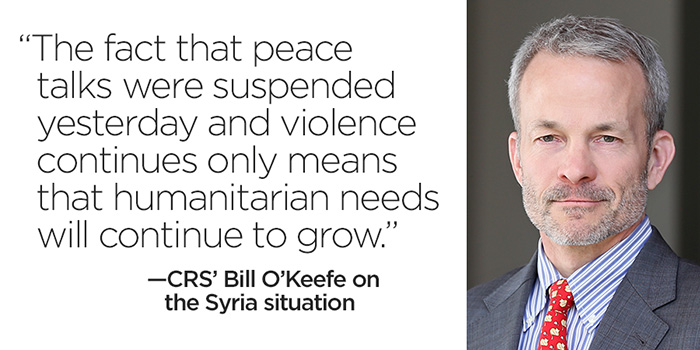 Photos for Download
Download photos for use in articles about Syrian refugees. The password is "photos".
Videos
CRS in the News

What Keeps You Going When You're Trying to Help Refugees of a War With No End in Sight?, Zenit
Mosul Adds to Staggering World Refugee Crisis, Al Monitor
U.N. Summit Seeks New Strategy on Global Migration Crisis, America Magazine
White House Raises Refugee Target to 110,000, The Washington Post 
CRS, other NGOs pleade total of $1.2 billion to help world's refugees, The Boston Pilot
A Long Road to Shared Responsibility for Refugees and Migrants, Devex
How Puppets Are Helping Syrian Children Smile Again, Catholic Mom
The US Has Resettled 10,000 Syrian Refugees in the Last Year, Catholic News Agency
Charity Amidst War: An Interview with Kevin Hartigan of Catholic Relief Services, Catholic Exchange
When the Souls Sees Desperate Need, It Does Not Turn Away, from National Catholic Reporter
There are 21 Million Refugees Around the World in Need of Solidarity, from Catholic News Agency
Could Pope Francis' Visit to Greece be a Game-Changer for Refugees?, from EWTN
Georgians Travel to The Front Lines of Syrian Refugee Crisis, from The Atlanta-Journal Constitution 
In San Diego, Syrian Refugee Family Finds Safe Haven, from The San Diego Union-Tribune
Update on the Syrian Refugee Crisis, from The Marc Steiner Show
Baltimore Agencies Bring Aid To Religious Minorities in Middle East, As Genocide Is Declared, from The Baltimore Sun
Syrian Refugees and Hunger: An Interview with Caroline Brennan of CRS, from the Examiner.com
Five Years of War in Syria, from WYPR
Crisis Compounded: Migrants Stranded in Greece as EU Nations Say 'No', from Catholic News Service
After Five Years of Comforting the Afflicted in Syria, A Glimmer of Hope, from National Catholic Register
The 'Moral Imperative' to Help Refugees, from Our Sunday Visitor
CRS Official Returns with Firsthand Report on Refugee Crisis, from American magazine
'Paradise hotel' where refugees stay for free, from CNN 
With Focus on EU, Lebanon Strains Under Refugee Burden, from America magazine
After Paris Attack: CRS Tells MSNBC Why We Need to Provide More Assistance to Refugees, from MSNBC
How the U.S. Can Respond to the European Refugee Crisis: Interview with CRS' Sean Callahan, from PBS's Religion and Ethics NewsWeekly
Steinberg: Muslim Refugees Arrives in America with 'Big Hope', from the Chicago Sun-Times 
The Long Journey of Syrian Refugees, from the Huffington Post
Catholic Relief Official Calls for Stronger Response to Refugee Crisis, from the Baltimore Sun