Background
As South Sudan marked the fifth anniversary of its independence in July, 2016 – making it the world's youngest nation – it found itself again beset by violence among its political leaders, violating a cease fire accord signed in August, 2015.
The fighting is exacerbating the problems of poverty and underdevelopment that are chronic in this new nation that was beginning to emerge from decades of civil strife.
According to the United Nations, some 7.9 million people, out of a total population of nearly 12 million, do not have enough to eat.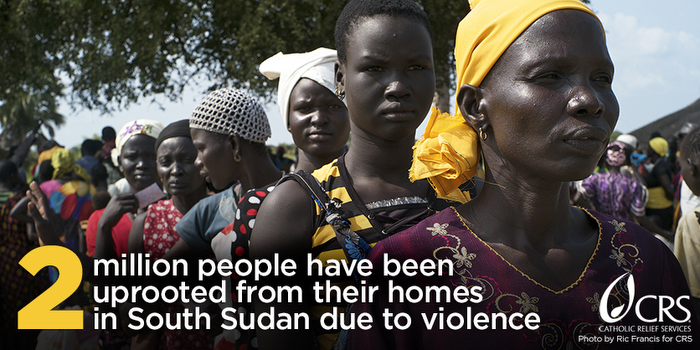 CRS Response
CRS is providing comprehensive support – both emergency aid and development programming -- to vulnerable families in Lakes and Jonglei states.
Since January 2015, CRS and Caritas teams have:
Distributed 6,656 tons of food and nutritional supplements to 265,019 people
Repaired 54 boreholes, formed 41 water user committees and trained 48 committees at the local level
Taught 4,000 farmers about post-harvest storage
Trained 130 community hygiene promoters, who then passed along hygiene messages to more than 33,000 beneficiaries
CRS has also formed Savings and Internal Lending Community groups and served people through food-for-work activities. Throughout it all, we collaborate with the Church and other organizations to support peacebuilding and reconciliation.
The Church is one of the few institutions in South Sudan that has the credibility, capacity and presence to effectively address concerns that affect society at large.
In June 2015, CRS participated in a workshop with 25 leaders from the member churches of the South Sudan Council of Churches to position the council to take the lead in peace and reconciliation efforts.
Quotes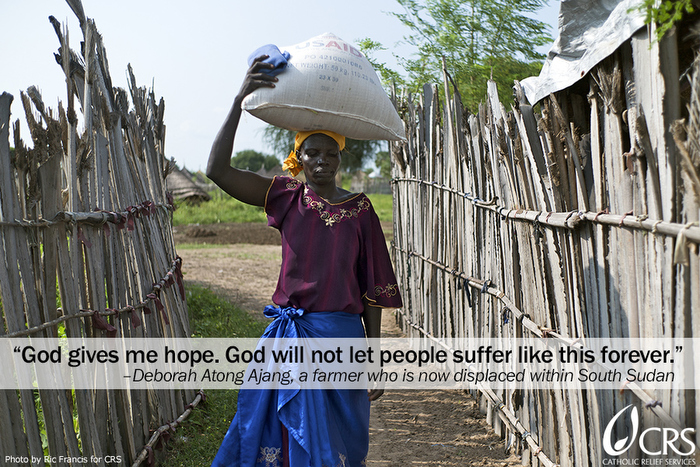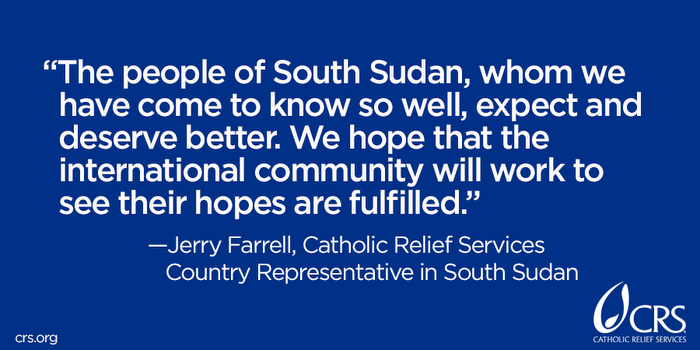 Media Contacts 
Fact Sheet
CRS South Sudan Emergency Update Factsheet- May 2017 update 
Press Releases
CRS Welcomes Vatican Aid to South Sudan; Underscores Urgent Need For Continued Assistance
CRS Sees Severe Hunger Spreading in South Sudan
Conflict And Hunger In South Sudan
Stories
Yearning for Peace, and Food in South Sudan
Cholera Threat Adds to South Sudan Famine Fears
Providing Water and Relief for South Sudanese Refugees in Uganda
Displaced South Sudanese Receive Shelter
CRS in the News
Famine, worsened by war, threatens South Sudanese, official says, from Catholic News Service
"South Sudan is collapsing." Urgent aid needed to fight mass starvation, from Caritas
"Our people are witnessing mass starvation." South Sudanese bishop in Rome to highlight famine, from Caritas
South Sudan Food Crisis Threatens the Lives of Hundreds of Thousands, from Aleteia
Suffering South Sudan, from Catholic News Agency
Video
Photos