Sahel Crisis: Facts and How to Help

Sahel Crisis
Background
West Africa's Sahel region is home to some of the world's poorest communities where families are confronted with chronic food shortages, environmental degradation, a harsh climate that brings droughts and floods, and high unemployment.
An unprecedented surge in violence, with more than 4,000 deaths reported last year, has triggered a whole new level of desperation facing families in Niger, Mali and Burkina Faso as well as threatening neighboring countries in West Africa. A multitude of different armed groups have burned villagers alive, killed others with bombs and pulled men off buses to execute them by the roadside, in scores of attacks on civilians. In 2019, there were more than 3,500 attacks on civilians, kidnappings, and assassinations. The violence is making the already severe humanitarian crises afflicting the region worse. It is forcing families to flee their homes, traveling for weeks or even months, leaving everything behind and risking their lives to find safety in other areas.
Displaced people are being received in communities already struggling with limited resources. As host communities swell, food and nutrition insecurity is increasing, and access to clean living situations is becoming a significant challenge.
MEDIA CONTACT
Michael Stulman
Global Marketing and Communications Manager
+221 77 370 3037
MichaelStulman
More than 838,000
Burkina Faso
Violence in Africa
Mali Conflict
Since the uprising in Northern Mali in 2012, the security situation has gone from bad to worse in much of the region. Communities face multiple threats, including climate change, violent extremism and other unprecedented challenges. This contributes to a worsening humanitarian situation with more people being forced from their homes than ever before, and a worrying impact on vital social services, like schools and health facilities.

Today there are more than 200,000 displaced people in Mali – overwhelmingly women and children – and 2.5 million people in need of life-saving assistance.
Burkina Faso Conflict
Burkina Faso has been known for its peaceful coexistence of religious groups and over 60 different ethnic groups for decades. More recently, armed groups have been trying to force division between them in an attempt to stoke violence. Deadly attacks are a near-daily occurrence in the north and east of Burkina Faso and its human toll is surging at a dramatic rate.
The number of displaced people in Burkina Faso rose ten-fold in 2019 alone, reaching a total of 613,000. This year, that number sadly continues to rise. As of March 2020, more than 838,000 people have now been forced to leave their homes. Putting more stress on the situation is the presence of 31,000 refugees from Mali. Humanitarian access is becoming increasingly challenging due to deteriorating security conditions.

The emergence of COVID-19 in Burkina Faso – the country most affected in West Africa – has the potential to wreak havoc in conflict zones and among refugees and other vulnerable people.
Niger Conflict
Niger continues to struggle with responding to two separate humanitarian disasters, one along the border with Nigeria and the other in the Tillabéri region. The people living in Tillabéri region, a border area between Mali and Niger, include more than 58,000 refugees from Mali and nearly 82,000 displaced people.  

Many people have been forced to leave their homes, some multiple times, to escape violence by armed groups and other opportunists. Most of the people who fled the violence are women, children and the elderly.

Basic services like health centers and schools have closed. 
Impact on Children
As with most conflicts, children across the region are being affected to the greatest extent. It is estimated that they account for more than 50% of displaced people in the region. Teachers are fleeing. Classrooms are empty. Over 1,000 schools have closed because of the violence and they are often a source of food for many of the students. As the schools close, students are going hungry, and the 700,000 of them who are suffering from severe acute malnutrition are not getting lifesaving treatment.
Root Causes of Violence
Unemployment
Climate Change
Land Degradation
Disenfranchised Youth
Low Levels of Education
Limited Availability of Social Services
Ways to Stop the Sahel Crisis​
1. Scale Long-Term Development Programming
At a time when peace and stability are at increased risk, working with our partners on sustainable development programs is key to building people's self-reliance, thus empowering West Africans to live dignified lives without violence. This includes:
Integrate social cohesion and peacebuilding: Promoting dialogue between communities and supporting local Church and traditional leaders to work together are essential for establishing a more cohesive society that will decrease the chances of more conflict in the future.
Support economic inclusion of youth: Youth make up more than half of the Sahel population and many feel socially and politically marginalized. Empowering youth through economic and political inclusion is key to creating a peaceful and prosperous society in the Sahel.
Promote interfaith programs: According to the 2016 Afrobarometer survey, 72% of Africans trust their religious leaders more than any other form of authority. Because of these strong ties to the faith community, faith-based organizations are in a unique position to provide humanitarian and development aid to even the hardest-to-reach people in need.
2. Increase Humanitarian Assistance
Given the large number of displaced persons in the Sahel and the ongoing threat of violence and instability, a bigger humanitarian response is needed to provide life-saving assistance to those who are most vulnerable. To stop future violence, we must also help people in the region provide for themselves and their families. This includes:
Cash transfers using mobile money,
Building and repairing water systems and,
Constructing transitional shelter
3. Engage Government Institutions
The Sahel Peace Initiative will also engage policymakers at national, regional and international levels, including advocacy for robust funding that prioritizes a holistic response and allows for a coherent transition between humanitarian and development programming.
Key Facts
64.5% of the population is under the age of 25, making the youth demographic in the Sahel one of the world's largest.
Burkina Faso is home to the world's fastest-growing displacement crisis, with the number of people forced from their homes increasing tenfold. More than half a million people are displaced today.
In Burkina Faso, Mali, and western Niger, the number of internally displaced persons has risen to more than 750,000.
This year, 6.1 million people in the affected regions need urgent assistance, including 3.9 million people in Mali, 1.5 million people in Burkina Faso, and 700,000 people in western Niger.
For more detailed background and policy recommendations to address the situation, read Peace in the Sahel: Policy Recommendations for the U.S. Government.
CRS Response
The Catholic Church of West Africa has expressed an urgent need to explore how CRS and the Church can help West African communities overcome obstacles and build lasting peace.
Together, we launched the Sahel Peace Initiative to raise awareness of the crisis, advocate for change, and mobilize humanitarian and development actions to save lives in Mali, Burkina Faso, Niger, Cote d'Ivoire, and Ghana.
To date, CRS and local partners have provided 252,685 people in Mali, Burkina Faso, Niger - both those displaced as well as families hosting them - with cash distributions, water, food, and shelter over the past year. We are also continuing our work to provide healthcare, education, and agricultural assistance like introducing new technologies, crop varieties, and techniques, as well as carrying out peacebuilding activities, all with the goal of preventing and de-escalating the humanitarian and security crises.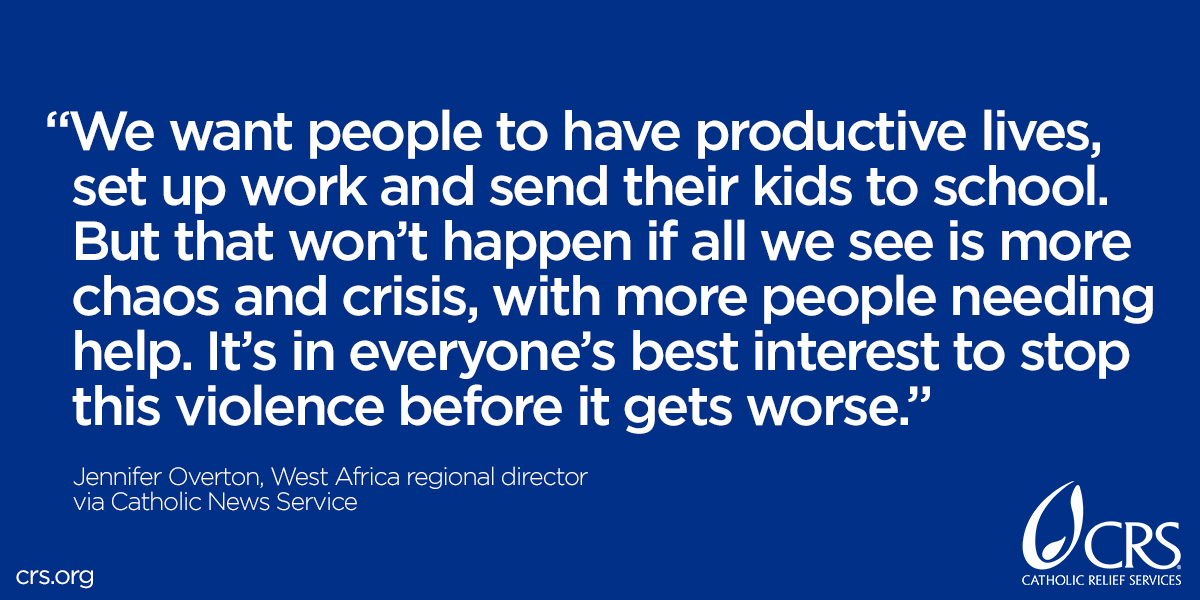 FAQ
Which countries in the Sahel are most affected by violence?
Mali, Burkina Faso, Niger, Cote d'Ivoire, and Ghana.
Who lives in the Sahel?
Home to about 63 million people (20.8M in Burkina Faso, 19.5M in Mali, and 22.7M in Niger), the Sahel region encompasses over 100 ethnic groups, but these groups have largely lived a peaceful coexistence. Historically, the majority of the region is Muslim, but Christians are well represented and respected across the region. Burkina Faso in particular is well known for the peaceful coexistence of Muslims and Christians.
What are the root causes of violence in the Sahel?
While many people describe the escalating conflict in the region as religious, we know that a lack of economic opportunities, poverty, and climate change are some of the real underlying causes. Terrorists and other armed groups are exploiting religious and ethnic differences to fuel a conflict.
What will stop the violence?
A military intervention can halt the violence but won't address the root causes. Beyond military action, we need to develop and support sustainable development programs, which are key to builing people's self-reliance and empowering West Africans to live dignified lives without violence. In addition, promoting dialouge between communities and supporting local religious leaders to work together is essential for decreasing the chances of conflict in the future.
What's at risk if the violence keeps spreading?
While Niger, Burkina Faso, and Mali continue to be at the center of the conflict, recent attacks in cities along the borders between Burkina Faso and Benin, Cote d'Ivoire, and Ghana highlight the risks that the violence could spread throughout the West Africa region.
If the violence continues to spread, global investments and any development gains made in the region over the past decade could be set back or entirely erased. Further, the violence worsens an already dire humanitarian situation. Communities could face food shortages, civilian deaths will continue to increase, and the region could devolved into one of the largest humanitarian crises in history, stretching across upwards of 5 countries.
Can you help us to get the word out?
Thank you for your compassion. Your support saves lives.