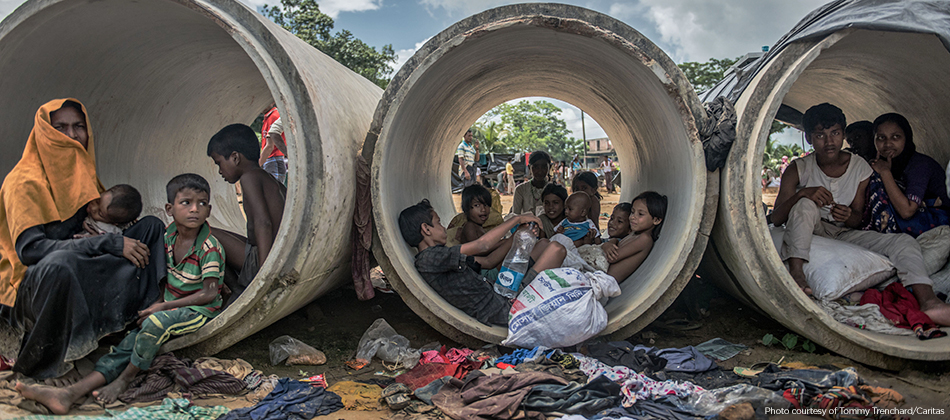 Media Contacts
Jennifer Hardy, Communications Manager, Asia
Background
Bangladesh continues to manage a massive humanitarian crisis. Since August 2017, in neighboring Myanmar, Rohingya people have been targeted by extreme violence – including killings, rape and the burning of villages – that has caused mass displacement. More than 688,000 Rohingya have fled Rakhine State, bringing the total number in Bangladesh to 900,000. Their return to Myanmar seems unlikely in the short term as most of the refugees fear for their safety. The refugee settlements have grown rapidly and spontaneously, leading to extremely congested shelters vulnerable to flooding, landslides and other hazards. The risks are especially high with the arrival of cyclone season.
CRS Response
PROVIDING LIFE-SAVING ASSISTANCE
CRS is working with our partner Caritas Bangladesh to provide comprehensive support. This includes:
Essential living supplies, including blankets, sleeping mats, and kitchen sets.
Safe, dignified shelters with support of local carpenters.
Demonstration sites for disaster-resilient construction improvements.
Additional support to families with specific needs for vulnerable individuals.
Water, sanitation and hygiene programming, including constructing gender-segregated toilet and bathing facilities, installing wells with solar-powered pumps, training volunteers to deliver sanitation and hygiene messages, water and sanitation infrastructure maintenance, and distributing female hygiene supplies and family hygiene kits.
Protecting women and children from trafficking and violence through training community members to counsel their neighbors and provide referrals for specialized help, constructing child-friendly spaces where children can play and learn safely, and educating men so they can advocate on behalf of women.
LOOKING AHEAD
CRS and Caritas continue to play a lead role in developing shelter options that are more durable and resistant to strong winds and heavy rains, and provide more dignified and comfortable living conditions for families. Given the urgent need for relocation of families from extremely unsafe areas, an area has been designated for CRS and Caritas to construct 305 "midterm" shelters. This transitional shelter model incorporates key design features that make it more resistant to heavy winds and rains. Each family receives a lock and chain to help ensure safety. Land preparation is ongoing, with construction expected to take place from August through October. CRS and Caritas are planning to introduce the sturdier shelters in other areas of the camp where Caritas projects are underway.
CRS and Caritas are starting up a community-based protection project that seeks to provide a safe and supportive environment for Rohingya women and children and to prevent sexual and gender-based violence (SGBV) among Rohingya refugees in Bangladesh. The project will deploy 'barefoot counsellors' and community facilitators from among the Rohingya community who have been trained in protection and basic counselling on SGBV. It is an approach adapted from a similar program taking place in Chennai, India.
CRS and Caritas Bangladesh will soon be training the Child Friendly Space team to facilitate hygiene discussions and activities with children using a video created with partner No Strings International.
Caritas is also starting up community led Disaster Risk Reduction activities, which will involve men and women in mapping out emergency action plans. CRS and Caritas will also be starting similar activities with an integrated livelihoods component in host communities in the coming months.
Fact Sheet
Rohingya Refugee Crisis Fact Sheet
Experts Available for Interviews 
Caroline Brennan, CRS director for emergency communications, has spent time in refugee camps in Bangladesh and is very knowledgeable about the situation. To arrange for an interview, contact Jennifer Hardy.
Stories
Myanmar Refugees in Bangladesh
Rohingya Refugees: New Life, Last Rites in Bangladesh
Reports
Lessons Learnt Report – Rohingya Emergency Response Community-based Approach
Strategic Recommendations for Shelter Upgrade in Response to the Rohingya Humanitarian Crisis
Delivery Mechanism Mapping for Cash-Based Interventions (CBI) in Cox's Bazaar, Bangladesh
Strategic Recommendations for Shelter Upgrade in Response to the Rohingya Humanitarian Crisis
Delivery Mechanism Mapping for Cash-Based Interventions (CBI) in Cox's Bazaar, Bangladesh
Photos
Download photos for media use. Password is "photos".
Videos
Caroline Brennan in Bangladesh
Myanmar Refugees in Bangladesh
Quotes