Background
When Pope Francis travels to Mexico, February 12-17, he will visit some of the country's most marginalized communities, bringing a message of hope to a nation grappling with violence and crime. During the visit, his fourth to the Americas, he will meet with an indigenous village, patients at a pediatric hospital, young people and prisoners. The trip will culminate with a mass held on the U.S.-Mexico border, drawing attention to the plight of migrants, many of them children, who stream toward the United States from Central America in search of protection from violence by gangs and other organized criminal networks.
Below are useful resources to help you follow His Holiness' trip. Catholic Relief Services' (CRS) presence in Mexico dates back to 1943, when we opened the first camp for people displaced by World War II. Today our programs in Mexico include migration, peace-building and human rights, and inequitable access to rural development opportunities. Read more about CRS' programs in Mexico.
CRS Resources
CRS Joins Pope in Call for Protection of Central American Refugees and Asylum-Seekers
Excitement for Pope Francis' Visits Mounts in Mexico
7 Topics Pope Francis Will Highlight in Mexico
Mexico's Violence Countered by Mother's Faith
Savings Groups Nurture Women's Cacti Co-op
Microfinance in Mexico: Women Bank On It
Unaccompanied Minors: An Alarming Surge in Numbers
EWTN News Nightly Speaks with CRS About Unaccompanied Children
Related Articles
The Pope in Mexico, from America
Immigration at Center of Pope's Visit to Mexico-US Border, from the New York Times
Pope Francis Will Go to Mexico's Margins in February Visit, from America
US-Mexico Border Preparing for Pope's Ciudad Juarez Visit, from ABC News
Pope Francis Visit to Juarez Will Include Cross-Border Mass, from America
CRS Media Contacts
Experts Available for Interviews
To arrange for an interview with the following CRS experts, contact Beatriz Afanador. Our list of experts includes:
Central America
Kate Andrade Eekhoff is Catholic Relief Services' Regional Technical Advisor Youth Employability. She joined CRS in 2010 as the Program Manager of the USAID-funded program YouthBuilders to expand the successful training program for leadership, service and employability with at-risk youth in El Salvador. She has been a professor in the Department of Political Science and Sociology at the Universidad Centroamericana 'José Simeón Cañas' (UCA) in El Salvador and worked for eight years as a senior researcher with the Facultad Latinoamericana de Ciencias Sociales (FLASCO) in Central America, involved in policy-related research on labor markets, poverty, social exclusion, violence, governance and international migration.     
Richard Jones is Catholic Relief Services' senior technical advisor for policy and strategy in Latin America and the Caribbean, working on issues, including extractives, migration and youth violence. From a base in El Salvador, Rick has developed innovative approaches that combat gang violence in Central America through youth employment and violence intervention. He helped CRS develop programs with the Colombian Catholic Church to strengthen civil society and assist people displaced by the country's prolonged crisis. More recently, he advised the Mexican Bishops Conference on developing a unified plan for addressing violence and migration issues in the country.
Mexico
Cecilia Suárez is Catholic Relief Services' Head of Office in Mexico, where CRS works with local partners to address systematic injustice in Mexico, migrant and farmworker vulnerability, social transformation in high violent contexts, and rural development. Cecilia has more than
15 years of experience leading social programs focused on human rights, migration and peacebuilding. Before joining CRS, she was the Executive Director of the Jesuit Service for Migrants in Mexico, where she led strategic planning, evaluations and program management.  
Social Media
For tweets related to Pope Francis trip to Mexico, follow these hashtags and Twitter handles:
Quotes by Pope Francis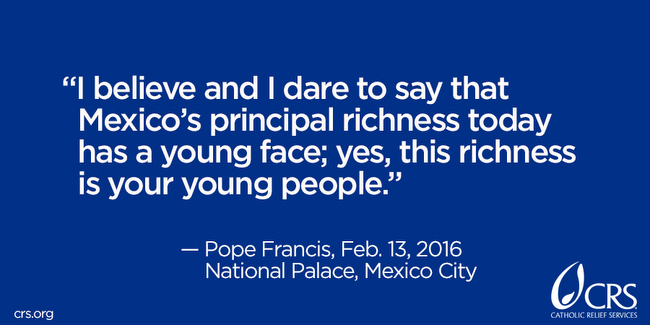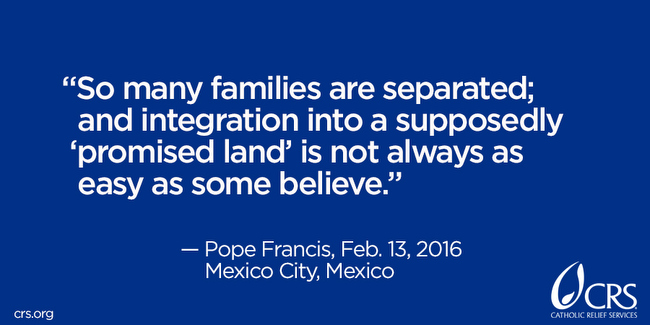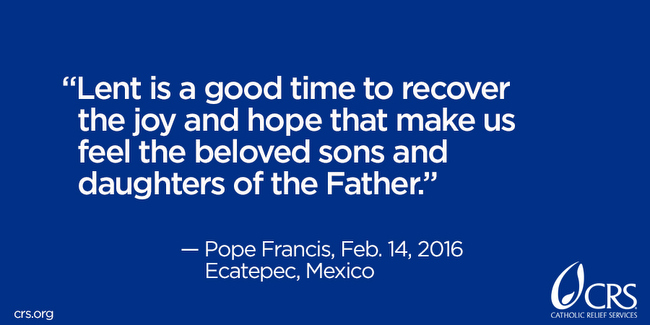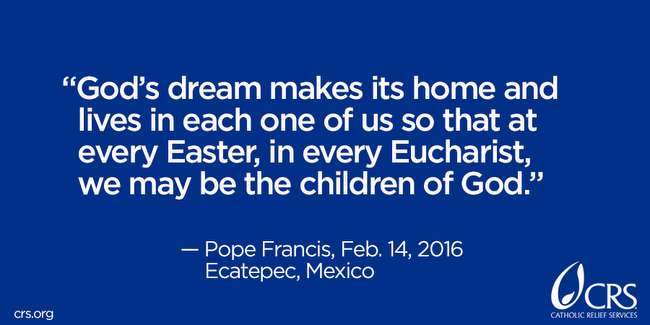 Quotes by Others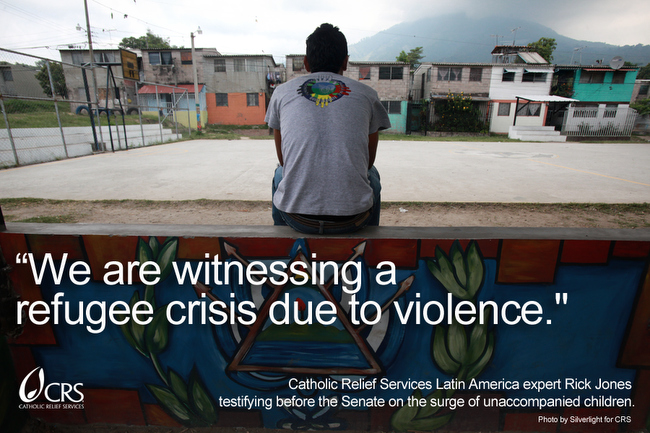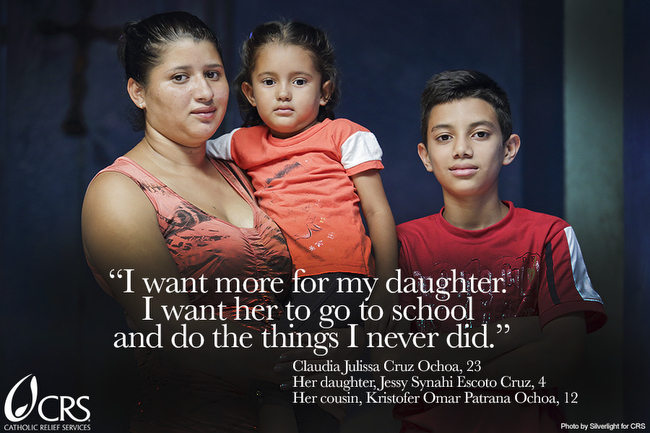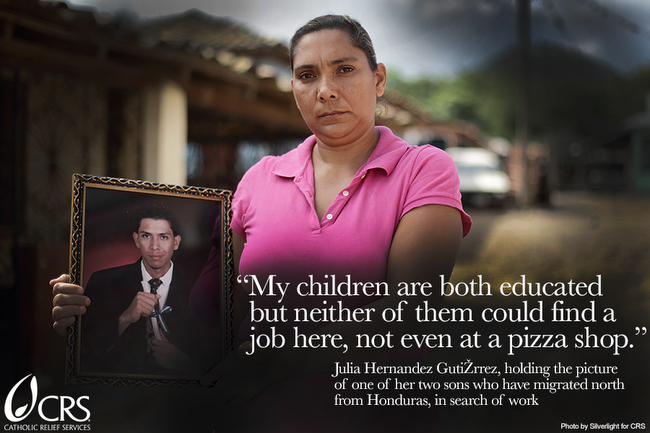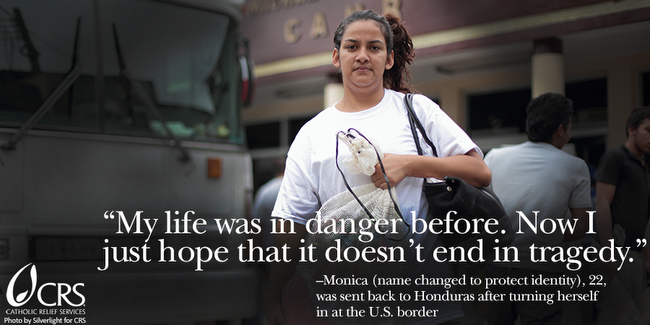 Videos
CRS México: Justice for Farmworkers / CRS México: Justicia para Trabajadores Agrícolas
Peacebuilding in Acapulco / Construcción de paz en Acapulco
Unaccompanied Minors: Help Youth Thrive In Their Communities