The Hunger Crisis: Facts and How to Help

World Hunger
Background
Hunger is a universal threat, especially as COVID-19 continues to ravage the world, disrupting supply chains and leaving millions of people jobless. Since March 2020, food banks across the United States have seen a massive increase in demand, but the U.S. is not the only country that has felt the pain of hunger. Places like South Sudan, Guatemala, and the Philippines have seen an increase in need because of COVID-19 shutdowns and travel restrictions. However, even before the pandemic hit, these countries, and many others, were struggling with hunger.
Upwards of 820 million people - more than double the entire population of the U.S. - are malnourished today, the majority of them children. Complicated factors like poverty, conflict, and climate change all contribute to the increasing number of people who don't have enough food.
In order to stave off hunger, many families in developing parts of the world turn to what are called negative coping mechanisms that, in the long-term, might do more harm than good. This may include the selling of assets like livestock to buy food, going into debt, migrating, or in the worst cases, engaging in prostitution. Some countries have seen an increase in child marriage as families can no longer provide food for their children.
Our Experts
Catholic Relief Services' experts can provide information and interviews about the myriad of reasons for food insecurity in developing countries, including the pandemic and climate change, as well as our work to end world hunger. Please email [email protected] to schedule an interview.
MEDIA CONTACT
Brittany Wichtendahl
Public Relations Coordinator
757-748-5003
brittanywichten
Climate Change
Weather-related events like more intense droughts and unpredictable rains make it harder for farmers to grow healthy crops. They also make it difficult for aid to reach those most in need.
Increasing Food Prices
Often when a country's economy becomes unstable, the price of food rises, meaning people cannot buy nutritious food for their families. This can lead to short-term solutions like selling off livestock.
War and Conflict
When conflicts break out, often the most vulnerable people are the most affected. Fighting can force them to abandon their homes and flee for safety, leading them to go days without food.
Six World Hunger Facts
More than 820 million people go to bed hungry every night. That's one in nine people across the globe.
One in three people suffer from some level of malnutrition.
The Central African Republic is the world's hungriest country (Global Hunger Index).
149 million children were stunted in 2018.
After a decade of decline, world hunger has been increasing since 2015. The world has not had this many hungry people since 2010 (FAO).
Due to the economic impact of the COVID-19 pandemic, the number of people facing acute food insecurity will rise to 265 million next year (WFP). That's an additional 130 million people who will be facing hunger.
CRS Response
World hunger is a complex problem that cannot be easily solved. It's connected to many other complex problems like poverty, inequality, conflict, and climate change. There is no one solution that will work for every community around the world. Ending world hunger is not just about providing more food to people, so CRS takes a comprehensive approach through other programs in sectors like agriculture, microfinance, and education. In the U.S., CRS launched Lead the Way, a multi-year campaign to raise funds and advocate to end world hunger. Together, we can lead the way on ending this crisis through prayer, education, and action.
Global Snapshot
Drought in Guatemala
For the past three years, Central America has been experiencing a drought that has destroyed crops and made it harder for families there to feed themselves and earn a living. In Guatemala, where almost half the population can't afford to put food on the table, CRS is providing ways to change that through Superamos, a U.S. government (USAID)-funded project that provides cash and food vouchers, and organizes agricultural fairs. With the cash and food vouchers, people are able to buy what they need while supporting local businesses and helping their local economy. The fairs that Superamos organizes help people like Maria Ramírez buy seeds, farming tools, fertilizer, and other items like baby chickens. These chicks not only provide eggs to eat, but also a source of income once they are old enough to be sold.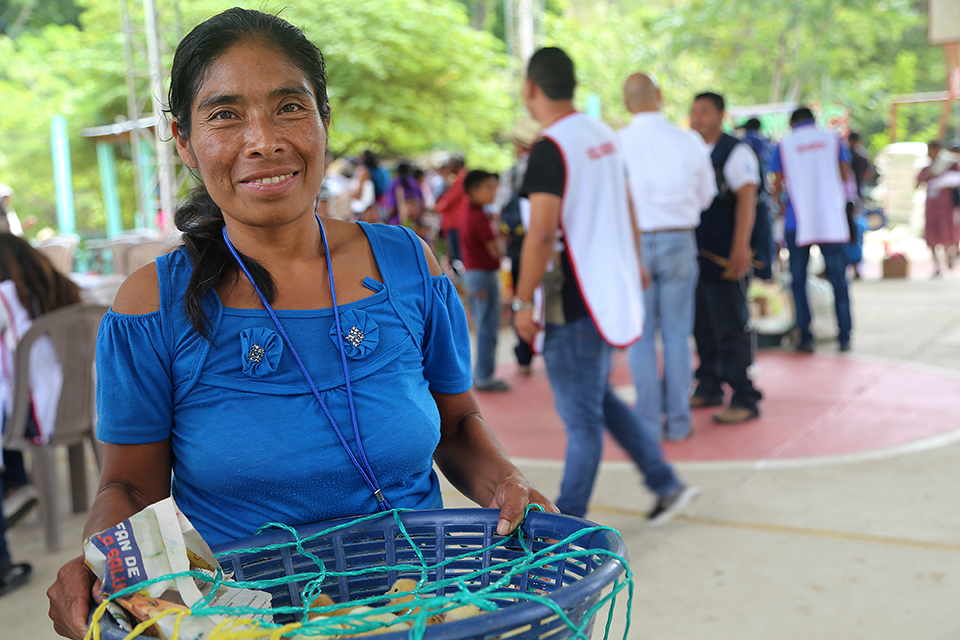 When they attend the Superamos fairs, members of the community can also attend demonstration sessions, where they learn to recognize the symptoms of acute malnutrition, how to select food, and prepare nutritious meals. CRS is also working across Guatemala to teach climate-smart farming techniques. By learning how to use their natural resources in the best way possible, farmers are ensuring their cropland will remain healthier for longer. This means more and better crops for their families and community.
Southern Africa
With Southern Africa's temperatures rising at twice the global average, countries like Zimbabwe, Madagascar, and Zambia are bound to continue to feel the impacts of climate change, despite contributing little to the crisis. According to the World Food Program, nearly 45 million people in Southern Africa are "gravely food insecure following repeated drought, widespread flooding, and economic disarray."
Food Crisis in Zimbabwe
Zimbabwe is currently facing its worst drought in over 30 years, and now half the population - 7.7 million people - are facing food insecurity (World Food Program). In combination with the drought, inflation is increasing the cost of basic items, forcing families to use their savings or sell off household items just to buy food. In addition to providing emergency food and water, CRS trains farmers to use climate-smart techniques, like improved soil and water conservation. CRS also provides farmers with drought-resistant crops and livestock, like goats. These crops and livestock will not only allow famers to have food for themselves and their families, but also a source of income in the future. In addition to this, CRS works with the government to send timely text messages to farmers to warn them about risks to their crops. These text messages allow farmers to stay one step ahead and save their crops.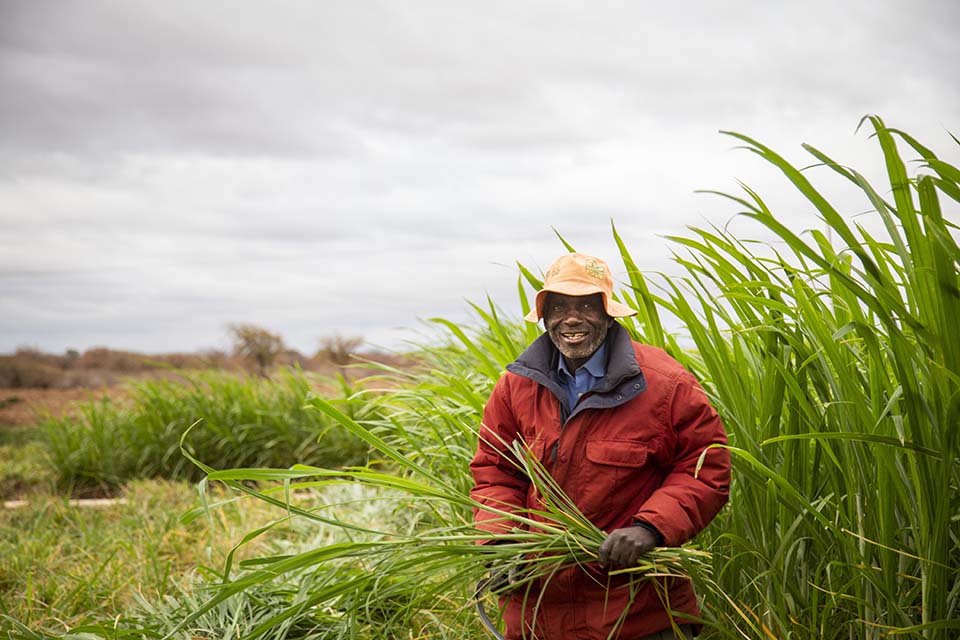 Madagascar Drought
Renowned for its biodiversity, and generous and resilient people, Madagascar is nonetheless one of the poorest countries in the world. 92% of people there live on less than $1.90 per day - that's less than the cost of a gallon of milk or loaf of bread. The country also has the world's fourth highest rate of malnutrition among children under 5 (World Food Program). CRS works on organizing seed fairs, where farmers can choose from a variety of drought-resistant seeds to avoid crop failure. With these drought-resistant crops, farmers across Madagascar are able to feed their families and provide food options for members of their community.
Zambia Drought
Despite more than a decade of consistent economic growth, people across Zambia are struggling with chronic poverty, inequality, and food insecurity. Combine that with devastating natural disasters including floods and severe droughts, and the country has been unable to reach its full potential. More than 80% of the rural population lives below the poverty line - meaning they often struggle to maintain a basic standard of living, feed their families, send their children to school, or afford clean water - and nearly half of Zambian children under 5 are stunted due to malnutrition. During the "hungry season," when food is scarce, many families only eat one meal a day. CRS currently works across Zambia to provide relief to these families through food aid, nutrition education, and climate adaption farming techniques. Together with the local church, other faith-based organizations, and in collaboration with the government of Zambia, CRS works across multiple fields to help alleviate poverty and stop hunger.
Laos
Lao People's Democratic Republic (Lao PDR) is a small, landlocked country in Southeast Asia with a population of over seven million people. Most of the Lao people live in rural, remote communities and face challenges when it comes to accessing essential services, like education and healthcare. As a result, 33% of children in Lao PDR are stunted, and families there struggle to feed their growing children (World Food Program). Since 2007, CRS has been working in Lao PDR in partnership with the local government to help address inequality, and alleviate poverty, and hunger. Through McGovern-Dole Food for Education, a USDA-funded project, CRS has provided nutritious school meals to 40,000 students daily since 2016 and is projected to serve over 30 million meals by next year (2021). CRS also teaches local cooks, storekeepers, and community leaders hygienic ways to store and prepare food.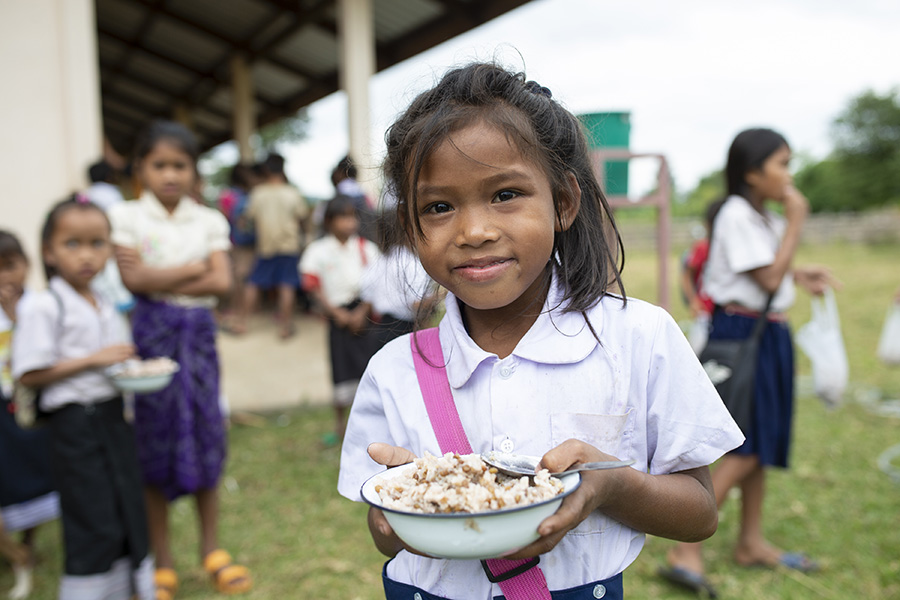 FAQ
How many people in the world are hungry?
Isn't there enough food in the world to feed everyone?
Despite the fact that the world does indeed produce enough food to feed everyone, there are still millions of people going hungry. This is due to a number of factors, but the biggest factors are food loss and food waste. Food loss happens during the route from farm to table and food waste happens after it reaches your home, local market, or restaurants. According to the United Nations, 14% of all the food produced in the world is lost between harvest and retail because of things like poor storage, damage during transportation, and because it fails to meet the standards of some retailers. Food waste, on the other hand, most commonly occurs when people or restaurants overbuy food and it spoils, leading to them having to throw it out. While reducing food loss and food waste won't solve the problem of world hunger, it will drastically improve our ability to limit the number of people who go hungry.
What is a famine?
Famine is "an extreme lack of food and other basic needs" and happens when "starvation, death, destruction, and extremely critical acute malnutrition levels are evident" (Famine Early Warning Systems Network). In other words, famine is what happens when people don't have enough to eat for an extended period of time and it causes extreme physical detriment or death. By the time a famine makes headlines, it's too late to prevent severe hunger and death.
Who decides how much hunger there is?
Deciding when to declare a famine is usually a joint decision between the United Nations and a group called the "Famine Early Warning Systems Network," or FEWSNET. Using data collected from aid groups (like CRS), local governments, and satellites from U.S. organizations like NASA, FEWSNET decides where countries fall on their five-phase scale. This scale ranges from minimal (Phase 1) to famine (Phase 5). In order for a country to have a famine officially declared, the situation needs to meet three criteria: at least one in five households need to face an extreme lack of food, more than 30% of the country's population must be suffering from acute malnutrition, and at least two people out of every 10,000 must be dying each day from hunger.
What progress has been made to fight world hunger?
From 1990 to 2015, the world saw a steady decrease in the number of people who were going hungry, but since 2015, that number has slowly been back on the rise. In 2015, the World Food Program estimated that the number of people who were undernourished was 785 million. In 2018, that number was up to 822 million. That's not to say that it's all bad news. According to the United Nations' Food and Agriculture Organization (FAO), the number of stunted children has decreased from 165 million in 2012 to 149 million in 2018, but it is evident that there is still work to be done to ensure no one goes to bed hungry.
What can I do to combat hunger?
The single most important fact about world hunger is this: You can help end it. You can start at home by shopping and eating locally, aiming to achieve zero food waste, and by joining CRS in the fight to end this crisis. It will take time to end world hunger, and a willingness to persevere in times of no apparent progress, or even in the face of setbacks, but it can be done. If you're not already a supporter, you can join CRS' Lead the Way on Hunger campaign. By joining this new initiative, you can learn the best way to educate yourself, family and friends, as well how to reach out to your congressional representatives and make your voice heard.
How much would it cost to end world hunger?
Estimates range anywhere from 7 to 265 billion U.S. dollars per year. This is such a dramatic range due to potential climate events, pest outbreaks, economic downturns, pandemics, and other factors that could cause the number of people suffering from hunger to fluctuate. 
Can you help us to get the word out?
Thank you for your compassion. Your support saves lives.