The Climate Crisis: Facts and How to Help

Climate Change
Background
Around the world, millions of people each year deal with extreme weather conditions, increased hunger, failed crops and conflict – all of which have been made worse by climate change. The countries and people that are usually most affected by climate change are among some of the poorest in the world, those who have contributed the least to the crisis. Communities in countries like Madagascar, the Philippines, Bangladesh, Guatemala, Kenya and Niger are all experiencing the effects of climate change, including rising sea levels, prolonged droughts and erratic rainfall. Adapting to our changing climate is vital for people to continue to live in their hometowns, farm their land and successfully raise their families.
Our Experts
Catholic Relief Services' experts around the world can provide information and interviews about effective ways to build resilience to the impacts of climate change. Please email [email protected] to schedule an interview.
MEDIA CONTACT
Nikki Gamer
Senior Public Affairs Manager
Hunger
Climate change can make it harder for farmers to grow food, for herders to raise cattle, and can increase food prices, making it harder for people to afford.
Migration
Extreme weather events, like droughts or cyclones, can force people to leave their homes and migrate to another country where they might be safer.
Conflict
Climate change can make resources like food, water, and safe housing more difficult to find, which can sometimes lead to conflict between people.
Climate Change Hot Spots
Climate Change in Africa
The effects of climate change have been felt on the African continent, sometimes driving families to the brink of survival, with droughts lasting longer than usual and rainfalls, which were once predictable, now coming with irregularity.
Drought, Flooding & Locusts in Kenya
Kenya has been hit hard by climate change. The country's largely agricultural economy relies on two major rainy seasons throughout the year. The changing climate has made the rains unpredictable and unreliable, resulting in severe recurrent periods of drought and flooding in recent years. The livelihoods of the many different types of farmers in Kenya have been severely disrupted as a result, especially in Kenya's dry regions. Climate change is a primary threat to the food security, water access and overall development prospects for Kenya's most vulnerable populations in the years to come.
Since early 2020, Kenya's dry northern counties have experienced an influx of massive swarms of desert locusts on a scale not seen in at least 70 years. The swarms have destroyed crops and rangelands alike, severely affecting farmers livelihoods across northern Kenya. The locust crisis is also linked the climate change, as warming oceans temperatures, severe cyclones in the Middle East and periods of intensely concentrated rainfall in the Horn of Africa have combined to create conditions that led to the intensity of the swarms.
Climate Disruptions in Mali
In Mali, the signs of climate change are highly visible and numerous. Lasting disruptions in the rainy season, flooding, the creeping expansion of the Sahara Desert, and extreme heat and violent winds have had devastating impacts on farmland and crop yields. Malian farmers are struggling to feed their families and provide food for local markets – all of this has increased the food insecurity of people across the country.
In the center of the country, rural populations in particular are facing difficulties when it comes to producing enough cereal crops – like wheat, corn, and sorghum – for their families. This decrease in crops can lead to episodes of famine in some regions of the country. Faced with this alarming situation, humanitarian organizations like CRS are putting development projects in place that will help mitigate the impacts of climate change.
In central Mali, the Sene Yiriwa Delta project is distributing horticultural kits to local farmers. The kits, funded by USAID, include small equipment, materials, seeds, and organic fertilizers free of charge to members of the local Nadiougo cooperative. The cooperative is composed of 105 women, whose main focus is on gardening four crops – lettuce, shallot, tomato, and African eggplant. With supplies from the Sene Yiriwa Delta project, they were able to diversify their crops and now produce okra, carrots, green beans, and beets in their collective garden. Before this diversification, they could only grow food from December to March. Now, with their new supplies and skills, they are able to produce crops from November to April!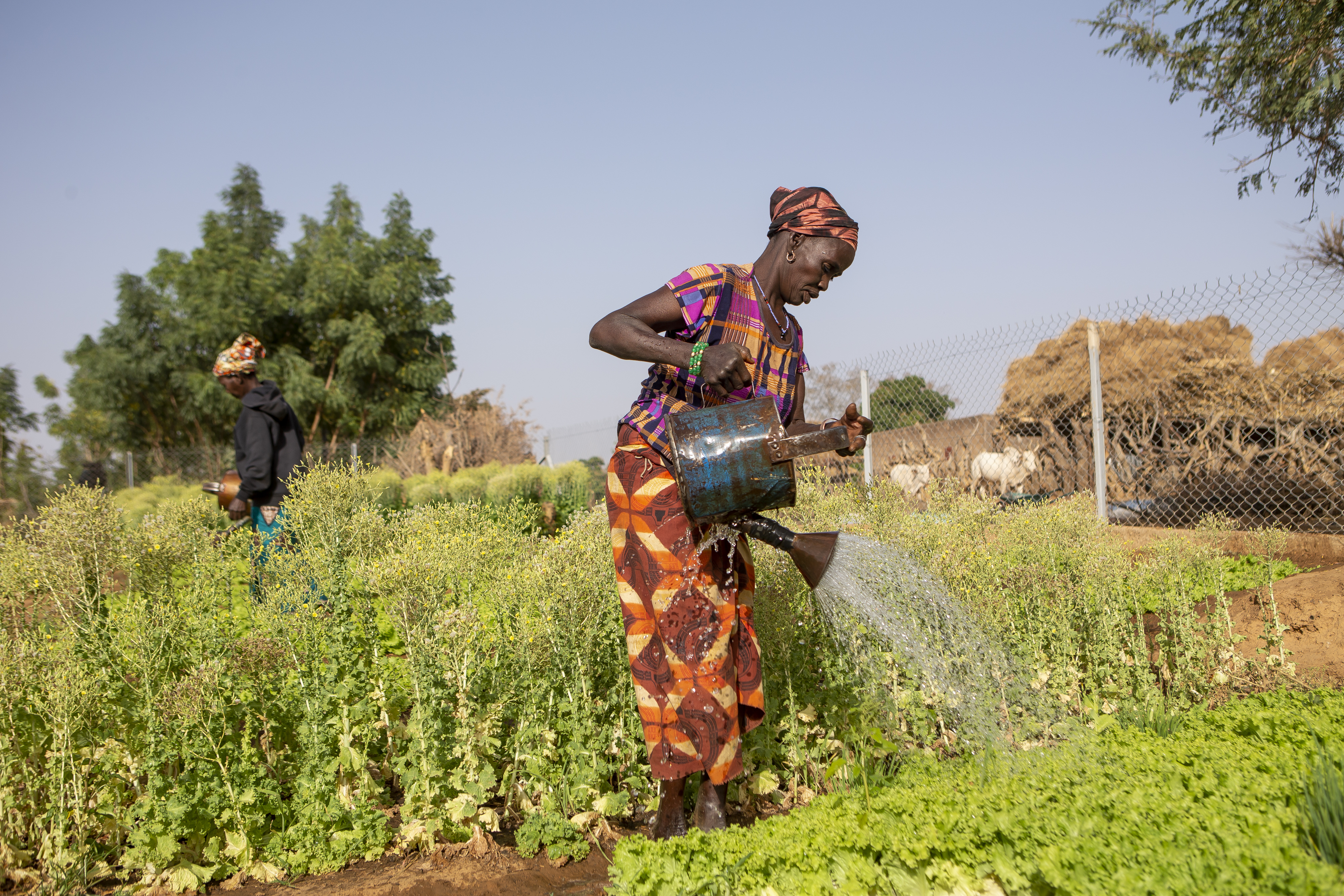 The Sene Yiriwa Delta project, which is funded through 2025, aims to reach more than 36,000 farmers and improve the soil health of more than 133,000 acres of land.
Droughts & Cyclones in Madagascar
As one of the most biodiverse countries on Earth, Madagascar has a plethora of life that is under threat from climate change. The island nation is most susceptible to sea-level rise, soil erosion and an increase in deadly weather events, like tropical cyclones. Over the past few years, changing climate patterns have led to alternate circles of cyclone-related flooding in some areas and drought in others. In the last six years, southern Madagascar has experienced five seasons with below-average rainfall and drought in the last two consecutive years. This has led to a severe food security and nutrition crisis with about 1.3 million people at risk of hunger in the south of the island country. In addition, back-to-back cyclones Idai and Kenneth in the spring of 2019 destroyed homes and infrastructure as well as staple crops like rice. More recently, tropical storms have continued to bring heavy winds, intense rains and flooding. Each time these adverse climate storms hit Madagascar, the country has to respond and recover, but as climate change increases the number and intensity of those events, it becomes harder and harder for the Malagasy people to bounce back.
Climate Change in Central America
The effects of climate change are being felt across most, if not all, of Central America. Countries like El Salvador, Honduras,and Guatemala struggle with erratic rainfall, prolonged drought and increasingly lethal weather events. As families find it more difficult to grow food for themselves, or crops like coffee to sell for an income, many are forced to make the difficult, and often dangerous, decision to migrate.
Hurricanes in Guatemala
Similar to Madagascar, Guatemala is an incredibly biodiverse country that has found itself threatened by climate change. The country, which sits in part of the Dry Corridor, struggles with high temperatures, increasingly unpredictable rainfall and increasingly powerful weather events. In the past few years, the country has been hit by several hurricanes, displacing thousands of people and destroying acres of farmland. The land, which has often been overworked, is vulnerable to flooding and landslides, so when an extreme weather event hits the country, the effects can be felt for days or months.

As elsewhere, farmers across Guatemala struggle to grow enough food to feed their families, not only because of erratic rainfall patterns but also because of the poor soil conditions. Coffee farmers have been especially hard hit in Guatemala, as they struggle with soil conditions, finding clean water, and coffee leaf rust, a fungus that can kill coffee crops.
As it becomes harder to produce food, families must turn to desperate coping measures, like selling off their household items or livestock, leading them deeper into poverty and making them more likely to migrate.
You can learn more about the effects climate change is having on Guatemala through our series, "Living on the Edge of Climate Change: Corridor of Concern" Part One and Part Two.
Climate Change in South Asia
Cyclones & Flooding in Bangladesh
The 8th most populous country in the world, Bangladesh, is also one of the most vulnerable to natural disasters like cyclones. Most recently in May 2020, Cyclone Amphan devastated the country, destroying hundreds of thousands of homes, flooding freshwater reserves, and damaging hundreds of acres of forest and farmland. Cyclones like this are becoming stronger and more frequent, meaning people in Bangladesh often don't have enough time to recover from one storm before another one is already forming.
In early 2020, when Cyclone Amphan hit Bangladesh and India, it drove the largest single displacement event globally in the first half of the year, triggering 3.3 million people to evacuate before the storm hit. River and coastal erosion across the country leads to an annual loss of nearly 25,000 acres of land - an area about the size of Disney World - and weakens natural coastal defenses and aquatic ecosystems.
Because most of the country is less than 40 feet above sea level, it is extremely vulnerable to any sea-level rise from the Bay of Bengal. Entire communities on the coast of Bangladesh could be lost forever to the bay and coastal erosion. An increase in the sea level also means that any freshwater that might be used for drinking, cleaning or farming purposes is at risk of being ruined by incoming saltwater. Along with more intense cyclones and a rising sea, the country has also seen increasing temperatures, which makes it harder for certain crops, like rice – a staple in Bangladeshi cuisine – to grow.
You can learn more about climate change in Bangladesh through our series, "Living on the Edge of Climate Change: Rising Waters, Rising Concerns."
Typhoons & Flooding in The Philippines
Like Bangladesh, the island nation of the Philippines is incredibly susceptible to both sea-level rise and increasingly dangerous typhoons. The metropolitan area of Manila, the country's capital, is home to nearly 15 million people and if sea level rise continues at the current rate, it could be underwater by the year 2100.
Typhoons have become more dangerous in recent years, bringing more rain and higher winds. These storms have forced thousands of people to lose their homes, and in extreme cases, even have to uproot their families and move away from their towns. In 2013, Super Typhoon Haiyan devastated an area of Leyte island, and the government declared the community of Anibong a "no-build zone." More than 2,000 families were forced to leave their homes and start over. Without efforts to address climate change, more communities across the Philippines could face the same fate as Anibong.
What the World is Doing About Climate Change
The Green Climate Fund was established in 2010 during the United Nations Climate Change Conference as a way to help developing countries adapt to, and mitigate the effects of, climate change. Now, the fund operates as an independent organization and works with numerous partners, including businesses from the private sector, local governments and organizations like CRS. As of February 2020, more than $10 billion has been pledged for the fund, with pledges coming from countries all over the world, such as the U.S., France, Japan, Indonesia and Vietnam.
Paris Agreement
The Paris Agreement is an international agreement on climate change that was created during the 2015 United Nations Climate Change Conference and signed by more than 190 countries the following year. Its goal is to limit global warming to 1.5 degrees Celsius (2.7 degrees Fahrenheit) through the reduction of greenhouse gas emissions. Each country is individually responsible for how they plan to reduce their emissions and also contributes financially to help countries that are most vulnerable to climate change. The top four emitters of greenhouse gases, the U.S., China, India and the European Union, contribute to 55% of global emissions and are not yet on track to meet their climate goals for 2030. The U.S. rejoined the Paris Agreement on February 19, 2021.
What Catholic Relief Services is Doing About Climate Change
Risk Reduction
As climate change continues to impact all aspects of life, from increasing hunger to the need for storm-resistant homes, CRS supports communities to adapt to our changing planet. In the Anibong community in the Philippines, CRS helped relocate more than 2,500 households who were unable to return to their neighborhoods after Super Typhoon Haiyan devastated parts of the country in 2013.
Land Restoration
One key to help address the effects of climate change is through improving the health of our farmland and soil. Degraded land and poor soil can't produce healthy food or provide a habitat for organisms that enrich our crops. Poor farming practices, such as slash and burn agriculture or overgrazing, contribute to degradation, which is in turn made worse by climate change. In Lesotho, CRS is helping communities to better manage their water and soils, revitalizing farm and pasture land, preventing erosion and restoring ground water and springs.
Keeping the soil healthy can also mitigate climate change by isolating carbon in soils at the same time as it supports increases in crop production.
Water and Climate-Smart Agriculture
CRS supports farmers around the world to increase their use of climate-smart and regenerative agriculture. In places like Niger, CRS provides farmers with drought-resistant seeds and training on improved agriculture practices, especially Farmer Managed Natural Regeneration, which teaches farmers to restore trees cut down many years ago, but with thriving root systems underground. Among its many benefits, this agro-forestry method captures water and nutrients in the soil, making them more available to food crops. In Ethiopia, CRS trains farmers and producers in food storage and preservation to minimize crop losses, and water harvesting techniques to increase water availability for crops and livestock. And young men and women learn how to use early warning systems to determine the best timing for irrigating or weeding their plots.
In Central America, Agua y Suelo para la Agricultura (ASA), or water-smart agriculture, is a proven practice of improving soil health to manage water and increase yields. Farmers across Central America are maximizing the potential of their land and rainfall using effective farming practices. CRS works with some 3,000 farmers in the region to use ASA to revitalize agricultural production, create resilience to drought and restore soil and water resources.
What the Catholic Church is Doing About Climate Change
In June 2015, Pope Francis issued his highly-anticipated encyclical on the environment, Laudato Si, bringing the world's attention to the importance of caring for God's creation. The pope reminds us that it is our responsibility to care for the Earth, our common home and that in caring for the planet, we are also caring for those who least contribute to climate change.
"The warming caused by huge consumption on the part of some rich countries has repercussions on the poorest areas of the world, especially Africa, where a rise in temperature, together with drought, has proved devastating for farming," the encyclical reads.
FAQ
What is climate change?
Climate change is a term meant to include significant changes that occur over a long period of time to the Earth's temperature, rain and wind patterns and other aspects of climate. While the term "weather" refers to natural changes that occur from minute to minute or even from year to year, the term "climate change" only refers to long-term trends, changes that occur over several years and decades.
What do climate change "adaptation" and climate change "mitigation" mean?
Climate change "adaptation" is helping people adjust to actual or expected climate variations and its effects in order to minimize harm. Climate change "mitigation" is reducing or preventing greenhouse gas emissions or sequestering carbon to stop the planet's warming.
What is the difference between global warming and climate change?
While "global warming" only refers to the increase of the Earth's temperature, the term "climate change" includes all aspects of climate, such as weather extremes, which can be either intense heat waves in the summer or periods of excessive cold in the water. It also includes increasing storms, longer droughts, more frequent flooding and sea level rise.
Why is climate change important?
Changes in the Earth's climate can cause intense heat waves, rising sea levels, wildfires, more intense droughts, cyclones, hurricanes, etc. These events can have large impacts, like how much food our farmers can grow, the quality of their crops, forced migration, conflicts over resources like clean water and an increase in insect-transmitted disease like malaria.
Who is affected by climate change?
Everyone is affected by climate change, but right now, the world's most vulnerable are feeling the effects the most. Those people who already live in warmer climates are experiencing problems like more intense storms, longer droughts and erratic rainfall.
Do scientists agree on climate change?
What can I do about climate change?
Greenhouse gases are the largest contributor to climate change. The governments of the world's largest polluters, like the United States, China and India, can take measures to reduce their greenhouse gases by shifting to cleaner energy sources, reduce their waste and improving their energy efficiency. On a personal level, we can all take small actions like recycling properly or composting, reducing our consumption of red meat, carpooling with friends and family or using public transit to reduce the use of our personal vehicles, and supporting organizations that work toward a greener world. We can also work to lower our personal and communal levels of food waste - which not only is a waste of money, but contributes to 8% of global emissions. The U.S. Environmental Protection Agency also provides resources on how you can reduce your carbon footprint at its What You Can Do About Climate Change webpage.
Where can I learn more about climate change?
The National Oceanic Atmospheric Administration provides news about U.S. and global climate, as well as maps and data on its website climate.gov.
Can you help us to get the word out?
Thank you for your compassion. Your support saves lives.