Background
As Pope Francis made clear in his encyclical, Laudato Si', climate change is a reality that is threatening the lives and livelihoods of some of the poorest people who share our planet, the very people who have the least to do with creating this problem. As all of us work to reduce the causes of climate change, it is necessary to help people adapt to the conditions it creates – rising sea levels, erratic rainfall, changing growing patterns and the like.
Now, even as they struggle with these changes, many people around the globe are facing another climate phenomenon – El Niño. This pattern of currents in the Pacific Ocean has shown in the past that it has the ability to bring the dreaded combination of drought and flooding to many areas in the world, particularly East and Southern Africa as well as Latin America. And it is showing that deadly combination once again today.
CRS Response
In numerous countries around the world, CRS works with farmers to build resilience in the face of changing rainfall patterns with improved agricultural techniques that include better seed and crop selection as well as upgraded conservation and irrigation practices. Through disaster preparedness programs in a number of countries, CRS helps people survive storms, rising sea levels and other climatic events with their homes and livelihoods intact.
Along with eight other agencies, CRS joined an African Union partnership to reach millions of rural families with climate-smart agriculture approaches that will allow them to produce nutritious and environmentally sustainable crops. CRS is also a contributing partner to the Climate Services for Resilient Development (CSRD) partnership, an alliance of public, private and non-governmental organizations.
CRS participated in a groundbreaking study, Tortillas on the Roaster, which documented the impact of climate change on the crops that many farmers in Central America depend on for their livelihood. CRS was also involved in the Caritas Internationalis Food Security Study, which identifies climate change as one of the top three contributors to food insecurity.
When Pope Francis introduced his encyclical, Laudato Si', he invited CRS president & CEO Dr. Carolyn Y. Woo to be one of a small groups of speakers to comment on and help present his encyclical.
Climate Change Resources
Stories
Pope Francis' Encyclical, Laudato Si'
Reports
Video
Father James Martin, SJ, Dr. Carolyn Woo, and Cardinal Peter Turkson discuss Care for God's Creation in this video from a seven-part series on Catholic Social Teaching presented by the USCCB and Catholic Relief Services.
El Niño
Quotes from Pope Francis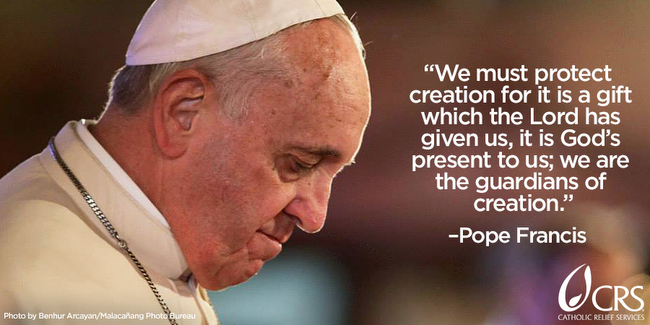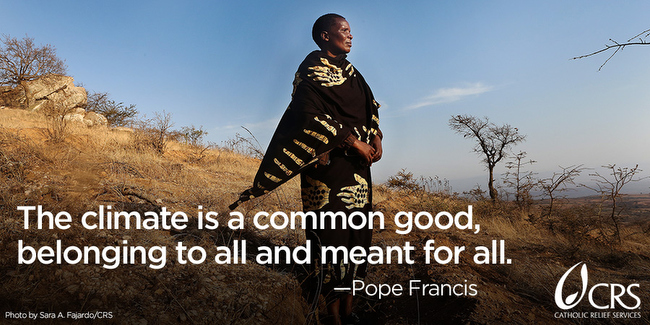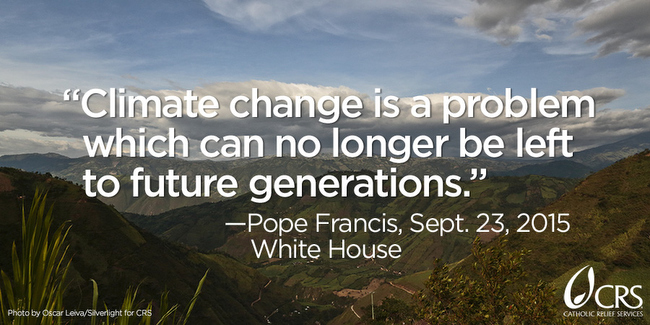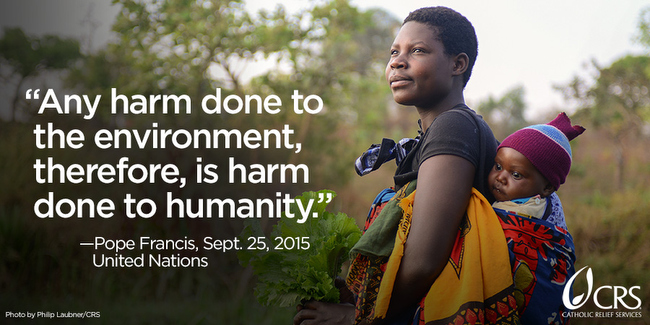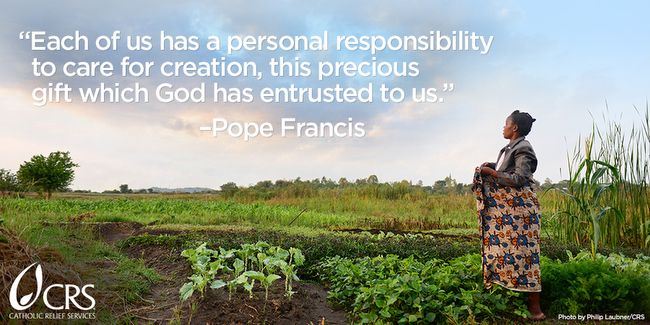 Media Contact
For questions about Catholic Relief Services' and climate change, contact Michael Hill.
Experts Available for Interviews
To arrange for an interview with the following CRS experts, contact Michael Hill.
Joan Rosenhauer, Executive Vice President for U.S. Operations
Lori Pearson, Senior Policy Advisor, Food Security and Agriculture
Joe Curry, Country Representative for the Philippines
Bill Rastetter, Country Representative for Niger and former Regional Director for West Africa
Jefferson Shriver, Senior Technical Advisor for Value Chains and Market Linkage