Media Contacts
Nikki Gamer, Media Relations Manager
Background
Violence, insecurity and prolonged drought have been made increasingly worse by climate change. Consecutive years of poor rains and poor harvests have decimated crops across South Sudan, Somalia, and Kenya, and in Nigeria, many are going hungry after being displaced by Boko Haram.
Some 260,000 Somalis died in 2011 because of a drought-induced famine. It's expected that this drought is set to be much worse. Water sources across these countries have run dry; community elders all say they've never seen anything like it. Experts in the humanitarian sector agree: this could turn into a humanitarian catastrophe and could cost hundreds of thousands of lives, again.
Approximately 1.4 million children are at immediate risk of death without urgent action by the international community.
CRS is responding with emergency food aid, water and cash grants for the most vulnerable people, including those who have been displaced from their homes.
CRS Response
Emergency food air drops and long-term food assistance
Rehabilitation of water pumps and boreholes
Peacebuilding
Emergency food aid
Cash via mobile transfers
Drinking water and livestock support
Food assistance and water provision.
Fact Sheet
CRS South Sudan Emergency Update Factsheet- May 2017 update 
CRS Emergency Factsheet: Kenya, Somalia Drought- March 2017 update 
Press Releases
Uganda Now Hosts More Than 1 Million South Sudanese Refugees As Hunger Crisis Worsens
CRS Welcomes Vatican Aid to South Sudan; Underscores Urgent Need For Continued Assistance
CRS Joins 40+ Aid Organizations Calling on Congress to Provide $1 Billion to Address Food Crises in Africa and Yemen
CRS President Calls For Additional Funding to Address Famine in Africa
CRS Sees Severe Hunger Spreading in South Sudan
CRS Responds to East Africa Hunger Emergency
Stories
Expanding Water Access During Kenya's Drought
Yearning for Peace, and Food in South Sudan
Africa Hunger Crisis: Somaliland Nears Famine
Cholera Threat Adds to South Sudan Famine Fears
Providing Water and Relief for South Sudanese Refugees in Uganda
CRS in the News
Somalia is on the Brink of Famine, And Time is Running Out, Huffington Post's The World Post
Church Aids People Hit by Africa's Famine, from Our Sunday Visitor
Famine, worsened by war, threatens South Sudanese, official says, from Catholic News Service
"South Sudan is collapsing." Urgent aid needed to fight mass starvation, from Caritas
"Our people are witnessing mass starvation." South Sudanese bishop in Rome to highlight famine, from Caritas
South Sudan Food Crisis Threatens the Lives of Hundreds of Thousands, from Aleteia
Suffering South Sudan, from Catholic News Agency
Experts Available for Interviews 
To arrange for an interview with our experts listed below, contact either Nancy McNally (based in Nairobi) or Nikki Gamer (based in Baltimore, MD)
Jerry Farrell, CRS country representative, South Sudan
Lane Bunkers, CRS country representative, Kenya and Somalia
Mohamed Dahir, CRS emergency response coordinator, Somalia
Video
CRS in Kenya update
Hunger Crisis in Africa
Somalia B-Roll
South Sudan Air Drop
Photos
South Sudan Photo Gallery
Somalia Photo Gallery
Nigeria Photo Gallery
password for all these photo galleries: "photos"
Quotes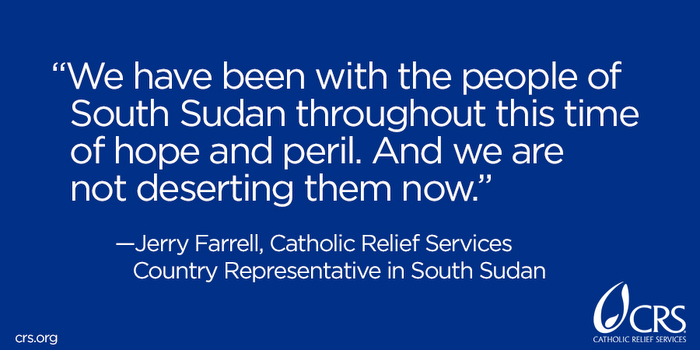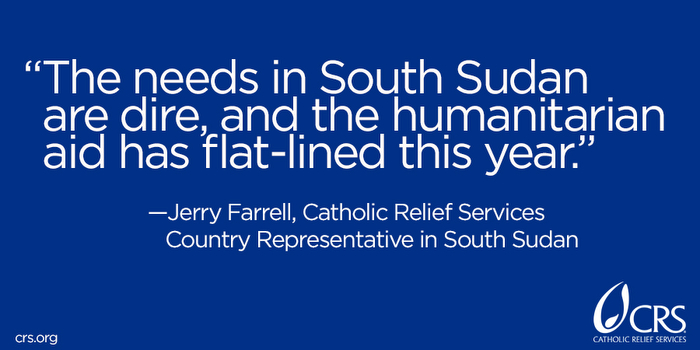 Social Media
Follow CRS' main Facebook account, Twitter at @CatholicRelief; @CRSnews
Take Action
Contact your Senators and Representatives.
Pray
 Visit the CRS Resource Center to pray for those affected by hunger in Africa.