Media Center

CRS Distributes More than Five Million Mosquito Nets in Niger
FOR IMMEDIATE RELEASE
CONTACT:
Michael Stulman
Catholic Relief Services
+221 77 333 4231
[email protected]
NIAMEY, NIGER, June 4, 2015 – Catholic Relief Services, in collaboration with the Ministry of Health and local partners in Niger, distributed more than five million long lasting insecticide treated mosquito nets in May, part of an ambitious project to combat malaria in this West African country by ensuring that 18 million people sleep under nets.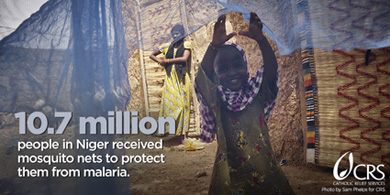 "Malaria has a devastating effect on communities across Africa," says William Rastetter, CRS' Country Representative in Niger. "By edging closer to universal coverage in Niger, we can eliminate malaria – and the needless deaths that have occurred due to the disease."
In 2013, there were an estimated 584,000 deaths from malaria worldwide – 90% of them in Africa.
"Long lasting insecticide treated mosquito nets have proven to be one of the most cost-effective investments that yields significant impact," adds Rastetter.
Since two people are expected to sleep under each net, this means more than 10 million in the regions of Tahoua, Maradi and Zinder will be protected from malaria-carrying mosquitos during their most active hours.
With funding from The Global Fund to Fight AIDS, Tuberculosis and Malaria, CRS partnered with the Ministry of Health's National Malaria Control Program (NMCP) and several local NGOs in Niger, and previously distributed 1.6 million mosquito nets in the regions of Tillabery and Dosso.
Over the course of the next several months, CRS and our local partners will continue to make strides toward universal coverage in Niger. CRS is promoting early testing and treatment of malaria by employing advanced Rapid Diagnostic Tests (RDTs) and by administering Artesunate Combination Therapy (ACTs) which are drugs used to treat malaria.
These initiatives have been paired with behavioral change communication activities that inform the public about infection and prevention of malaria.
###
Catholic Relief Services is the official international humanitarian agency of the Catholic community in the United States. The agency alleviates suffering and provides assistance to people in need in more than 100 countries, without regard to race, religion or nationality. CRS' relief and development work is accomplished through programs of emergency response, HIV, health, agriculture, education, microfinance and peacebuilding. For more information, please visit crs.org or crsespanol.org and follow CRS on social media: Facebook, Twitter at @CatholicRelief and @CRSnews,  Google+, Pinterest and YouTube.