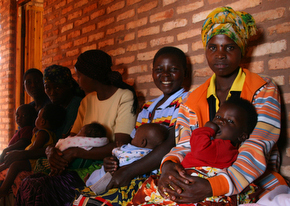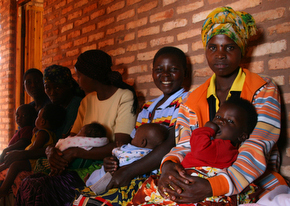 Media Center

CRS Celebrates Success of Life-Saving HIV Work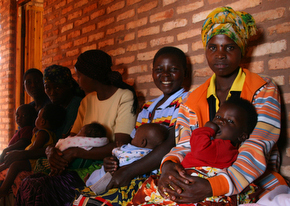 Epiphanie and Josiane in northern Rwanda are both HIV positive, but thanks to prophylaxis treatment provided through the AIDSRelief consortium, their children are virus-free. Photo by Helen Blakesley/CRS.
By Kim Pozniak
Catholic Relief Services celebrated the success of AIDSRelief, a consortium funded through the President's Emergency Plan for AIDS Relief (PEPFAR) that has enabled the care of more than 700,000 patients, with almost 400,000 of those on antiretroviral treatment since 2004. The AIDSRelief programs that were implemented in 10 countries have now transitioned to local health care partners who are responsible for the delivery of quality care through their own systems. "It's incredible to step back and see the results of this amazing work," Michele Broemmelsiek, CRS' Vice President of Overseas Operations, told a meeting at the Health Resources Services Administration (HRSA), which administered the AIDSRelief grant, to mark the transition. "Today, we're talking about an AIDS-free generation and a changed future in Sub-Saharan Africa [where most of the AIDSRelief work was done], thanks to a leap of faith in the beginning." CRS was the lead agency of the AIDSRelief consortium, which also included the University of Maryland School of Medicine Institute of Human Virology, Futures Group, Catholic Medical Mission Board and IMA World Health. Representatives of all the members gathered at HRSA on Thursday, July 18, just weeks after celebrations of 10 years since the beginning of PEPFAR.
'They said It Couldn't Be Done'
"At the time, we knew so little about the infrastructure in place to effectively treat HIV in these countries," Broemmelsiek said of the beginnings of AIDSRelief. "But we knew we could help set up systems and structures that could carry out the health services and provide treatment to people in need. We knew we could build the program on the power of faith-based health networks. So we said 'yes', we really believe this can work - and can happen." In its nine years of work, the AIDSRelief consortium provided HIV care and treatment to hundreds of thousands of patients in 10 countries in Africa, Latin America and the Caribbean. Each year, the program prevented thousands of infants from being born with HIV and provided thousands more with counseling or treatment. In addition, AIDSRelief helped build the capacity of local partners to strengthen their systems so they could carry on this life-saving work well beyond the end of this grant.
A New Chapter
Broemmelsiek recounted her time in Zambia in 2001, before PEPFAR and at a time when CRS' HIV work focused on helping people die with dignity. "It was almost overwhelming," she said, "to see a death rate of more than 300 people dying from AIDS-related illnesses every day. It was a daily experience, down to the logistics at the graveyards to bury that many people." The global HIV and AIDS community has since turned a page in this book, she said, in large part thanks to programs like PEPFAR Broemmelsiek recently returned to Zambia, where AIDSRelief supported the establishment of neighborhood health committees at one local clinic in order to connect patients in remote areas with health care, building health care systems that help with many diseases. "I was stunned to hear from community members about how they track diseases in their communities, like malaria, for instance." Dr. Robert Redfield of the Institute of Human Virology echoed the importance of involving the community in the care and treatment of HIV. He also applauded CRS for not viewing AIDSRelief as just an emergency response to the epidemic without a vision for the future. "They needed to see a path to sustainability," he said, speaking of CRS' long-term commitment to those it serves and the project's goal of enabling local systems to carry on its work long after the grant had ended. "When we first discussed getting involved in this great opportunity to reach hundreds of thousands of people with HIV care and treatment around the world, we wanted to make sure the people we reached would still be cared for after the end of this grant," said Sean Callahan, CRS' Chief Operating Officer. "So supporting local health systems in building up their capacity to deliver quality health services long after we're gone was key to our decision to lead this life-saving program." Broemmelsiek acknowledged the work of all the consortium members, supported by PEPFAR and HRSA, as a "joint effort around a common vision" to save lives and turn the tide of HIV.