Media Center

CRS Applauds Administration for Continued Support of Syrian Refugees

Photo by Kira Horvath for CRS
Catholic Relief Services (CRS) welcomes the Obama Administration's pledge of $600 million in additional funding to support Syrian refugees; as well as $290 million for education in Lebanon and Jordan. CRS' Bill O'Keefe, Vice President of Government Relations and Advocacy, said "the fact that peace talks were suspended yesterday and violence continues only means that humanitarian needs will continue to grow."
Secretary of State John Kerry made the U.S. commitment at the 4th annual Supporting Syria conference held in London this week. The conference, hosted by the United Nations and donor nations of the U.K., Germany, Kuwait and Norway, brings together world leaders to address and commit funding for the Syrian refugee crisis, the world's largest since World War II. In March, it will be 5 years since the start of the war in Syria, which has displaced nearly 13 million people. More than 4 million have fled to neighboring countries.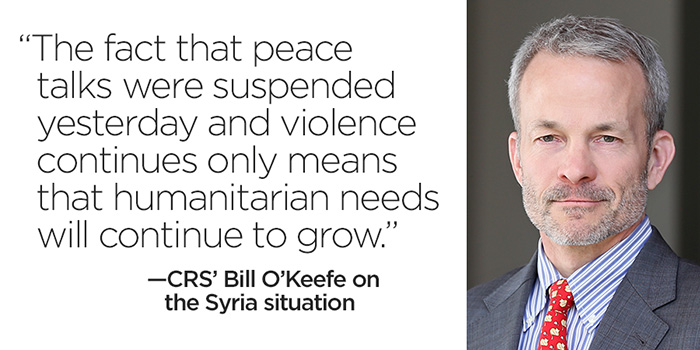 O'Keefe, who recently traveled to Europe to meet with Syrian refugees and local service providers, said. "Fighting must stop immediately and donors must meet their moral responsibilities and commitments for ongoing humanitarian assistance. Continued leadership by the U.S. - through this additional funding and the Administration's refugee summit at the UN General Assembly this fall - sends the right message to other donors around the globe."
International donors at the conference also committed to support access to jobs and incomes for Syrian refugees, many of whom can't work because they lack work permits in the countries that are hosting them. Pledges also include access to education for Syrian refugee children, many of whom have been out of school for years.
CRS and our partners in Lebanon, Jordan, Egypt and Turkey, provide critical formal and non-formal education to thousands of Syrian refugees. That work is vital to ensuring refugee children can succeed once they're integrated into the formal school system.
Donors also addressed the continued need to meet trauma and other psychosocial needs of refugees, especially children.
"It's great to know donors recognized the importance of continued psycho-social care for children," O'Keefe says. "Many of the children we work with have suffered trauma from the violence in Syria. We put great emphasis on working with them to overcome trauma and rebuild a semblance of normalcy."
Until a cessation of hostilities in Syria, continued multi-year funding is essential for Syrian refugees to access critical basic services as well as livelihoods and education.
"Humanitarian actors need adequate resources to support Syrians to lead dignified lives in harmony with their hosting communities," O'Keefe said. "We hope the international community will follow through on the pledges made this week."
Since the beginning of the conflict, CRS has assisted approximately 800,000 war-affected Syrians across the Middle East and Europe.  While a priority for CRS has been providing trauma counseling and education for children, the organization is also supporting Syrians through the provision of food, emergency living supplies, rent assistance, and medical services.