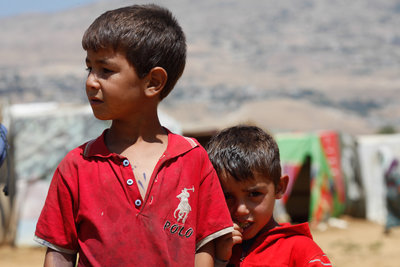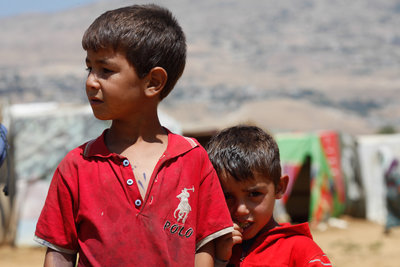 Media Center

At the Heart of Syria's Civil War: A Spotlight on Syrian Children
By Caroline Brennan The toughest fighters from Syria aren't the ones we see wielding weapons in the streets, but rather those who have little brawn to speak of. Syrian children, caught in the middle of a fight they never started, struggle to maintain a semblance of sanity in the chaos that surrounds them.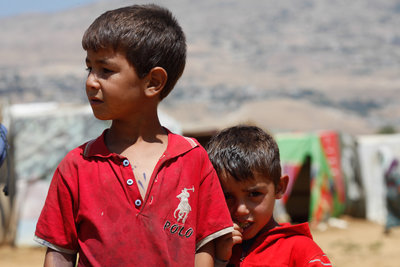 Hammoudi, 7, his friend Khal, 6, and their families fled to Lebanon hundreds of kilometers from their home in Hassakah near Syria's northern border after their home was destroyed in an airstrike. Photo by Sam Tarling for CRS
This week marks the 3rd anniversary of the civil war in Syria, a devastating humanitarian crisis that has resulted in 140,000 people killed and millions displaced. An estimated 1 million children are living as refugees in uprooted conditions, often in squalor. With so much talk about international allies in this crisis, the Syrian children could sure use one. When sitting with children in their foreign surroundings, it is clear their memories are close at hand. A glass breaks or a door slams, and they are taken right back. "You see the tell-tale signs of trauma among these children: stuttering, bed wetting, the fear of things they didn't fear before, not wanting to get out of bed," explains Randa Zoumot, a counselor with Catholic Relief Services' local partner, Caritas Jordan. "If they hear a simple thing, they panic—thinking it's an explosion or someone coming to get their Dad." Education is an urgent need Nearly 65% of children who have received care from local social service centers in the region show severe signs of post traumatic stress disorder; 60% of the children showed signs of depression. "Children don't know where they are, what they're doing, why their mother is crying," says Dr. Ammar Burgan, a physician with Caritas Jordan. Once a vibrant hub of Middle Eastern culture and history, Syria is besieged by internal conflict that has uprooted millions of innocent families. An estimated 2.4 million Syrians have fled across the border into Jordan, Lebanon, Turkey and Egypt.  More than 70% of Syrian refugees are women and children. Education is an urgent need—critical to providing children with a sense of normalcy and routine. Plus, the longer a child is out of school, the less likely he or she is to ever return. But going back to school is a challenge. As refugees, children face language barriers and long distances from government schools. Also, identity papers are often needed to enroll in school, but many families fled Syria at a moment's notice, without time to grab their belongings. Benefits to children Catholic Relief Services is supporting 3,000 refugee children and their families with education, counseling, specialized care, recreational activities and food. Specifically, children benefit from:
Informal schools with education materials and skilled teachers
Child-friendly spaces (large tents) that provide a safe space for children to play
Trauma counseling with skilled counselors who help children talk about their fears
Exercise games that allow children much-needed freedom of movement
As an important complement to this program, mothers are invited to take part in counseling sessions that help them address their own grief, and discuss the challenges they face as the heads of their households in a new country, and raising children who are traumatized. "So many women lost their husbands, their family members, their friends," Zournot says.  "They don't know what is to come and their greatest worry is their children.  We try to help mothers know how important they are to their children's stability and healing. So many mothers feel helpless. They need a spark, a hope." 'Peace on the inside' At a Caritas Jordan center in Zarqa, Hanan Yousef Abdel-Razaq, a young mother and refugee from southern Syria, discusses how taking classes has helped herself and her son.  "I see a huge difference in my children," says Hanan. "All the time they were frightened because of the death of their sister. My son would have nightmares that someone was going to come in and kill him.  In our class, we talk about how to deal with our children, how to change the mood if they are afraid," she continues.  "I've learned how to change my own behavior, to be more patient, to count to three before I respond. It has been really tough. These classes give me peace on the inside." CRS and its local Catholic partners in the region hope to expand these critical activities to reach at least 10,000 children. "Please know that Syrians are kind," says Hanan. "We are hospitable. It is a beautiful country and we will be happy to get back there and to rebuild. But right now we wish for more attention to our kids. We wish that nobody will see what they have seen. We need help." Read how CRS and our partners are assisting Syrian refugees across the region.