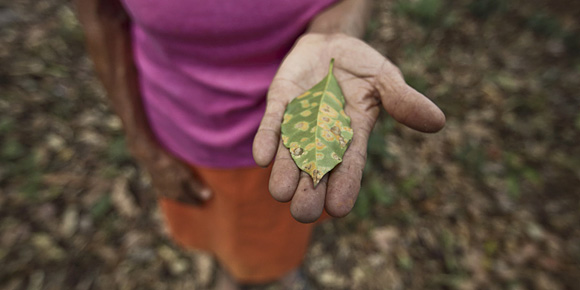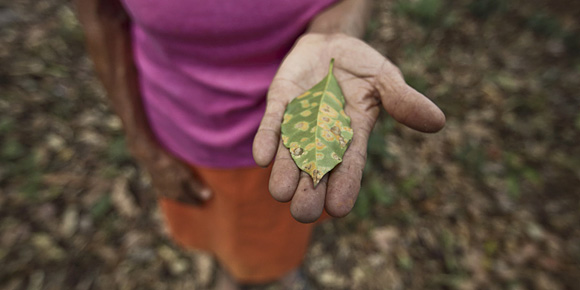 Media Center

Central America Drought Means an Upcoming Food Crisis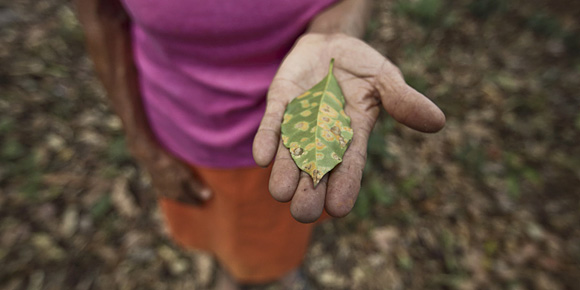 Teresa de Jesús Recinos of El Salvador shows her coffee crops ruined by leaf rust. Photo by Silverlight for CRS
Many Central American families are at risk of going hungry next year due to a record drought, the ongoing effects of a plague devastating coffee production and a rise in staple food costs.
By some estimates, more than 2 million people may be in need of food assistance, creating a need for humanitarian aid not seen since Hurricane Mitch struck the region in 1998.
Because it has been serving in the region for more than 50 years, Catholic Relief Services is uniquely positioned to understand the context and repercussions of the situation as well as innovative ways to confront it. Read below for a breakdown of this slow moving crisis and our response.
DROUGHT
Below-average rainfall—in some areas as much as 75 percent less—since June has caused some of the worst dryness in 10 years, including the El Niño year of 2009. Because of the drought, the governments of Guatemala and Honduras have declared a state of emergency.
The worst-affected areas are in eastern and western Guatemala, southwestern and southeastern Honduras, and northern and central Nicaragua, all of which make up what is known as the drought-prone Dry Corridor.
Catholic Relief Services works in the Dry Corridor of Honduras with local partners, and local business and service providers to provide tools and training to help families access water, improve their production of maize and beans, and grow gardens so that they have a constant and diverse source of food.
COFFEE LEAF RUST
The coffee leaf rust, a fungus that covers coffee trees in an orange-yellow dust, continues to hurt coffee production in the region. For the third consecutive year, demand for labor on coffee farms, a major source of income in Central America, is down.
Because of the coffee leaf rust plague, there are fewer jobs as day laborers on coffee farms for people to fall back on. And now food prices are on the rise, creating a perfect storm of misfortune that will impact the region's poorest families.
"The coffee leaf rust has forced many to migrate from rural areas to cities as well as other countries," said Juan Sheenan, country representative in Honduras. "Catholic Relief Services is working with coffee farmers so they can have access to leaf rust resistant coffee plants, as well as helping them diversify their crops so they have other sources of income."
RISING FOOD COSTS
Subsistence farmers in hard-hit areas have lost up to 70 percent of their yearly bean and maize production.  The decrease in supply has exacerbated the costs of these products, which are integral to the basic diet of people in Central America.
As bad as things are now, the situation is bound to get worse in 2015. If predictions hold true, the regions' upcoming harvest in January will show more losses, adding to food shortages in the region.
A 2012 study by Catholic Relief Services, "Tortillas on the Roaster," showed that higher temperatures and changes in rainfall patterns could transform the agricultural landscape of Central America, threatening the livelihoods of 1 million maize and bean farmers.
"Equipping farmers to recover from the failed harvest and become more resilient to prolonged droughts in the future is key to avoiding a food crisis," Sheenan said.
Related articles: