Our Current Prayer
Photo by Phillip Laubner/CRS
As Catholics, we recognize that prayer is of the utmost importance. In our mission to act with the Church to help the poor overseas, we begin with prayer. As we reach out to our sisters and brothers, we first seek God's grace and guidance, and then we work, animated by the Spirit that connects us.
Each month, we publish a new prayer that we ask the Church to join us in praying. Seeking God's guidance together, we are drawn closer together, and perhaps get a peek beyond the veil at the Kingdom he has promised, as together we work to make that Kingdom a reality for all.
We invite you to join us in praying this prayer with us each month, sharing it with families, parishes, and networks, so our hearts may be one and steadfast as we turn again to the work of the Lord: to feed the hungry, give drink to the thirsty, welcome the stranger, clothe the naked, care for the sick and the captive.
And so we pray ...
---
Our Prayer for April
Empty This Tomb
I am a witness on Golgotha's hill.
I weep for my Lord and mourn for him still.
He breathes his last and the best of me dies.
O, empty this tomb and help me to rise.
I am a brother, a sister to all.
But I see how they suffer and hear how they call.
Again do I hear the Crucified's cries.
O, empty this tomb and help me to rise.
Download this prayer as a PDF.
---
---
View our Monthly Prayer Archives.
I pray at the tomb; I kneel there alone.
A sound stills my heart, a crack in the stone!
I'm stunned by the joy of Easter's surprise.
O, empty this tomb and help me to rise.
I stand as a Christian at history's end,
An advocate, healer, evangelist, friend.
A truth burns within me, dispelling all lies.
It empties my tomb and helps me to rise.
We sing a strange song and we tell of strange tales.
Of good news and hope and how mercy prevails.
We reach out to strangers and gaze in their eyes
And empty the tomb as together we rise.
Amen
---
Light a Virtual Votive
"In prayer, God keeps calling us, opening our hearts to charity."
— Pope Francis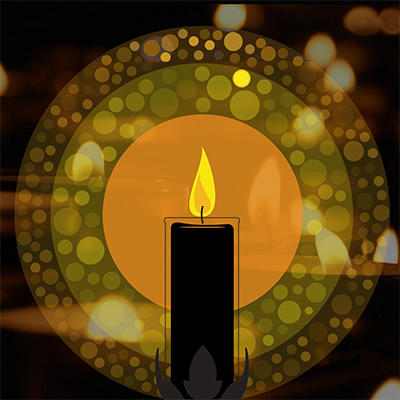 Light a candle and say a prayer for your loved ones and our brothers and sisters around the world. Your intentions will be remembered at Mass offered in St. Stephen's Chapel at Catholic Relief Services world headquarters in Baltimore, Maryland.