Our Current Prayer
Photo by Phillip Laubner/CRS
As Catholics, we recognize that prayer is of the utmost importance. In our mission to act with the Church to help the poor overseas, we begin with prayer. As we reach out to our sisters and brothers, we first seek God's grace and guidance, and then we work, animated by the Spirit that connects us.
Each month, we publish a new prayer that we ask the Church to join us in praying. Seeking God's guidance together, we are drawn closer together, and perhaps get a peek beyond the veil at the Kingdom he has promised, as together we work to make that Kingdom a reality for all.
We invite you to join us in praying this prayer with us each month, sharing it with families, parishes, and networks, so our hearts may be one and steadfast as we turn again to the work of the Lord: to feed the hungry, give drink to the thirsty, welcome the stranger, clothe the naked, care for the sick and the captive.
And so we pray ...
---
Our Prayer for June
No Place Too Desolate: A Prayer for Those Facing Hunger Crisis in Africa
When it was evening, the disciples came to Him and said, "This place is desolate and the hour is already late; so send the crowds away, that they may go into the villages and buy food for themselves."  But Jesus said to them, "They do not need to go away; you give them something to eat!"
—Matthew 14:15–16
Lord and Savior,
When you taught us how to feed the hungry,
You did not do it in a city or in a garden,
But in a desolate place
Where few things grow green,
And life struggles to sustain itself.
And so you taught us
That there is no place too desolate
And no hour too late
For the love of God to triumph
Download this prayer as a PDF.
---
---
View our Monthly Prayer Archives.
Our Father has blessed this world with abundance.
And yet too many fields are parched,
Too many stomachs, empty.
Be with those who hunger.
Help us to join with your people in peril
To share our food,
To share the knowledge of cultivation,
To abate periods of dryness.
And to forsake the ways that have created an unjust world
Where God's bounty is for some, but not others.
We look upon a world of hunger, Lord,
But you have made us an army of compassion.
Filled with the knowledge
That there is no place too desolate
And no hour too late
For the love of God to triumph.
Amen
---
Light a Virtual Votive
"In prayer, God keeps calling us, opening our hearts to charity."
— Pope Francis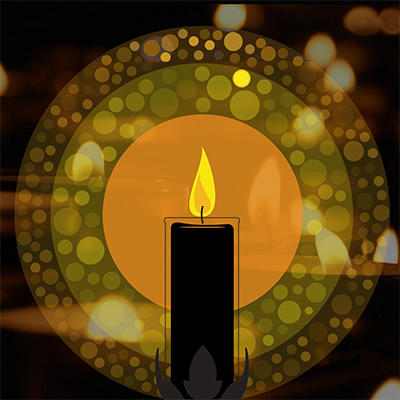 Light a candle and say a prayer for your loved ones and our brothers and sisters around the world. Your intentions will be remembered at Mass offered in St. Stephen's Chapel at Catholic Relief Services world headquarters in Baltimore, Maryland.