Our Current Prayer
Photo by Phillip Laubner/CRS
As Catholics, we recognize that prayer is of the utmost importance. In our mission to act with the Church to help the poor overseas, we begin with prayer. As we reach out to our sisters and brothers, we first seek God's grace and guidance, and then we work, animated by the Spirit that connects us.
And so we pray ...
---
Prayer for Unity
Download this prayer as a PDF.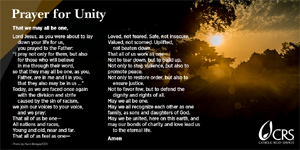 ---
---
View our Monthly Prayer Archives.
Lord Jesus, as you were about to lay down your life for us, you prayed to the Father:
"I pray not only for them, but also for those who will believe in me through their word,
so that they may all be one, as you, Father, are in me and I in you, that they also may be in us …"
Today, as we are faced once again with the division and strife caused by the sin of racism,
we join our voices to your voice, and we pray:
That all of us be one—
All nations and races,
Young and old, near and far.
That all of us feel as one—
Loved, not feared. Safe, not insecure.
Valued, not scorned. Uplifted, not beaten down.
That all of us work as one—
Not to tear down, but to build up.
Not only to stop violence, but also to promote peace.
Not only to restore order, but also to ensure justice.
Not to favor few, but to defend the dignity and rights of all.
May we all be one.
May we all recognize each other as one family, as sons and daughters of God.
May we be united, here on this earth, and may our bonds of charity and love lead us to the eternal life.
Amen
---
Light a Virtual Votive
"In prayer, God keeps calling us, opening our hearts to charity."
— Pope Francis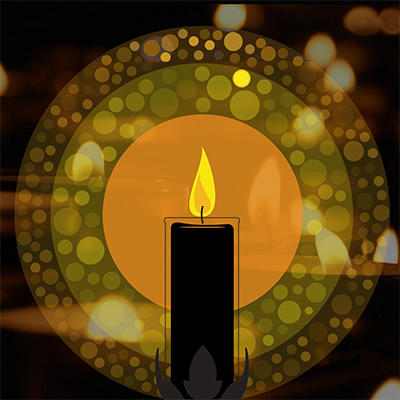 Light a candle and say a prayer for your loved ones and our brothers and sisters around the world. Your intentions will be remembered at Mass offered in St. Stephen's Chapel at Catholic Relief Services world headquarters in Baltimore, Maryland.